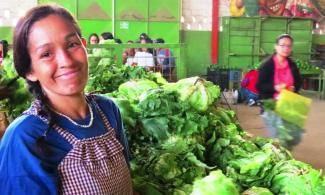 Body paragraph
Cecosesola was established in Barquisimeto, capital of the State of Lara, in the central western region of Venezuela, as a cooperative integration organization on December 17, 1967. It is a meeting place where more than 50 community organizations are active, integrated in a network of production of goods and services that brings together more than 23,000 members from the popular sectors. Through this network, we develop a wide variety of activities such as: agricultural production, small-scale agro-industrial production, funeral services, transportation, health services, financial services, mutual aid funds, distribution of foods and household items. We are made up of about 1,300 associated workers who manage daily activities through participation that is open to everyone, without hierarchical positions.
Transcript
Narrator: Cecosesola - building, here and now, the world we yearn for.
In lower economic sector, residents meet to face a very real necessity. A neighbor dies and his widow can't cover the costs of the funeral service. One quick solution: a collective fundraising campaign among the neighbors. But then someone asked, What if we find a more permanent solution, like our very own cooperative funeral service?
This everyday situation marked the beginning of a cooperative movement that has been in existence for more than half a century. With few material resources, together, people from different religions, political ideologies, gender, or age, and a nonprofit orientation with a common cause — wanting to go ahead with their own resources, much audacity and a truck loaded with willingness — started Cecosesola. And that spirit is still present.
Today, we are a network that integrates more than 50 community organizations in seven federal states of Venezuela. Our reason for being is a collective cultural transformation process that takes place in diverse activities which are accessible to all.
25,000 families have joined in a collective fund to provide funeral services, including the coffins that we manufacture. With a weekly contribution of $0.20 of a U.S. dollar, we now have access to these funeral services for up to nine family members.
100,000 families now enjoy the services of our food fairs, where we annually distribute food, beverages, and household cleaning products valued at 70 million U.S. dollars.
In five federal states, 3,000 families — members of 18 rural community organizations — together with 50 individual farmers, realize our daily miracle: producing up to 700 tons of fruits and vegetables that are sold weekly in our food fairs.
50 families, members of seven small processing plants, produce for our food fairs: pasta, granola sauces, honey, fruit pulp, seasonings, vanilla, and household cleaning products.
In 35 different communities, 24,000 families participate in our savings and loan services. Our own contributions feed and replenish our own financial fund, through which we finance crops, vehicles, health equipment and supplies, and construction.
In the city of Barquisimeto, our health network provides health services in seven communities, caring for up to 250,000 people per year. We are more than 150 health specialists, including physicians, nurses, dentists, therapists and acupuncturists.
With our own resources, we built the Cooperative Center for Integral Health, that includes two operating rooms and 20 hospitalization beds. Annually, we perform up to 1,700 surgeries, with prices 50% below private hospitals. In this health center, we also carry out a biweekly program designed to prepare future mothers and fathers for natural childbirth, as well as preparing mothers for breastfeeding.
We financed most of our activities, reinvesting any surplus funds in improving and amplifying them, or in creating new ones. External financing is not common sense for us: the effort involved in producing our own resources is part of — and reinforces — our cultural transformation process.
Due to our very significant price differential, our services represent community annual savings valued at 20 million U.S. dollars. And how do we do it?
1,300 full time associates make all these activities possible. In order to cover our living expenses, each of us receives an advance payment of the surplus we expect to produce. It isn't a salary because we are not employees. We are permanently developing equitable and reciprocal relationships. It is a lot of work, coupled with a lot of fun.
We began with the traditional organization structure, with a board of directors, managers, and employees. But in the process we discovered new ways of getting things done. Day by day we strive to transcend the individualism and egotism we carry within us, by rotating tasks and continuously reflecting on our daily behavior. We progressively move past the emotions and typical structure present in our society, such as hierarchical relationships, fragmentation, discrimination, sectarianism, accumulation of power, know-how, or wealth. This is why we no longer have managers, nor a board of directors, nor any domineering structure.
Across our entire network, we meet more than 3,000 times a year. But far from being formal meetings, these are like family encounters. For instance, simultaneously, every Monday afternoon in our more than 50 community organizations, we are all reviewing what and how we developed each activity, the difficulties encountered, and how to continue our transformational process.
What's the essence of this process? Basically, it's about progressively developing equitable and reciprocal relationships, building mutual support, and becoming more responsible. In other words, fomenting an ethical behavior. By confronting our cultural tendency to blame others, we progressively learn to assume responsibility, respecting ourselves and others, as well as all living creatures.
And as we deepen our sense of responsibility, we promote trusting relationships, which in turn further nourish it. Based on responsible and trusting relationships among all of us, we don't negotiate. Instead, we reach agreements by consensus. Based on these responsible and trusting relationships among us, we don't consider market prices. Rather, we are guided by our desire to build equitable relationships of mutual support.
The strength of our process lies on the ethical and trusting relationships that we nourish day by day. It isn't a linear process. It has its ups and downs. It is a fragile process, because there always lies in wait the cultural tendency towards those disrespectful relationships present in taking advantage of others.
We are convinced that day by day, through hard work, with passion — building equitable, reciprocal, and responsible relationships, void of discrimination — we are demonstrating that a different world is possible. We are all invited to continue building together, here and now, the world we yearn for.