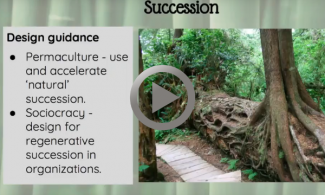 Designing the Future
Body paragraph
Humans and our organizations are inextricably linked with local, regional, and global ecological systems. Sociocracy is whole systems design for how we organize ourselves and make decisions. Permaculture is whole systems design for re-integrating humans with the ecologies we depend on for our existence - for example water, food, fuel, shelter. Together they provide powerful design approaches that support resilient, adaptable, connected systems.
What do these design systems have in common? In what ways do they complement each other? What can permaculture offer sociocracy that may enrich and evolve human self-governance? How can sociocracy support thriving permaculture organizations?
In this presentation, you can learn more about potentials and possibilities. Our presenters are practitioners and teachers of both permaculture and sociocracy, bringing perspectives from their own experience and from two different continents.
Webinar with Erin Young and John Schinnerer
Welcome
Introduction into SoFA and sociocracy
Presentation permaculture/sociocracy
Q&A
Informal time after the closing (since there was so much good content, we decided to keep this part in for the public version)
Watch more videos from Sociocracy For All
Go to the Sociocracy For All (SOFA) website
Go to the GEO front page