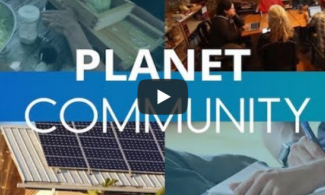 Dancing Rabbit Ecovillage
Body paragraph
Welcome to Planet Community! In our pilot episode we explore Dancing Rabbit Ecovillage, in Northeastern Missouri.
Please support our kickstarter campaign to create 4 more episodes.
What's this all about?
Let's get real. We are facing multiple, interconnected global dangers, rooted in the exploitation of people and planet. These dangers include climate change, wealth disparity, and social injustice.
These are co-created and mutually reinforcing problems. They are systemic, and systemic problems require holistic solutions.
What do some of these solutions look like?
Whether it's a small group in a collective household or hundreds of people on a large piece of land, intentional communities are micro-societies that offer insight into what society would look like if it were based on a different set of values.
Read more about Project Community.
Go to the GEO front page