Body paragraph
Permanent link to this article: http://geo.coop/node/583
By Len Krimerman, Willimantic Inter-Cooperative Zone (WICZ)
Like many of you reading this, I drink Equal Exchange (EE) coffee at home and wherever else I can, and am happily aware that EE is both itself a worker cooperative and draws its coffee supply exclusively from small agricultural cooperatives throughout Latin America, Africa, and Asia. But - again, like many of you - until recently I knew next to nothing about these other co-ops, aside from some few sentences and photos on EE coffee bags.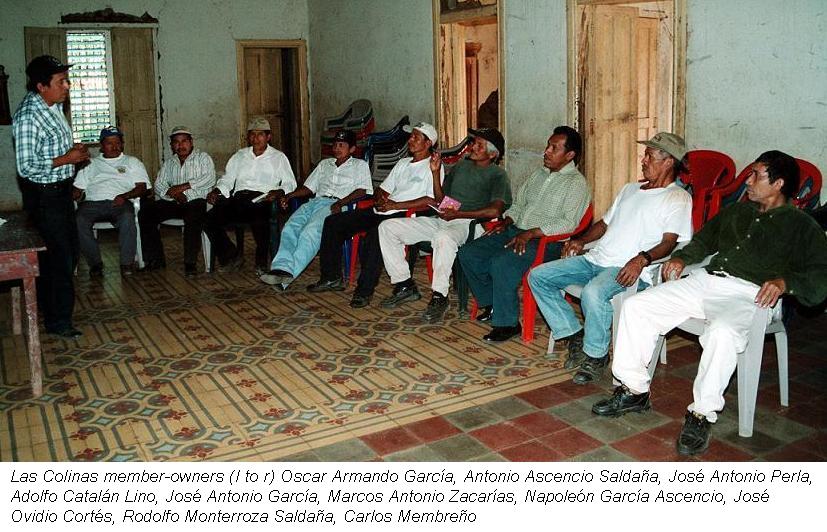 This was dramatically altered a few weeks ago when my food co-op in Willimantic, CT hosted Pedro Antonio Ascencio from Cooperativa Las Colinas (The Hills) in El Salvador. Pedro's talk had to be scheduled at the unconventional hour of 9AM due to other stops on his east coast speaking tour, but it still drew about 20 food co-op members, and we all stayed till the end to hear his own inspiring story and that of his co-op.
Through Gene Stevens, a splendid translator, Pedro told us that he joined the Colinas Cooperativa in 1987 as a pruner, weed remover, and picker of coffee beans, but within a decade had become the Secretary of both their Marketing Committee and the overall Workers' Council. He is now the President of the co-op's Management team, and Director of Marketing.
What enabled - and drew - him and the others to work cooperatively, we asked. In response, we learned that many of the founders had worked under very brutal, exploitive, and dangerously unsanitary conditions, picking coffee for distant landowners who cared little for the wages, safety, or health of their workers. And who cared even less about the community surrounding their plantation and processing facilities - often using toxic chemicals that killed off both indigenous plant and animal species.
Due to modest agrarian reforms in the early 1980s, groups of coffee employees were able to purchase their own lands and cultivate their own crops. Las Colinas wanted more than anything to avoid the harsh injustice and life-threatening conditions they had previously endured, so the equality and respect for labor provided by a co-op was a very natural choice. Today, Pedro's co-op has a wage structure that pays all of its over 150 workers the same wages and benefits for the same number of hours worked. (Their slogan, we were told, is "Everyone in bed, or everyone on the floor.") And they also encourage leadership from the entire workforce, having established numerous "teams" or "project committees" headed by different co-op members. The Co-op, we learned, is actually owned equally by some 95 families, and operates on over 1,000 acres in the very mountainous municipality of Tacuba; about 225 acres are not intended for coffee cultivation.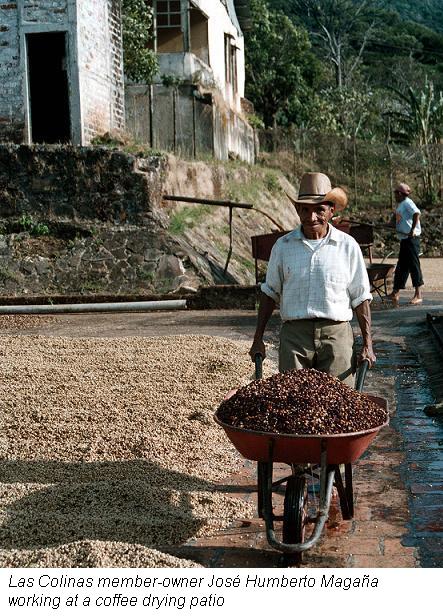 In addition, Las Colinas has created a safe, poison-free work environment, in part by choosing to produce only 100% organic coffee beans. This decision, Pedro told us happily and proudly, has brought back many types of plants and animals, e.g., armadillos, which had virtually vanished under the plantation owners. The co-op has also introduced a treatment system for water used in processing so that it can be recycled safely for irrigation.

"Pretty good", I thought. But, there was more. Following the 7th Cooperative principle, Colinas has dedicated itself to "community improvement". The co-op has contributed land to build a school and a soccer field, and runs a free medical transportation system for its local community.
Our dialogue with Pedro lasted two full hours, and ranged from the relationship of Colinas to other El Salvador co-ops (there's an association of small producers of coffee called APECAFE) to whether the country's drug and gang wars had adversely affected the small cooperatives ("Not yet, thankfully.", Pedro told us.) But the most interesting question, for me at least, was asked by a young girl of maybe eight or nine, who had been actively taking notes throughout the presentation, apparently for a school project.
She asked, "Will all the Colinas children grow up to be farmers?" (Her mother seemed delighted with this question.) "Yes", Pedro replied, but without some of the conviction of his other responses. Later when asked about Las Colinas' future plans, he mentioned that Equal Exchange, their Fair Trade distributor for many years, is helping them develop a scholarship program to support the education of their young people. Maybe, I thought, this will lead to cooperative opportunities and enterprises other than coffee farming for some of the next generation.
After Pedro left to continue his east coast tour, I began shopping, and at various points, bumped into all three managers of the Willimantic Food Cooperative - Alice, Bruce, and Shandra. "Great session and such a good idea;" I said, "maybe we could try something similar with cooperative enterprises right here in eastern Connecticut..." They agreed, especially since there are now about a half dozen new or emerging cooperatives in Willimantic alone - that's a story for another GEO issue - and we're planning to begin that effort later this Fall.
Pedro can be reached at pedro-coop.lascol@hotmail.com; his telephone number is: 7441-9169. His tour was sponsored and supported by Equal Exchange, and more information about the Colinas co-op can be found at: www.equalexchange.coop/profile-of-las-colinas-in-el-salvador.
---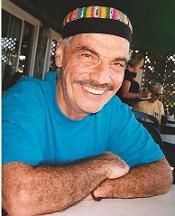 Len Krimerman helped found both Changing Work (1984) and the GEO Newsletter (1991), for which he still writes and edits. He has taught anarchism and radical democracy at the University of Connecticut for over four decades, and now directs the Public and Community Engagement program there (see our website at www.creativecommunitybuilding.org).
When citing this article, please use the following format: Len Krimerman (2010). Cooperation Across Borders: El Salvador's Las Colinas is Hosted by a New England Food Co-op, Grassroots Economic Organizing (GEO) Newsletter, Volume II, Issue 6, http://geo.coop/node/583
Photos courtesy of Equal Exchange.