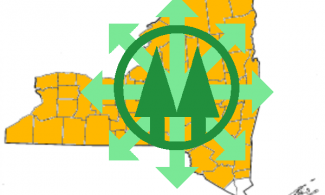 A plan for regional cooperative development in upstate New York
Body paragraph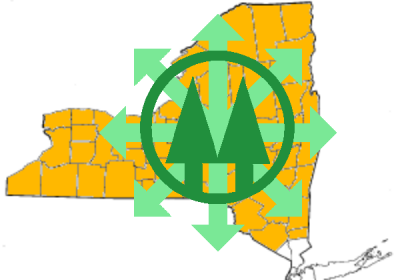 Cooperative organizing, development, and technical assistance services are needed in upstate New York.  This void has been slowly—very slowly—shrinking for decades.  It is hoped that the creation and evolution of the New York Cooperative Network between 2011 and now can speed up that shrinking dramatically and help usher in a new era of solidarity economy for this region.
Why has the upstate New York region lagged behind when at the same time momentum in New York City has seen great growth? Besides a general lack of readiness from the business and entrepreneurial culture of upstate (which could be described as conservative), geography and scale are likely star actors in this drama.  One of which there is too much of (the challenges of organizing across the vast breadth of upstate), and one of which we have too little (small and independent cooperative developments have difficulty acquiring necessary funding without a larger scale movement and population density supporting them).
The momentum in NYC has been built upon successes in non-cooperative development, such as the 20 years of social services the Center for Family Life provided before initiating a worker cooperative initiative in 2011.  But it is also only relatively recently that organizing around worker cooperatives took on a coalition style presence through the NYC Network of Worker Cooperatives, formed in 2009.  The new New York Cooperative Network out of upstate has been partnering and working with NYC cooperators to try and capitalize on some of their momentum.
Organizing Upstate
Historically, we see numerous starts and stops from a regional organizing perspective.  The New York State Federation of Cooperatives, in existence from an unknown beginning year through 1984, was comprised of eleven committee members and met 8-10 times per year, according to Ron Ehrenreich, founder and treasurer of Cooperative Federal Credit Union for over 30 years.  A variety of co-op types would participate, including bakery co-ops, construction worker co-ops, and a smattering of others. The meetings were held throughout Upstate locations such as Buffalo, Ithaca and State University of New York, Geneseo.  The Federation was associated with the Cooperative League of the USA, precursor to the National Cooperative Business Association (NCBA) through hosting speakers from the Cooperative League at Federation meetings.
Even though the organization was unstaffed, the steering committee and other activists provided technical assistance to start-ups and developing cooperatives.  This assistance was in the form of bylaws and organizational structure, setting up books, figuring out how to operate a buying club, transitioning from buying club to storefront, etc. Volunteer technical service providers would also connect people with resources, mostly booklets, provided by the USDA, and the Cooperative League.  Perhaps most notably, the Federation successfully lobbied in Albany for the Model Cooperative Law—which was passed by the legislature—meant to ensure that corporations formed with the intent of acting as cooperatives would be required to adhere to basic principles, such as equal voting independent of capital invested, without needing to rely on complexities of carefully drafting bylaws and shareholder agreements within the framework of standard business corporation law.
Central New York gave upstate co-op organizing a second shot with Commonworks, a federation of cooperatives working for a cooperatively owned and ecologically sustainable economy, operating out of Syracuse, NY in the 1990's.  Commonworks was first staffed by Peter Kardas.  From 1991-1999 Commonworks was staffed by  Howie Hawkins, A Teamster who works at UPS and is most well known for his work with the Green Party of the United States.  Howie has provided much of the recollection for the following history of the organization.
Commonworks was conceived as a federation of cooperatives in central New York, headquartered in Syracuse, with the mission of helping existing cooperatives and fostering new ones. Formed as a 501(c)3 non-profit, Commonworks later created the associated CommonWorks Federation as a 501(c)6 trade association for the purpose of housing a revolving loan fund for co-op start ups.
According to Hawkins, funding was a problem. "Foundations were funding community responses to the decline of manufacturing and the rise of the 'Rust Belt' in the late 1980s and early 1990s—the northeastern to midwestern swath of the United States affected by economic decline, population loss, and urban decay due to the shrinking of the industrial sector. By the time CommonWorks was up and running, foundation attention largely moved on to other kinds of projects."  Even so, funding problems aside, Commonworks supported a number of projects in the 1990s.  These included a North American Indian Center for urban Indians, and a community organization building low-income housing, which were supposed to birth co-ops, but never did.
Challenges to Co-ops
Numerous organizations and agencies exist and operate within the Mid-Atlantic and Northeast corridors of our great land, but have rarely ventured into the upstate NY region.  These include technical service providers and advocacy associations not located here but providing distance services, such as the Democracy at Work Network, a project of the U.S. Federation of Worker Cooperatives, the National Cooperative Business Association headquartered in Washington, D.C., and GEO (the Grassroots Economic Organizing collective)—as well as those located in the northeast region such as the Cooperative Development Institute (CDI) in Shelburne Falls, Massachusetts, and organizations focused on NYC such as the NY City Network of Worker Cooperatives and the Center for Family Life's NYC Worker Cooperative Development initiative in Brooklyn.
Unfortunately, these New York and regional organizations conspicuously, though not always purposefully, swerve around upstate New York.  Speculatively, this may be for several reasons.
First, the entrepreneurial and business culture in upstate New York has not been ready.  One example that illustrates this is research conducted by Ron Ehrenreich in the 1980s for home health care aides to organize relating to issues of full-time versus part-time employment, and transportation and child-care for workers.  In the end, the aides chose unionization over cooperative formation, because "it was easier" according to Ehrenreich.  And although SEIU was, according to Ron, interested in the concept of co-op organizing, with talks related not just to cooperative education statewide but also about ESOP conversions, "no one [from the union] would buy" into his words..  
Have we reached a necessary critical point in development of the cooperative and social economy movement in upstate NY?
Second, the challenge of organizing across great distances are relevant (upstate NY is 42,067 square miles out of 47,100 square miles that make up the full state - and extends approximately 425 miles at its widest point latitudinally, 347 miles at its longest point longitudinally, and 450 miles diagonally from Chautauqua County in the SW to Clinton County in the NE).  Ron Ehrenreich, in the context of organizing with the NY Federation of Cooperatives, stressed keeping in mind that in the 1980s and 1990s it was "before email and internet, and that long distance phone charges, particularly in-state were very expensive'"  Email, the Internet, and inexpensive long-distance make a big difference in the 2010s, but travelling between locations for person-to-person meetings and organizing is still a challenge.  Interestingly, from Syracuse NY, it is less of a distance to travel to the home of the Cooperative Development institute in Massachusetts (214 miles and 3 hours 54 minutes according to Google Maps), than it is to visit our in-state neighbors downstate at the NY City Network of Worker Cooperatives (248 miles and 4 hours 4 minutes)
Third, until this point funding and financing have not been adequate or easily available for cooperative organizing and technical assistance support.  Concerning the historical efforts above, the NY State Federation of Cooperatives acted as a fully volunteer-based organization.  Commonworks was mainly dependent on grant funding from the American Friends Service Committee.  Current efforts for organizing in Upstate were kick-started through a green business related Kauffman grant from Syracuse University, but are currently not sustainable without a revenue plan and partners fully developed within a strategic plan, budget and organizational structure in place.
Increasing Mass and Gravity
Perhaps it is just a story of scale and time.  The cooperative movement is growing and gaining attention, and thus the potential for scaling up rests in the increased patronage, entrepreneurship, and funding from agencies and pre-existing organizations.  The Center for Family Life (CFL) in Brooklyn, for example, which has successfully assisted families in New York City since 1895 and has a legitimate track record of success and significant financial resources, created a worker cooperative initiative in 2012.   The New York Network of Worker Cooperatives was able to be formed because there was an actual critical mass of already existing and forming cooperatives in NYC that could create the body of the effort.  And the Center's track record was likely influential in the NYC Council's providing the CFL with a grant in 2013 for expanding the services of the Cooperative Network:
"When Speaker Quinn and I visited the Workers Cooperative program participants at CFL in my District, in November of 2011, it was a unique program," said [NYC] Councilwoman Sara M. González. "We were very impressed as we listened carefully to their stories of the difficulties they had to overcome and the success they have enjoyed since committing to the program. The women spoke of their journey from being workers in a business to being owners of a business, while helping others in their own neighborhood. Thanks to the Speaker's leadership and CFL's partnership, I am extremely proud that this concept will soon be available city-wide."
So is use of this co-op movement momentum possible outside of NYC at this time in history?  It appears quite possibly so.  Hawkins, for years after his stint at Commonworks, continued his community development work and co-op advocacy and is currently sitting on the Board of a new start-up food co-op named Eat-To-Live on the south side of Syracuse, NY.  Two things make this significant.  First, Eat-To-Live is located in an underserved USDA-certified food desert (which indicates statistically that this low-income census tract has a "substantial share of residents who...have low levels of access to a grocery store or healthy, affordable food retail outlet") in the city which is also devoid of any co-op models.  This will be the first and is being seen as a model solution by many key community partners to our issues of inequality and need, which will hopefully serve to spawn a next generation of cooperatives.  Second, these key community partners span a range beyond long-time social economy community anchor Cooperative Federal Credit Union, to also include private academia support from Syracuse University and local community based faith organizations.  The acknowledgement and tide of the importance of the cooperative model is gaining steam.
With an eye towards the solidarity economy, I presented a plan in 2011 to use a portion of a green business-oriented Kauffman grant from Syracuse University to hold an Upstate NY Cooperative Business Summit in Syracuse.  With assistance from various cooperators across upstate, we pulled off a very successful effort that attracted over 100 participants, included workshops, educational panels, and keynote speaker Steve Dubb of The Democracy Collaborative.  With our success and increased interest regionally, we were able to repeat our Summit efforts 18 months later in 2013 with keynote Speaker Richard D. Wolff of Democracy at Work and Professor of Economics Emeritus, University of Massachusetts, Amherst.  Dr. Wolffe is currently a Visiting Professor in the Graduate Program in International Affairs of the New School University, New York City, and columnist for Monthly Review magazine writing about the expanding global capitalist crisis. We had garnered the attention of the industry, and done so at a serendipitous time for the National Cooperative Business Association to notice as well, due to their initiative to seed Cooperative Business Associations nationally.  The first step of this for us was the final session of the 2013 Summit which was a Cross-Sector Cooperative Organizing round-table in New York State, hosted by Tom Decker, former Director of Cooperative Development with the NCBA.
Have we reached a necessary critical point in development of the cooperative and social economy movement in upstate NY?  Perhaps we have, with numerous efforts and influences such as regional and national interest in the model supported by organizations such as NCBA that have worked for years to develop their presence and resources.  We have maintained an online presence for the New York Cooperative Network post-Summits with a website and Facebook pages.  Follow-up strategic planning and regional networking events have followed in 2014 and 2015 via conference call, and in person in Binghamton and Ithaca.  Efforts at integrating cooperative technical assistance into standard service providers repertoire such as the Small Business Development Center, my employer, are ongoing.  Our NY CBA Strategic Plan has reached its first draft stage and is in the hands of a core group of champions. 
As our mass grows, our gravity increases - both through our ability to draw in cooperators and financing as well as our ability to enact a sense of purpose with regard to our local and regional leadership.  As we fuel the movement, our velocity for change dials upward - during the timeline of writing this paper, after a successful grassroots worker cooperative teach-in in Syracuse, we have secured a meeting between myself, Cooperative Federal Credit Union, and the Department of Neighborhood and Business Development's Commissioner to discuss worker cooperatives.  As we coalesce our bearing for next steps, the cooperative organizing and development void surrounding us continues to shrink. 
Go to the Regional Cooperative/Solidarity Economy Networks theme page
Go to the GEO front page
Citations
Frank Cetera (2015).  Bringing the Cooperation Upstate:  A plan for regional cooperative development in upstate New York.  Grassroots Economic Organizing (GEO).  https://geo.coop/story/bringing-cooperation-upstate