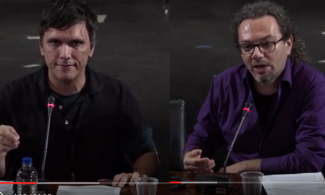 Dario Azzellini and Theodoros Karyotis at Athens Biennale 2015-2017
Body paragraph
Dario Azzellini is an assistant professor for sociology at the Johannes Kepler University Linz, Austria.
He published several books, essays and documentaries. His latest books are An Alternative Labour History: Worker Control and Workplace Democracy (Zed Books 2015) and together with Marina Sitrin They Can't Represent Us. Reinventing Democracy From Greece to Occupy (Verso 2014). He collaborated with Oliver Ressler on various films and they are now producing Occupy, Resist, Produce, a documentary series on factories under workers control in Europe.  Azzellini's art projects focus on socio-political themes and have been exhibited in galleries, museums and biennales around the world.
Theodoros Karyotis is an independent researcher, translator and social activist. He was trained in sociology and social anthropology and he is active in grassroots movements related to direct democracy, solidarity economy and defence and self-management of the commons. He has translated many relevant books and articles, and he is a regular op-ed contributor to roarmag.org in English and diagonalperiodico.net in Spanish. He is the coordinator of workerscontrol.net, a multilingual resource on workers' self-management, and sits on the advisory council of the Transnational Institute of Social Ecology.
Watch more from Athens Biennale
Go to the GEO front page