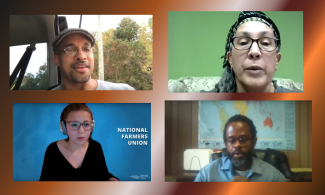 A National Farmers Union Webinar
Body paragraph
Black farmers haven't always had access to the same resources that white farmers have. Government agencies, lending institutions, and businesses discriminated against Black farmers, which deprived them of loans, technical assistance, and other critical support. Rather than struggling in an unfair system, Black farmers decided to reclaim power by creating their own, cooperatively-owned credit unions, supply stores, processing facilities, markets, and farms.
During this 90-minute webinar, we will talk about the history of Black farmer cooperatives, the role they have played in food and economic sovereignty, the challenges they face in the modern economy, and opportunities for growth. There will be time for audience Q&A at the end of the conversation.
Speakers:
Jessica Gordon-Nembhard, Professor of Community Justice and Social Economic Development in the Department of Africana Studies at John Jay College
Terence Courtney, Director of Cooperative Development & Strategic Initiatives at Federation of Southern Cooperatives
Chris Newman, Farmer, Founder of Sylvanaqua Farms
This webinar was recorded on October 27, 2020.