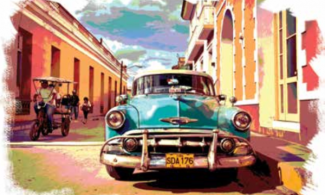 Body paragraph
Originally published in the April, 2015 edition of the The Shuttle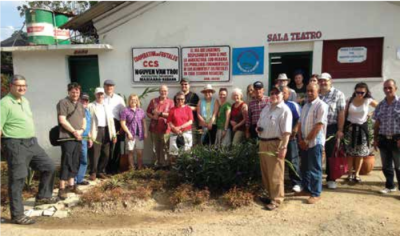 One doesn't often get to travel to a Communist country to learn about a new cooperative initiative and I wasn't going to be left behind. So, on Feb. 14, I flew from Cancun to Havana with four other curious, cooperatively-inclined Americans for a bucket list adventure tailored to the social-economy and agronomy geek. For Americans, now is an exciting time to visit Cuba, but it's especially fascinating if you're involved in the co-op movement.
The Cuban government has decided to "reduce its weight" by decentralizing nonessential businesses from state-owned to worker-owned "non-state"— note, not "private," made crystal-clear in translations — cooperatives. Since 2013, more than 400 worker co-ops have been formed in the services sector— mainly from the top down, that is, the Cuban government informed a business that it's now a worker co-op, like it or not. But because of the early success of this new system, many businesses are now applying to become cooperatives from the bottom up. Hundreds of applications are in the queue waiting for a decision by the state.
We were part of a group of 18 from St. Mary's University in Nova Scotia, which has been instrumental in assisting Cuban government and academic leaders with their cooperative economy "experiment" for several years. Also on the journey were trailblazers in cooperative accounting, management and develop-ment, ethics and organizational psychology, as well as consumer co-op cohorts Dan Arnett, general manager of Seattle's Central Co-op, and Gail Graham, general manager of Mississippi Market in Minneapolis. I was in really good company.
Tours of co-ops, combined with presentations by Cuban and Canadian key players in the past and future development of co-operatives, daily mojitos and a night with the Buena Vista Social Club in between, made for eight very busy days. But first, we had to stop for lunch. On our first day, we dined at Nazdarovie, a paladar dedicated to the wives and girl friends of Soviets who studied in Cuba during the '60s, '70s and '80s. We started our tour of Cuba with pierogies, borscht and vodka. Unique to Cuba, paladars were tourist restaurants run out of peoples' homes, privately owned tasty alternatives to state-run establishments; until 1991, they were illegal, but considered a "necessary evil" in the effort to help keep the economy afloat. About 10 years ago, the government recruited chefs from South America, Europe and the Caribbean to open new, swanky paladars to keep the tourists well fed and impressed. Today, Nazdarovie is one of 400 high-end paladars serving amazing cuisine. This was a first step toward the privatization of the services sector that is ramping up today.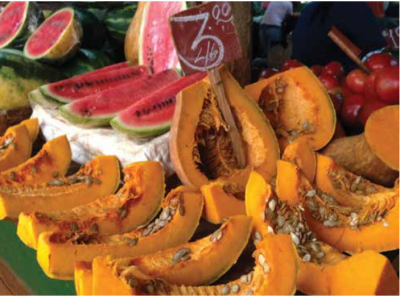 Canadian ex-pat Gregory Biniowsky, Nazdarovie's proprietor, arrived in Havana in 1992 and has lived the local lifestyle ever since. He has an interesting perspective on Cuba. He describes it as "surreal, romantic and tragic. Surreal because it's a holdout, it's like another planet. Romantic, be-cause this is where "Che" was born. There is romanticism bred in the leadership. And tragic because of the feeling of being under siege the population has felt for so long." Biniowsky says that after the restaurant's loans are paid off, he would like to turn Nazdarovie into a cooperative. The staff is on board with that idea.
While consumer-owned co-ops don't yet exist in Cuba, worker co-ops aren't new to the culture. After the 1959 revolution, with large tracts appropriated by the government (from both Cubans and foreigners) and parceled out to peasants, groups of farmers started pooling their resources of land, machinery and administration to maximize food production. In 1961, the grassroots Asociación Nacional de Agricultores Pequeños (Association of Small Farmers) was formed. ANAP's objectives were to foster solidarity among farmers and provide resources for agricultural education. Thanks to ANAP and its close relationship with the state, Cuba's agricultural cooperative economy has grown to be highly functional and complex. There currently are 5,500 farm co-ops that operate under three different models, depending on whether the land is privately held or granted for use by the state. These co-ops account for 80 percent of farm production in Cuba. ANAP has also been instrumental in leading efforts to train and provide resources to the new generation of non-agricultural co-ops.
Going Back to Their Roots
Until the early 1990s, Cuban agricultural techniques were conventional and relied on chemical fertilizers, pesticides and industrial farm equipment. Fidel Castro, intuiting the fate of Cuba's Soviet "sugar daddy," began to collaborate with ANAP to explore alternative ways of maintaining food production within the country. Farm cooperatives grew rapidly in the 1980s and 1990s.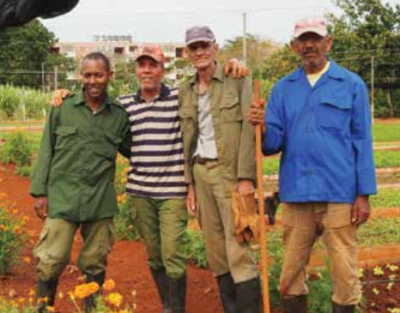 The collapse of the Soviet Union in 1991 brought on Cuba's "Special Period," marked by the abrupt end of heavily subsidized sugar exports and oil imports. Even with some government foresight, the Cuban economy buckled almost immediately. It was a bleak time for the Cuban people, with the loss of 85 percent of its foreign trade combined with the already isolating U.S. embargo: 18-hour blackouts, water use allowed every three days and, of course, a scarcity of food. Under siege, with a hungry but well-educated population (Cuba has a 90 percent literacy rate), the government decided that the country needed go back to its "peasant roots" by putting resources into simple, sustainable methods of farming that didn't rely on imported chemicals, fuel and machinery. Crop diversification away from large-scale sugarcane production to dinner-table consumables also became a priority.
ANAP's great achievement during the Special Period was to further bring producers together and focus on pioneering agro-ecology techniques through contracting agreements with the country's scientific research centers, as well as to train new co-op members in the principles of cooperativism. Today, Cuba is a model for innovative, eco-friendly organic farming practices. If you ever have the chance to go, check out the Alamar Organiponico, a 25-acre urban farm cooperative in Havana that uses sustainable and thrifty methods to produce a variety of crops as well as value-added products, and serves as a training hub for the Ministry of Agricul-ture. What else to do with old asbestos roofing but to build raised beds with it? No pesticides? No problem. Plaques of different colors attract different pests. Smear them with sticky substances and you've beat the bugs. Alamar really is a beautiful sight to see!
Cooperative Revolution; Giving Back to the People
Now that you've got some history, let's get a look at this new breed of service-sector co-ops. Our group visited a number of them, including Confecciones Model, a garment factory that specializes in making guayaberas, the traditional Cuban men's shirt with patterned vertical pleats. Confecciones Model was one of the first five businesses to become a co-op. Forty people, including 35 women, run it. The company has tripled wages to its workers, from about $300 to $1,000 per month, since going non-state. What's the difference now? A sense of ownership and pride in their work and the ability to bid competitively for contracts. The Ministry of Domestic Trade's goal is to turn 10,000 state-run service establishments into cooperatives. That includes restaurants, construction companies, taxi services, plumbing businesses and beauty salons, to name a few.
Cooperatives get tax and credit breaks from the government, though they still must lease property directly from the state. Over and over, we heard that quality control has increased across the board and the cooperative model has fostered a sense of teamwork and change in work mentality over all. Under the state, "We would just do what we were supposed to do; now it's our responsibility to have better quality products," said Nancy Varela Medina, board president of Confecciones Model.
But the lack of managerial experience shows. Few Cuban workers have skills in accounting, record-keeping, cost-control or human resources, as these areas were all handled by the state. This is where ANAP and Canadian and Cuban academics are stepping in, to teach basic business skills as well as cooperative values.
Yet the business model itself has been adapted to quickly and with sophistication. Many co-op boards have designated "professional members" who are skilled in finance or business and are sought out by a nomination committee. Some boards have an "Ideological Organizer," whose responsibilities ride a line between human resources and event planning for the membership. General assemblies meet monthly, with various committees providing written reports on any aspect of the business deemed necessary.
Profits are generally divided into several accounts, from capital investments to the oft-seen "socio-cultural fund," money set aside for workers or community members with personal or financial problems. Sick and vacation time is given to all, based on an average of what everybody in the co-op makes.
Takeaways (Besides the Bottle of Havana Club)
What struck me? How sincere and inspired the members of these cooperatives were to tell their own stories and take control of their destiny. Again and again, they talked about how much pride they took in their work now. They are the drivers of their businesses, creating possibilities for new futures. In an effort to reduce food imports, the state has increased prices it pays to farmers, which has increased production.
Farming is held in high esteem by the state as a necessity for food sovereignty, and as a critical component of the socialist doctrine. Many farmers make more money than doctors, and only farmers are allowed to own up to three homes. Peasants benefited the most socially from the revolution, and 50 years later they still feel a commitment to an important collective mission: to feed the Cuban people.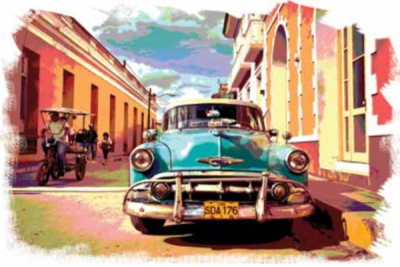 Even today, it is quite clear that for many, the principles of non-concentration of landholding and social equity are deemed highly important to the nation's well-being. This strong spirit of solidarity is intrinsically embedded in the Cuban culture — the people in the worker co-ops we visited seemed to truly felt an obligation to each other and to their communities. It's kind of funny that the cigar is a shared symbol of Cuba and Wall Street, when you think about it. While conventional wisdom might assume that the "new" Cuba is going to jump straight into a capitalist market, both the academics and the locals we met insisted socialism will prevail.
The government recognizes that a market economy is necessary, but there needs to be a balance between what the state provides and the people's creative productivity. Jesus Cruz, professor of economics at the University of Havana sums the sentiment up: "The market is a bad boss, but can be an efficient employee if it's used well. And that is the search that the Cuban economy is on now."
Go to the GEO front page