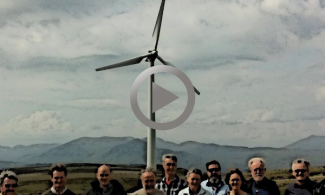 A Renewable Electricity Cooperative in Scotland and Wales
Body paragraph
Small Wind Co-Op from SMN film on Vimeo.
from the Small Wind Co-op website:
The Small Wind Co-op is a new energy co-operative set up by the team at Sharenergy. We've been working with community energy groups in the UK for the last seven years, helping people set up over 30 successful renewable energy organisations from Somerset to Shetland.
We decided that we wanted to start a new co-operative building on the things people have told us they want from an energy company. The result is the Small Wind Co-op, and we'd like to invite you to join us. People told us that they:
Don't trust the big energy companies, which is why we are a small co-operative, which is completely owned and run by its members – no fat cats here.
Want to directly support renewable energy in the UK, so we are starting off by building 3 medium-scale wind turbines on 2 farms in Scotland and Wales.
Want a fair deal on energy. As a member of the Small Wind Co-op, you'll be able to use the energy you generate in your own home or business.
You can invest for as little as £100 and you'll get a fair return on your investment – from 4.5% to 6.5% depending on how you choose to invest. We have a limited number of 6-yr bonds at a fixed rate of return.  Or you can buy shares and become a member of the co-op with voting rights and the ability to use the power we generate in your own home or business.
Because we're a co-operative, we'll also be creating community funds for the areas around the turbine sites.
To find out much more about the project please download our Share Offer Document  or  visit our Crowdfunder site.
Go to the GEO front page