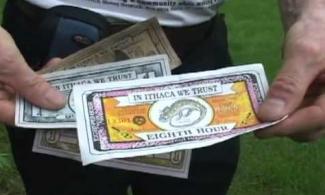 Transitioning to a Just Economy with Timebanking
Body paragraph
When you think of the work that needs to be done in order to transition to a restorative society, one that solves problems rather than creates them, one that regenerates living systems – what do you think of? Chances are there's plenty of such work to be done, all around us. And chances are that opportunities to get jobs doing that work are few and far between. But what if we built our new economy on exactly that work? We can.
Transition towns have been leading the way in identifying and taking action to foster sustainability at individual and community levels. Some transition towns have also pioneered new economic tools of various types. My personal favorite of these new economic tools is timebanking – used by Transition Town coordinators to structure, recruit and compensate people to do various types of work that supports the "transitioning" of their local community from fossil fuel dependency toward resilience.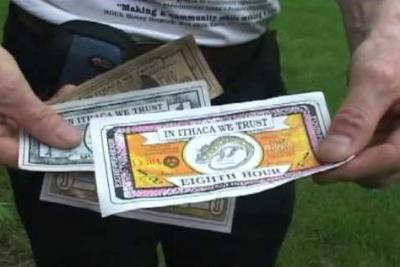 Timebanking is a simple and elegant way to catalyze, value, and reward work in spheres that tend to be undervalued and/or exploited by the market economy. These spheres include creativity, community-building, caregiving, and civic engagement; the type of work that it's fair to say is invaluable. Perhaps it is this very 'invaluability' that makes these spheres of activity a good fit for timebanking.
Timebanking is based on an understanding that all work is valuable, and much work is beyond price. Have you ever had to price a work of art you've created, or something you're doing for a friend? You might recognize a squeamish feeling that often results from pricing your work, and worrying about what feels fair.
In timebanking, we don't use price and we never negotiate the value of an hour. One credit (timebank hour) is earned per hour of work and each credit can be used in exchange for an hour's worth of help from other members of the network. Everyone's hour is worth the same as everyone else's. This simple mechanism, however, yields powerful rewards.
Timebanking connects us with each other and needed resources in a cooperative way, without commoditizing us. It provides us an opportunity to engage in economic life as equals. It breaks down our experience of economy to its essence – people, resources, and flow. From this point we gain experience and understanding that can better lead us into more complex systems and approaches.
In 2005 I founded the Dane County TimeBank (DCTB), the first timebank in Wisconsin. DCTB is a network of over 2500 individuals and 200 organizations who exchange services and skills to build community, build capacity, and come together to help each other to build a better world. In timebanking, everyone's contribution is valued equally - one hour equals one hour - and services exchanged help to fill resource gaps in the community. Anyone can join the TimeBank to offer skills or services - and receive services in exchange.
A Framework for Powerful Systems Change
The Dane County TimeBank has become a valuable tool to build programs that help solve challenges identified by the community - collaborating with community partners Dane County Human Services, Madison School District, and private investors to connect unmet needs with unused resources. Our projects provide meaningful ways for members to tap into the network and offer needed skills and services. More than that, we're providing something for people to say 'yes' to, something that creates a framework for powerful systems change.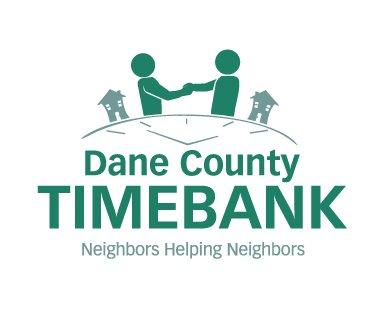 In Dane County, an area with one of the highest racial disparities in its criminal justice system, we have been able to create a restorative justice Youth Court that taps the time and talents of people in the community to keep kids out of the formal juvenile justice system and help get them on the right track. We use the timebank infrastructure to connect kids with others in their neighborhood, providing needed intervention, such as nonviolent communication classes, while also appealing to the youths' strengths and interests like drum lessons, dance/movement therapy, tutoring and more. Connecting the kids with others in the neighborhood builds pro-social contacts and more educational, recreational and economic opportunities – all essential factors in helping kids succeed. Because of the success of the Dane County TimeBank Youth Court in building the capacities of the community, the city of Madison has created a new Restorative Justice referral which takes the place of the standard punitive Municipal Ordinance Violation. Hence, we have gotten one step closer to racial equality and community justice.
This step turned into a leap when the Madison Police Department and other local officials recognized the efficacy of our approach, and are now implementing a plan to refer all eligible (not disputing their involvement in the offense) youth 12-17 into restorative justice programs as an alternative to receiving tickets (fines) for municipal ordinance violations. This is just one example of how the time and talents of lots of diverse individuals can be pooled to provide powerful solutions to some of our most vexing problems.
Now think of energy conservation, wellness promotion, care for elderly and otherwise in need, and the fact that all of these issues rely on changing people's behavior, often in small and simple ways, and shifting our cultural norms. What centralized structure is capable of doing that? And how intrusive or unsustainable might that be?
What if we could put our real passions and the activities we really enjoy to work for ourselves and our communities? What if we could earn ways to feed, clothe, transport, educate and house ourselves and enrich our lives through increased social and learning opportunities, cultural events and companionship, by doing those things we care about and enjoy most? Well why can't we? Of course we can, and timebanking can help facilitate that process.
Our communities have no shortage of work to be done and a quick listen to conversations at the coffeehouse or grocery store will likely result in overhearing lots of ideas about what 'should' be happening. Timebanking can help connect the people, resources, ideas, inspiration and infrastructure to create a community economy driven by collaboration and problem-solving. Money still plays an important role but the pressure on the money supply is reduced by finding other ways to link resources and needs.
Timebanking is a natural experiential learning tool and paradigm shifter. It doesn't impose things on people, it provides a way for people to come together to care for each other, learn from each other and pool our resources toward common goals. The Dane County TimeBank has shown the following results:
a 75% reduction in the number of tickets issued at Madison High Schools where our Youth Courts are based,

a 10% reduction in energy use on average by 100% of the households who participated in our PowerTime energy conservation pilot,

a store in a low-income neighborhood where residents have been able to obtain hundreds of needed items like books, clothes, toys and cleaning supplies in exchange for their timebank hours earned in the neighborhood,

hundreds of people with disabilities engaging as equals in their community, and more.
This is just a glimpse of the capability of timebanking to facilitate and reward the work that needs to be done for a real transition. And we're expanding on this in new ways all of the time, engaging with each other in communities of learning and practice.
DCTB is one of many hundreds of similar systems in more than 35 countries worldwide.
The Mid-Atlantic region of the US hosts some other amazing stand-out timebank systems. Among the many examples: in Lehigh Valley, Pennsylvania, a hospital-based timebank created a model for neighbor-to-neighbor care teams which is now being replicated throughout the community at large, and in other timebank locations around the world. In New York City, a thriving timebank connects thousands of people, many of whom don't speak English or speak English as a second language, with others in their community in a network of support for health and well-being. In Washington DC, Bread for the City is doing amazing things to use timebanking to connect people who have been living in poverty with a huge array of needed services, including pathways to housing and employment. The list goes on and on. And we continue to collaborate and explore ways to increase the impacts that timebanking and other cooperative practices can create.
We know what the questions are: how can we create an economy and society that catalyze and reward abundance, cooperation, and sustainability? How can we rethink the ways we structure economic activity so that people can live well while doing the work they're passionate about, work that creates a more beautiful and just world?
Time is of the essence. We know the problems we face are enormous. So are the possibilities. Timebanking can help us work together to bring those possibilities to life and build a more beautiful world.
Learn more at danecountytimebank.org, timebanks.org and hourworld.org. For more of the broader cooperative economic context visit: mutualaidnetwork.org.
Go to the GEO front page
Citations
Stephanie Rearick (2016).  DIY System Change:  Transitioning to a Just Economy with Timebanking.  Grassroots Economic Organizing (GEO).  https://geo.coop/story/diy-system-change