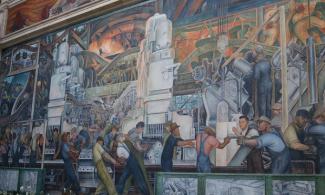 Reviving and Re-imagining the Motor City
Body paragraph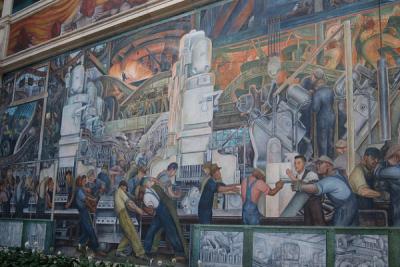 Detroit. My town. This was the beginning of it all, the assembly line, automation and the Ford automobile. Five dollars a day Henry Ford was paying proclaiming that the workers would buy what they made and of course, they did and began to live a life designed and defined by him.
Home of the UAW (United Automobile Workers) a young union that with the help from new Blacks migrating North for good factory jobs and a higher standard of living, fought for and created the 'middle class' changing the quality of life for Detroiters and later, America and the rest of the world.
However, precipitous decline in US manufacturing and the abandonment of the automotive industry, left once economically thriving cities of the Midwest like Detroit in a financial upheaval and millions of people dependent on this industry thrown out of work. Spiraling economic disparities now, undermine our democracy.
Most of these accomplishments of capitalism in the twentieth century are gone now and leave us with deepening concerns about quality of life issues.  Detroit, like many industrial hubs of the Midwest and working class cities around the country, are reeling from NAFTA (North American Free Trade Agreement) used to displace American jobs, the housing bubble of 2008 that now leaves Detroit with more abandoned homes than anywhere in America. and last but not least. a municipal bankruptcy (Wall Street scam) unlike any economic farce in the history of the U.S.
Resilience is what Americans possess and it is no different here at home in Detroit as we move into the new century.  Citizens are creating a new vision, a better democracy that serves all of its citizens, even those who have been marginalized.
As cities around the nation, move from sprawling to over-crowded, from Detroit to China the question of how all people live together in a manner that supports the needs of all, sustainably and holistically, remains at the forefront of all city planning conversations.
No one has the silver bullet to solve the crisis we are faced with today. Maybe there is no such bullet. What we do know is that we can do a better job of achieving a quality of life for our citizens -- all of them.  
If you look closely...there is another Detroit and its full story has yet to be told...
Some days, people say that Detroit doesn't seem like itself, anymore.  I am sure what is being made reference to is this existing lull, the quiet storm that is lurking  With all the negative despairing stories beaming from corporatized media reports from Detroit and the nation, some days America doesn't seem like itself, whatever that 'self' may be.  Great illusions paint a picture of loss and despair with our post–industrial city, and illusions are not only false but, also limiting.  
If you look closely though, there is another Detroit and its full story has yet to be told because it is being made new every day through the people who call this place home.
This REAL Detroit is about the many people re-imagining a city that works for all.  This is the Detroit for which the phrase "making a way out of no way" was born.  This is the resilient Detroit filled with community activists, social entrepreneurs teaming with community folks to create small venues, newbies coming to build, imagine and grow the New City.  Gentrification is happening all around us, corporate sponsors bringing high-end retail for their high-end consumers, and profits are being made but their model has been used as a form of education to show us how business can be more socially responsible and done differently.
Some young technocrats like Jackson Koeppel of Soulardarity, a small community co-op producing 200 solar streetlights for residents in Highland Park, a small city connected to Detroit at its northern fringe.  An empowering project for community self-determination.  The group is anticipating a partnership venture with a neighboring light manufacturing company to provide training and employment. ()
Bryce Anderson-Smalls, an outstandingly brilliant professional music producer changing the lives of mostly young and broken Black male youth, channeling their anger and frustration, positively through engagement in conscious Hip-Hop, music as a transformational creative force.  In collaboration with Oakland Avenue Artists Collective (OAAC), of which he is co-founder, and The Red Door, a concert to celebrate the music history of the area of Detroit known affectionately as the "North End" artistically re-created the 'spaceship' of founder George Clinton of the Funkadelics and drew a crowd of over 700 people to relive the 'funkadelic sound'.
The good work of social entrepreneur, Jeffrey Jones and Doing Development Differently in Detroit (D4) after leaving as an employee of the City of Detroit, teaming with his colleagues from the University of Detroit and Michigan State University to create workshops to discuss collaboration in the community with developers coming in to do work, a successful coalition of conscious people working for the greater good of the city and its people.
As a result of the good work by D4, the northwest central community surrounding Henry Ford Hospital in Detroit are in collaboration with its community members to engage in the development of the Henry Ford Complex.  This is a first-ever attempt to bring the community to the table with major stakeholders to be inclusive in the re-development of their community.  People, Detroiters can do this and are doing this!
Community Development Corporations are striving to re-structure and spend more time in the communities they represent to understand and address the real needs of the citizens--forging relationships to solve social, economic and ecological issues and foster transformation in their areas.  Conversations are being had at the deep level to discuss some of the disparaging issues of poverty and systemic racism, inequality that has overrun our city, state and country.  Detroit has often been referred to as the "Mississippi of the North" the result of its dark racial history going back as far as 1930's.  The question of what 'access' means to communities of color is the focal point of community discussions.
With the assistance of D4 and Community Development Advocates of Detroit (CDAD), Detroiters are engaging as citizen stakeholders in the redevelopment of their communities in unprecedented numbers. Of the seven districts throughout the city (the city was re-districted to change the traditional Democratic voting pattern), coalition-building in District 6 (a traditionally Latino/Latina community-based section) produced the first Latina Council Person in over 65 years in the city.
Our very own organization, We Want Green, Too, has evolved to address the lack of training and employment opportunities for differently-abled persons, particularly veterans and first-offender returning citizens.  In addition, our approach to learning is both practical and applied introducing the fabric of the world (Detroit, in this case) in which we live and its impact on individuals and communities.  It raises the bar in knowledge of the green environment of construction and the built industry.
These are just a handful of the efforts on the part of African Americans to create a positive inclusive move forward to re-imagine a New Detroit, to confront, realistically the barriers responsible for our economic, social, and educational disconnect in achieving our pursuit of happiness and quality of life.  We recognize that systemic racial discrimination and denial of access to resources are the main enemies to our achievement. This is our struggle.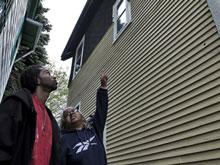 How do we achieve a more level playing field?  Our strategies are to study ways in which cooperative economics can construct a more level playing field by solving issues that all Detroiters are confronting.
One example:  the high cost of automobile and house insurance in Detroit and throughout Michigan.  The latest initiative has been to build an alliance of Detroiters concerned with this issue and look at the possibilities of starting a co-op credit union in Detroit to address insurance.
Another example:  building affordable cooperative housing in Detroit.  This initiative has started gaining traction with alliances with investments from individuals willing to form a housing intentional community project.
Still another example:  how do you take 1600 gardens and form a cooperative that provides good food, health and employment opportunities?
All over America, Black communities everywhere are at a time of contemplation, asking ourselves what is America becoming and for whom?  I think that a great many of us feel that we love the 'idea' of a Democracy, though it has not been witnessed by us, yet.  The question that arises quite often is how do we thrive, or any person for that matter, when lives continue to be shattered?
For most of us the answer lies in our spiritual selves, that gift of resilience that allows for struggle and for overcoming.
What we in Detroit know, thanks to Cooperation Jackson and others that share the light, what we know is that a place – a community, a city, a block –  thrives when people living there perceive it as theirs, and have or can create the material, social, cultural and spiritual connections that provide traction to change the shape of things.
We are reaching out with love accepting the light from all who understand that a new world is possible and is on its way in Detroit.
Go to the Regional Cooperative/Solidarity Economy Networks theme page
Go to the GEO front page
Citations
Gloria Lowe (2015).  Building the New Detroit:  Reviving and Re-imagining the Motor City.  Grassroots Economic Organizing (GEO).  https://geo.coop/story/building-new-detroit