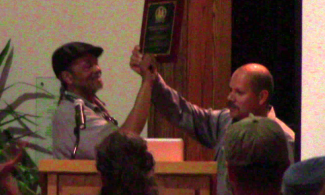 ECWD Renames Award in Honor of Ricky Maclin
Body paragraph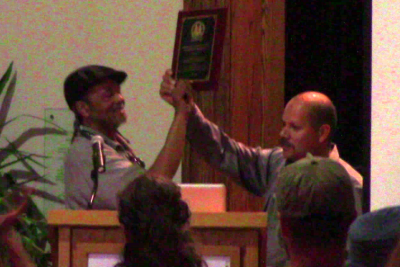 New Era Windows Cooperative, the Chicago organization of workers which took over their company to form a successful workers' cooperative, was recognized for their work on behalf of the worker cooperative movement at the Eastern Conference for Workplace Democracy.
In addition to presenting the award to New Era, this year ECWD also permanently renamed its biennial award honoring a democratic workplace the "Ricky Maclin Award for Cooperative Innovation."  New Era worker-owners Armando Robles and William "Poppin" Swanson accepted the award on behalf of the co-op.  
"He died an owner of his own company," said Brendan Martin, founder and director of The Working World, who announced the award at the opening session of the Eastern Conference for Workplace Democracy on July 13 in Worcester, MA.  "Ricky was one of the most powerful people I've met…That hole in the factory [from his death] is a hole in the movement."
The Working World helped the worker-ownerss with technical assistance and venture capital.
Emma Yorra, of the ECWD board - the Eastern Coordinating Council - and Center for Family Life in Brooklyn explained the significance of the formal recognition. "This award honors the contributions, leadership and vision of outstanding worker cooperatives in our community," she said. "This change honors Ricky Maclin, an extraordinary worker owner at New Era Windows Cooperative in Chicago."
Maclin, 61, who died May 5 of pancreatic cancer after being diagnosed a month earlier, helped to organize the historic six-day occupation in 2008 of Republic Windows and Doors in Chicago when the owner tried to close down the factory without paying its workers.  A vice president of the local 1110 of the United Electrical Radio and Machine Workers of America, a democratic national union representing some 35,000 workers in manufacturing, public sector and private non-profit sector jobs, Maclin first discovered that the Republic owner was secretly loading equipment onto trucks, according to a Chicago Sun-Times article.  He then started organizing the takeover which led to national and international coverage and the struggle being a labor focal point.  The long and bitter struggle (workers did not have heat in the factory in the Chicago winter) led to a successful winning of back pay and the company reopening under a new owner, Serious Energy.  In 2012, Maclin led another worker takeover after Serious Energy decided to close the factory with little notice.  He later was one of three workers who began the process of founding New Era Cooperative.
"Ricky and his co-workers decided to become the controllers of their destiny by becoming owners of the factory."
Maclin was born Melvin Maurice on March 2, 1954 in Haywood, TN, according to an article in UE News.  He grew up on his grandfather's farm where he was nicknamed "Ricky." The name stuck.  His family moved to Chicago when he was in elementary school.  He worked in the restaurant business until 2002 when he joined Republic Windows.  
The Republic workers organized a union and Maclin became a union steward in 2004.  In 2007 he was elected vice president of the UE, and a year later, he organized the sit-in in 2008.  
The Working World's Martin said Maclin was proud of never missing a day at work.
Yorra read the solidarity statement of Union-Coop Council of the U.S. Federation of Worker Cooperatives:
"Melvin 'Ricky' Maclin was a son, husband, and father who cared for and loved his family.  But Ricky, as he was affectionately called, was more than that.  He was an activist who cared about and fought for the rights of workers everywhere. When the owners of his factory, Republic Windows, threatened to close the operation, leaving workers without severance pay and benefits, Ricky and his co-workers conducted the most successful modern-day occupation of a factory by its workers, not once but twice.  Such difficult circumstances would have defeated most people, but not Ricky and his co-workers.  They were fighting for justice and determined to win.
"Eventually Ricky and his co-workers decided to become the controllers of their destiny by becoming owners of the factory.  They renamed the factory New Era Windows, to signify the new era that they helped to usher in:  a new era of economic democracy, economic justice, and hope that we can all believe in.
"We honor Ricky as he would want to be honored, by doing the work of empowering workers everywhere, giving them the tools, education, and inspiration to transform their lives.
"Ricky will be missed, but he and his work will not be forgotten."
Robles was forward-thinking about Maclin's contribution.
"It's a blessing to receive the award in Ricky's name," Robles said to GEO after the award presentation.  "It's a big loss but at the same time there's hope for everyone, not only New Era, but it's a new era for the working class.  He gave us a legacy."  
Swanson piped in:  "We are going to keep the battle strong."
Go to the GEO front page
Citations
Ajowa Nzinga Ifateyo (2015).  New Era Windows Cooperative Recognized for Co-op Innovation:  ECWD Renames Award in Honor of Ricky Maclin.  Grassroots Economic Organizing (GEO).  https://geo.coop/story/new-era-windows-cooperative-recognized-co-op-innovation