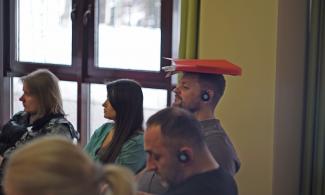 Body paragraph
cross-posted from the Round Sky Solutions blog
Accountability. It's a topic that comes up over and over again in our cooperatives, non-profits, organizing spaces, and even relationships. So, how do we support each other with clarity, care, and movement toward accountability? Well, often, you can integrate processes, patterns, and morale that support you and your team members to be more accountable to each other.
We've designed the Cooperative Leadership Certification Program (CLCP) to integrate micro and macro processes to support team members in collective and human-centered accountability. It's not just about the work, it's about supporting each other to do the best we can do, to have boundaries and focus, and grow as we do it.
The CLCP Level I and Level II graduate, Noemi Giszpenc, crafted these "Accountability Use Cases" for your own inspiration to manage the common dynamics that might show up in your cooperative team. You'll find a challenge, followed up by a potential solution. The scenarios pull from key learnings in our course.
Noemi Giszpenc is the Executive Director of the Cooperative Development Institute, a nonprofit helping co-ops of all types form and flourish in the Northeast US. CDI is committed to "being the change" and operating in a participatory, inclusive, and effective way. As the organization's leader, Noemi is figuring out how to be the change herself and inspire and support others.
Now, meet the (fictional) characters:
forgetful (faithful) Frank
busy (bull's-eye) Bernice
scattered (straight-up) Sally
jaded (joyful) Jane
overloaded (on-top-of-it) Otis
hyperactive (helpful) Hank
enthusiastic Edi
Forgetful Frank
Frank is a good worker, as well as very dedicated and smart. However, Frank frequently forgets to do recurring tasks such as turning in his timesheets and expense reports, shows up to client events without all of his materials, forgets that he is a facilitator or scribe at meetings and isn't by a computer.
What happens?
Frank's co-workers identify his forgetfulness as an issue in peer reviews. The lead who meets with Frank for his review asks Frank what he can do to overcome his forgetfulness. Together they come up with a project to implement a "checklist" ritual that Frank reports on during Ops Reports until it has become an ingrained habit. His co-workers provide encouragement and positive feedback as appropriate.
Frank is now "Faithful Frank".
Busy Bernice
Bernice has so many things to do that she has a dozen tabs and half a dozen applications running at the same time, two phones on, and sometimes delays eating for most of the day. With so much going on, though, she feels like she rarely has time to get anything done! In particular, she struggles to devote time to longer-range planning, strategizing, or in-depth concentrated work.
What happens?
Every time Bernice shows up to a meeting and has to report that she still hasn't progressed on important work, her co-workers express their hope that she will get to these things soon and give feedback to her about the impact of her choices on them. The issue arises in Bernice's self and peer evals. Bernice starts to block off more concentrated work time in her calendar, including beginning-of-day review and end-of-day wrap-up, weekly planning of target projects, and monthly reviews of bigger-picture issues. She also works on developing micro-habits of not immediately accepting every interruption. She proposes communications agreements with her co-workers so they know what to expect of her.
Bernice is now "Bull's-eye Bernice".
 
Scattered Sally
If you ask Sally to do something, she says "yes" but the task gets lost, never to be seen again. If you ask her about it, she is genuinely sorry that she didn't get to it, it just fell through the cracks.
What happens?
Sally's co-workers keep a living agenda of their work with her, with the tasks to be done highlighted. The scribe sends out the tasks by email and copies them into the next meeting date's agenda as a check-in. Sally wants to show up well in front of her co-workers and starts to check the agenda before meetings to cross some of those items off her list. She also starts to copy her to-do's into her individual task tracking system, and reserves some time each day to get to those tasks. With those tasks and projects clearly in mind it is much easier for Sally, when she is faced with a new request, to say "No, I can't do that" than to say "yes" and then disappoint people later.
Sally is now "Straight-up Sally".
Jaded Jane
Jane works in a small organization, and somebody has to schmooze the major donors and foundations to secure funding. Jane's entrusted with major donor cultivation, but she just doesn't have her heart in it. Her efforts are lackluster.
What happens?
When reporting on this major strategic initiative, Jane repeatedly has to say she hasn't made any progress. It's a bit of a catch-22, because if Jane can't bring in more funds, the organization can't hire staff who can take her place. However, because it is an organizational strategic initiative, co-workers keep bringing it up as an agenda item how to make it happen. Jane asks for help doing a series of house parties with staff, partners, and board, and succeeds in attracting funds. A priority for using the new funding is a staff person who can take the lead on major donor schmoozing. Now Jane is free to focus on roles that are a better fit…
and she is "Joyful Jane".
Overloaded Otis
Otis is responsible for keeping a dozen complicated projects moving along, providing expert consultation advice on a dozen others, and administering a program with a dozen personnel. He needs help, but he doesn't have time to ask for it, much less train anyone in his duties!
What happens?
Otis writes down all of his roles and accountabilities. He selects some low-hanging fruit of roles that take time, are not his favorite, and that other people know how to do or could learn quickly. He discusses with his team about re-assigning some of his roles to other members of the team or to contractors. He also decides to take on a new project which consists of training one or two people in some of his duties, figuring that it's better to advance slowly on this objective than not at all. Within a year and a half, he's able to transfer some more of his accountabilities to assistants. This raises team morale and relieves some of the pressure on Otis.
Now, Otis is "On-top-of-it Otis".
Hyperactive Hank
Even though Hank has plenty of his own work to do, he seems to spend most of his time worrying about what everyone else is doing. He is constantly griping about progress with everyone else's projects. Everyone spends their energy trying to get Hank off their back, which is distracting and annoying, and Hank ends up feeling put-upon and out-of-sync.
What happens?
When people in the team begin to report regularly on progress with their projects, and there is time for feedback, Hank gets an "official" — but limited — channel to provide his feedback. Attention also gets focused back on Hank and his progress. Where there is friction on appropriate roles, the issues come up on the agenda and get sorted out for everyone's benefit. Relieved of his sense that people are avoiding him or not delivering on their projects, Hank starts to relax. Now his suggestions and feedback are actually beneficial to his teammates.
He is "Helpful Hank".
Enthusiastic Edi
Edi gets great ideas all the time. It's hard for Edi to stay focused on one thing — they are constantly following up on flashes of inspiration. It's not that the ideas aren't valuable, there are just too many of them. There's never enough time to get any of them to a place of functioning.
What happens?
Edi and their co-workers take their scope through a strategic updating process. Some of Edi's ideas are incorporated, others are captured in an "ideas" folder but set aside for another time. Now that the strategic initiatives for their team are clarified, and Edi and others are regularly reporting on progress on the strategic initiatives, it's easier for Edi to take their flashes of inspiration and put them in the "ideas" folder, while sticking to the team's current priorities as the bulk of their work.
Edi is still "Enthusiastic Edi", just more focused.
Header image via Round Sky Solutions