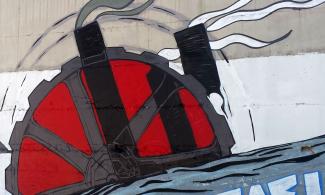 Body paragraph
[Editor's note: The sound quality of this recording is a little wonky in the beginning, but it only lasts for a few minutes and it's definitely worth powering through to get an update on the worker-occupied factory of Vio.Me in Thessaloniki, Greece. For background, see here and here.]
Description
In this episode we talk with comrade Effrosyni, a cooperative worker at the factory VioME, about factory occupation and workers' self-management. In the first half of the episode we learn about the history leading up to the occupation and the first autonomous years at VioMe. Among the topics discussed are the existing connection with Argentinian comrades from the recovered factory movement, how VioMe was inspired by the Zapatista movement in Chiapas; the inner workings of the cooperative (how decisions are made for example), as well as the ongoing attempts to evict the workers from the property and the ways they manage to resist with the help of the broader community around the factory. In the second part, Effrosyni goes into more detail about the ways in which the workers converted the factory from its initial purpose of making building materials to soaps and cleaning products after the occupation, and the motivations behind this decision. We learn about interactions with other coops and how VioMe is embedded in the supply chain. Effrosyni also gives some advice for people facing a similar situation to the VioMe workers in 2013. At the end of the episode and in the description we discuss and link ways of supporting the coop at VioMe.
Re(Surse)
VioMe contact and social media
fb: @SEVIOME
ig: @se_viome
twitter: @SE_VIO_ME
e-mail: seviome@gmail.com
telephone: +30 2313 031154
international blog: www.viome.org
workers' union blog (Greece): biom-metal.blogspot.com/
VioMe products
e-shop: www.viomecoop.com (for Greece)
map w/ products in Europe: bit.ly/3GvTFoy
The Take (2005) [documentary]
www.thetake.org/
www.youtube.com/watch?v=3-DSu8RPJt8
www.imdb.com/title/tt0426596/
Naomi Kkein, The Shock Doctrine: The Rise of Disaster Capitalism, ed. Metropolitan Books (2007).
 
Naomi Kkein, This Changes Everything: Capitalism vs. The Climate, ed. Simon & Schuster (2014).