Body paragraph
The Evergreen cooperatives in Cleveland, Ohio was the story everyone wanted to hear at the opening session on Saturday Aug. 7, 2010 of the U.S. Federation for Worker Cooperatives conference in Berkeley. 
Several video cameras - including PBS -- were rolling at the front of Krutch Theater as Ted Howard, executive director of The Democracy Collaborative at the University of Maryland, which helped to organize the cooperatives and the strategy along with the late John Logue founder of the Ohio Employee Ownership Center, spoke to an inspired audience of 270 worker cooperators from all over the U.S. and part of Canada.  Also speaking was Medrick Addison, operations manager at Evergreen Cooperative Laundry.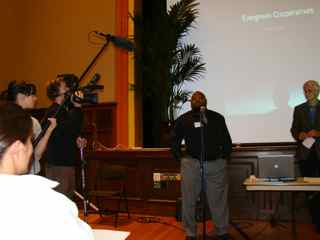 Medrick Addison with Ted Howard in the background as reporters move in close
Ted explained that the Evergreen initiative is a project to eventually create five cooperatives in a project modeled after Mondragon cooperative complex, considered the world's largest cooperative and example of how cooperatives can contribute to economic development of a locality.  Three of the cooperatives - The Evergreen Cooperative Laundry and Ohio Cooperative Solar and the Neighborhood Voice are operational now.
 "This is an effort of many people," began Ted.  "It is part of a broader economic development strategy.  It is not to just build co-ops.  This is to revitalize, stabilize and transform a very large part of Cleveland, Ohio."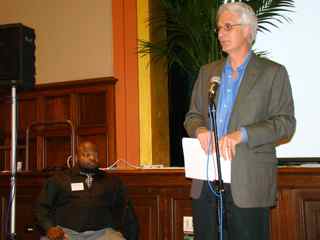 CLEVELAND ECONOMICALLY DEPRESSED
Ted said that "Cleveland has suffered some very hard times."  in 1950 Ohio had a large number of Fortune 500 companies, even more so than New York.  Now all but one have left, and along with them many jobs, employees and residents leaving a city with a lot of unemployment and poverty, particularly in an area known as Greater University Circle.  This area includes six low-income neighborhoods consisting of 43,000 residents with a median household income of $18,500, Ted said.
Using a PowerPoint presentation with maps that help to visually drive home the point of how economically depressed Cleveland is, Ted showed the University Circle area of Cleveland on maps with indicators of poverty, unemployment and also the area where the "anchor institutions" were located.  The anchor institutions include the Cleveland Clinic, hospitals, universities, museums and nursing homes - all of which generate $3 billion in goods and services, Ted said.
"Virtually none of it" made it back to those neighborhoods, he said. 
What Ted Howard, John Logue, Jim Anderson and others including the Cleveland Foundation did was to make a case for those institutions to "share the wealth" so to speak by helping to finance and provide service contracts to a series of worker cooperative creating jobs and community-buy in that would lead to a safer community that would make it easy attract better staff in a win-win situation.
STRATEGIC AND COMPREHENSIVE ECONOMIC DEVELOPMENT
Ted said the work is a comprehensive economic development strategy that looked at four challenges:
1.     How do we create good quality jobs in disinvested communities? (Disinvested means the capital, or money, left.)
2.     Where do we find finances for job creation?
3.     How to deal with the lack of economic opportunity in an urban area where 30-50% of the people live below poverty line?
4.     How do we rebuild the economies of our cities?
The answer was the Evergreen Cooperatives, the first to launch was a green laundry. 
"You can't do business with a greener laundry than Evergreen," Ted said.  "That's part of the design." 
The Evergreen Cooperative Corporation got $5.8 million in financing:  $1.5 million from HUD from the city of Cleveland, $1.8 million on federal tax credits called New Markets, $750,000 from the Cleveland Foundation and $1.5 million from two banks.
"What we are trying to do is revive the economy, " Ted said.  The design is to create jobs, generate wealth and in the long-term, stabilize the neighborhood. Workers get a free health care package as part of their rights as owners and get help purchasing a home.
Like the MCC in Mondragon, http://www.mondragon-corporation.com/language/en-US/ENG.aspx the plan is for 10 percent of earnings "in perpetuity" to go into a fund that as that has as its mission the creation of new cooperatives.  
"Part of success is to not only having your co-op succeed," Ted said, "but to help other cooperatives succeed."
He further described the project as "a multi-stakeholder cooperative, a structure adopted from Mondragon.  We're trying to ensure stewardship of capital for generations... for Medrick's children."
The laundry and solar cooperatives launched in September.  Another cooperative, Green City Growers, is planned to take off next year.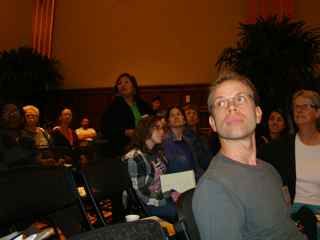 GREEN CITY GROWERS TO BE THE LARGEST URBAN GREENHOUSE
Under five acres under glass, Green City Growers "will be the largest urban [greenhouse] site in America," Ted said.  "It is not a boutique operation."
Ted said that $7 billion worth of food is consumed in Northeast Ohio, where Cleveland is located, most of which is trucked in.  In northeast Ohio $200,000-300,000 worth of food is grown elsewhere.  Cleveland and Northeast Ohio is a "food desert," he said.  "Hardly none of its food is grown there.
"There ain't no local lettuce growers in Northeast Ohio."   
All lettuces come from Arizona and California.  "That's 2,000 miles of carbon," Ted said. "We're trying to capture as much as we can." 
Green City Growers will grow lettuce and basil year-around to try to keep some of that money in the local economy, creating jobs and opportunities, and helping to have a cleaner environment, lessening the impact of carbon-producing transportation.
Ted concluded his presentation by reiterating:
"The health sector is growing.  Renewable energy is growing.   Models rarely get to a scale that impacts the entire community," he said. 
The strategy of tying economic development to worker ownership and institutional partnership creates a more stable and long-term business model.
"Because these institutions are anchored, they are not going to leave," he said.
Ted said the Evergreen Cooperatives have attracted interest all over the country from other cities interested in the economic development strategy.  In addition, the White House and the Environmental Protection Agency has also shown interest.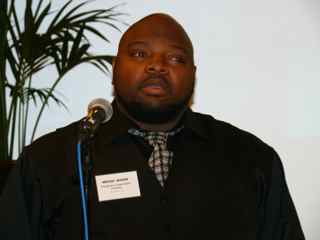 "I LOVE WHAT WE DO"
Evergreen Laundry's Operations Manager Medrick Addison spoke next.
"I love what we do, " he said, describing how between 200-250 people wanted to be a part of the cooperative when starting out. 
"There were so may people looking a chance to be employed," he said. "You gotta give them hope hope and that's what we're going to do."
Medrick pointed out that his job was to find the right people to be a part of the cooperative.  "I hire the attitude not the skills," he said. "I can teach them the skill."
QUESTIONS 
At the end, there was brief Question and Answer period.
One question was about whether Evergreen works with organized labor.
"The co-op is not unionized but they can be if they want to be," Ted said.
Another question was about whether the cooperative members were being educated about what it means to be in a cooperative.
Ted said that the "OEOC is doing cooperative education piece. "
Evergreen is also going to hire a co-op educator that works across the entire system of cooperatives, he said.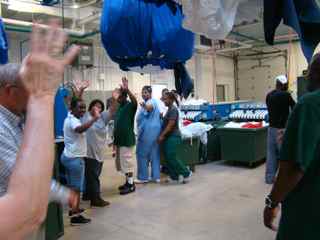 Evergreen workers waving goodbye to an Association of Cooperative Educators tour in late July