Body paragraph
Photos:  David Roach outside of Mandela Food Cooperative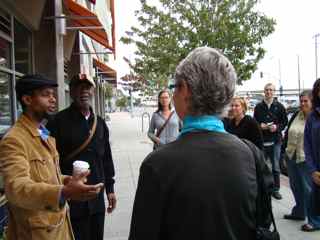 Tour members - Marilyn Langlois from Richmond's mayor Gayle McLaughlin's office, GEO's Ajowa Nzinga Ifateyo, Mandela Food Co-op Member Dennis Terry, Oakland's David Roach, of Mo' Better Foods, and GEO's Jessica Gordon Nembhard - pose in the store while other tour members shop.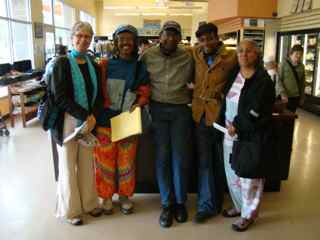 David Roach's newsletter:
Today, I had the privilege of being a tour guide for the  US Federation of Worker Cooperatives (USFWC) conference.  We went by Urban Releaf, Mandela Food's Cooperative, and Kijiji Grows, and the Claremont School garden. USFWC represented individuals from as far as Canada, Massachusetts and as close as Richmond and Berkeley.
 
OVER THE PAST FIVE YEARS- BUILDING HEALTHY ECONOMICS!
Over the past five years, The Familyhood Connection Inc, our 501 c-3 corporation has shifted our focus to strengthening organizations already in the community that represent a large population of people.

For this reason, when you visit our new website: www.healthyeconomics.org, you will witness information related to McClymonds high school (mcclymondshigh.org) and the Morehouse College Alumni Association (Morehousemen.com) and other sites that promote local artist of Oakland, Bay Area and Sacramento.

We believe, as we grow together, Mo' Better Food will continue to ask the question: Who will Supply Healthy Food to the American American community? The answer is very simple. We will.

"We" being the organizations like those above that will one day add economics and nutrition to their agenda.  When we add Economics and Health to our common agenda, we will truly realize the power we have in numbers to feed ourselves while enjoying the economics benefits of doing so.  We call it building healthy economics!

TOMORROW- SHOP AT THE MO' BETTER FOOD MARKET

Tomorrow, we host the Mo' Better Food Market in West Oakland on 7th Street and Mandela Parkway, West Oakland from 10:00 - 3:00 p.m.  Every Saturday, make it a weekly journey to support our farmers market. We offer a variety of crops grown by the African American Farmers of California.
 
BECOME A VENDOR

SEE THE LATEST CROP LIST

DESTINATION- WEST OAKLAND  !
During your visit, make sure to cross the street, visit and shop at the Mandela Foods Cooperative Grocery Store and on the other side of BART, visit the Mandela Transit Village, which hosts KijijiGrows Aquaponic demonstration model. All of this is located at the West Oakland BART station.
 
BLACK FARMERS SETTLEMENT NEWS!

You may have heard about the Senate not approving the settlement funds for the Black Farmers. If not, check out these links.

CNN

Reuter

SAVE THE DATE
Mo' Better Food Market- Aug 7th -Sat -10-3 pm 7th/Mandela Pkwy
Kijiji Grows  Aquaponic Work - Aug 8 - Sun - 5th St.Mandela Park
Fresh Festival takes place at Mosswood Park August 14th
Green Fair -San Quentin Prison - August 28th
Faith Day at the Park - September 18th
 
Since we last spoke, Hotep has learned a few more dance moves called the 3 Steps of Hotep. He say's, "my three steps can build Healthy Economics in any community." These steps are called, Mo' Better Food, Friends of School, and the Intergenerational Enterprise. Together, they bring together the generations to develop the community.

Each step has its own website to specifically focus on their particular function of strengthening a communities food system to build a Healthy Economy.  

OUR PHILOSOPHY
Our philosophy of transforming "low income", "under served", communities into  self -sufficient, independent communities has been largely influenced by Tuskegee University, founded by Booker T.Washington in 1881. 

To illustrate the influence Tuskegee has had on others, I wrote an article in the Lunda magazine in 1995.  You can now read it on the Lunda.com website! 

BUILDING YOUR HIGH SCHOOL, BUILDS YOUR COMMUNITY!
Since high schools are practically in every community, we believe every community can surround its high school students with volunteers and opportunities for training, employment, and entrepreneurship to improve the community.

We believe, each community can set aside one day a month to revisit where they last left off in their pursuit of building a healthy economy. We call this monthly campaign: 1stSaturdays.  The official site for this is 1stSaturdays.com.

To stay abreast of our affairs and ways you can support read below!

You can also follow the healthy economics journey on twitter!

Follow us on twitter.com/mobetterfood
Your servant,

David N. Roach


CLAREMONT MIDDLE SCHOOL
Last school year, we manged the after school garden program at Claremont Middle school. Students learned how to cook what they grew and the many benefits of having a healthy diet. Last year, we brought on board Joe Moore from KPFA radio and a recent graduate of UCSC farm program to teach gardening after school.
This year, we plan to increase the number of students involved in the school garden (beyond the after school program) and add a weekly farmers market to the program.
EXCEL AND BEST HIGH SCHOOL (MCCLYMONDS HIGH SCHOOL) CONNECT STUDENTS TO INTERNATIONAL TRADE AND LOGISTICS
After two years, the vision of connecting high school students of West Oakland to international trade may be taking root. Could students at every high school improve the trade of their community?
Website:
Friendsofschool.org
Follow:
Twitter.com/friendsofschool
THE INTERGENERATIONAL ENTERPRISE
We are currently looking for companies that would like to hire youth.  The County of Alameda will pay 80% of their salaries.  They are being trained to learn social networking and could possibly take your company to the 21st century!  Plus they need jobs!  Give our next the generation an opportunity to prove themselves!  Contact us
here.
Website:
intergenerationalenterprise.com
Follow:
Twitter.com/familyhood
STORE
HOTEP  T-SHIRTS ON SALE
In search of Maat (truth,righteousness,justice) Hotep leaves the land of Kemet to spread peace around the globe by building self-sufficient communities where ever he travels. 
Purchase a shirt today, and bring him to your community!
website:
http://www.theadventuresofhotep.com
follow:
twttter.com/hotepsadventure
DONATE
The mission of the Familyhood Connection Inc, a 501 C-3 corporation is to promote programs that bring the generations to improve the community.
Your tax deductible donation supports the Familyhood Connections mission of promoting programs that bring the generations together to create Healthy Economics.
In addition to financial contributions, we would be extremely grateful for: a refrigerated truck, cold storage facility, organic seeds, canopies, dj equipment, and of course land!
We stand on the shoulders of our ancestors!  But we cannot stand alone! We need your support!
You can support our mission by making a tax-deductible
donation
to the Familyhood Connection. You can also
advertise
your business on our websites and you can purchase a Hotep T-shirt.
Your support is truly appreciated!