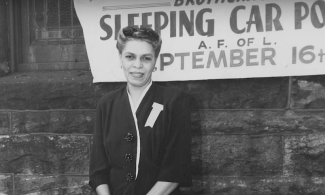 Body paragraph
A co-op educator and activist, Halena Wilson used her position as president of the Chicago Ladies' Auxiliary to the Brotherhood of Sleeping Car Porters to show Black women the path to economic self-sufficiency through cooperation. Wilson promoted labor-conscious consumerism and developed education resources for sister organizations outside Chicago.
Transcript
Narrator: Halena Wilson, 2023 Unsung Cooperative Hero, was a selfless and tireless crusader for co-ops. A co-op organizer, educator and advocate, born in Denver in 1897, she was conscious of a benevolent streak from an early age. She moved to Chicago as an adult at a time when Chicago was experiencing a period of migration of African-Americans from the South. After moving to Chicago, she found an outlet for her compassion, joining several social and civic movements. Helping the migration was the national distribution of the Chicago Defender, a black newspaper distributed throughout the South by Pullman Railroad Porters residing in Chicago.
After a 12 year struggle led by A. Philip Randolph, the Pullman Porters successfully organized the first union for black workers, the Brotherhood of the Sleeping Car Porters, which brought the nearly 20,000 members, including maids, better working conditions and pay. Halena Wilson was the wife of porter Benjamin Wilson. She saw firsthand the benefits of unionizing and economic democracy. Soon after the founding of the BSCP, female Pullman employees and relatives of male union members formed the Women's Economic Councils, officially recognized as the International Ladies' Auxiliary to the BSCP in 1938.
Tatiana Malovana: The drive behind Wilson's efforts is devotion towards a greater cause, something that has been important to Wilson from girlhood. And no one expresses this better than Wilson herself. "During that period of study, the members learned of the many advantages common to the cooperative movement. They learned how to give quality and value for the money being spent. They learned how to put an end to ruthless exploitation, how to lower prices, and how to shorten the distance between the middlemen and the ultimate consumer who happens to be themselves. They learned that the future well-being of themselves and their offspring, that the success of the enterprise, depends upon the consolidated efforts of the entire group.".
Alongside BSCP President A. Philip Randolph, Wilson spearheaded the Auxiliary's interest in consumer education and cooperatives through promotion and development of study groups for Auxiliary chapters nationwide. Led by Wilson, the Chicago Ladies' Auxiliary formed several study groups on consumers' cooperatives. And besides Wilson's hometown of Chicago, the study clubs emerged in 16 other cities across the nation.
Narrator: Wilson traveled the country representing the voice of Ladies' Auxiliary alongside the male leaders such as A. Philip Randolph and M.P. Webster — events that were highlighted in Black press. An important partner in union, cooperative, and civil rights movements, her work took her to Auxiliary chapters in cities such as Portland, Oregon; Seattle, Washington; Detroit, Michigan; New York, New York; Dayton, Ohio; Saint Paul, Minnesota; and Helena, Montana; as well as up to Montreal when the Brotherhood and Auxiliary expanded to Canada.
According to Paula Pfeiffer at the Ladies' Auxiliary, Wilson found she could be of real service in a cause that was seeking to liberate a much exploited people. She worked to help draw attention to injustice in many areas, including food, housing and working conditions. She worked to help show how cooperatives and other democratic institutions could help address the needs of black communities in ways that did not exploit, but that empowered them. She urged passage of important congressional legislation, often at the Metropolitan Community Church, a historic landmark in Bronzeville, on Chicago's South Side, that was one of the independent churches that governed themselves democratically with a dedication towards community service rather than religious denomination.
Jessica Gordon-Nembhard: Halena Wilson deserves recognition as an Unsung Co-op Hero, not just because she was one of the few black women to be elected to serve on the National Consumer Cooperative Council in the mid 1900s, and not just because she helped to start and support at least 17 co-op study groups in major cities in the U.S. and Canada. But also because of her 30 year contribution of articles and pamphlets in the Black Worker magazine on Cooperative Economics and consumer co-op strategies, and especially because of the collaborations and projects she organized between organized labor and the cooperative movement. She helped the labor movement to understand their power as consumers and the power of democratic control over work and business ownership that cooperatives enable. She argued that it's cooperative business ownership that we should be teaching our young people. I salute Halena Wilson, especially for being instrumental in raising the awareness of cooperatives in black communities for decades.
Ajowa Ifateyo: [Quoting Halena Wilson] "No race can be said to be another's equal that cannot or will not protect its own interests. This new order can be brought about once the Negro acknowledges the wisdom in uniting his forces and pooling his funds for the common good of all. Other races have gained great wealth and great power by following this simple rule and it is hoped some someday that the Negro will do the same."
Narrator: For all her work and contributions to cooperatives — as an educator, organizer, and leader — we honor Halena Wilson with induction into the Cooperative Hall of Fame.