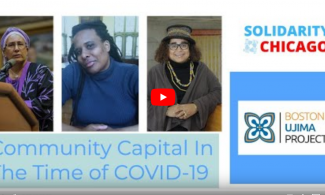 Body paragraph
With funding for federal, state, and local loan and grant programs maxing out, it is more important than ever that we utilize a multitude of creative strategies to harness the financial capital of our communities towards self determined outcomes.
In this Solidarity Chicago session, you will learn historical and contemporary examples of how our communities have employed rotating savings and credit associations, peer-to-peer lending, and other creative methods of harnessing capital.
This session will feature:
Nia Evans, director of the Boston Ujima Project, which is working to organize Greater Boston area neighbors, workers, business owners, and investors to create a community-controlled economy.
Dr. Jessica Gordon-Nembhard, Professor of Community Justice and Social Economic Development in the Department of Africana Studies at John Jay College, of the City University of New York (CUNY) in New York City, and author of Collective Courage: A History of African American Cooperative Economic Thought and Practice.
Caroline Shenaz Hossein, Associate Professor of Business & Society in the Department of Social Science at York University in Toronto, founder of the Diverse Solidarity Economies (DiSE) Collective, author of Politicized Microfinance: Money, Power, and Violence in the Black Americas, and editor of The Black Social Economy in the Americas: Exploring Diverse Community-Based Markets.
Community Capital in the Time of Covid-19 is part of a series of online meetings hosted by Solidarity Chicago to elevate cooperative economics, mutual aid, and other solidarity economy tools that communities are using to support one another through the pandemic. Through this series, Solidarity Chicago will both explore strategies to navigate this collective experience of change and loss while also setting the stage for a new economic paradigm centering the needs of marginalized people, Black and brown communities, and the sustainability of Mother Earth.
*Originally broadcast on May 20, 2020 at 4 pm