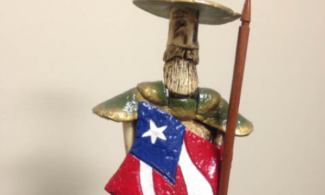 Transforming prisoners' lives through cooperation in Puerto Rico
Body paragraph
At the age of 19, Roberto Luis Rodriguez Rosario was serving a 125-year prison sentence in Puerto Rico.  The experience was devastating.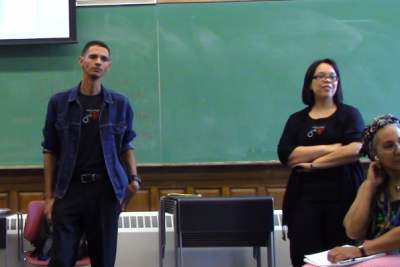 After about 15 years, Rodriguez  and several fellow inmates used that experience to organize something liberating for themselves and others, something that could potentially and significantly change the way prisoners are incarcerated around the world.  Rodriguez helped organize the world's first worker cooperative composed solely of prisoners in Puerto Rico - Cooperativa de Servicios ARIGOS.
Now 39, Rodriguez is spreading the word about how cooperatives can rehabilitate prisoners and give them hope.
"The cooperative model can be used to create spectacular change," Rodriguez told Eastern Conference for Workplace Democracy conference participants in Worcester July 13 in a workshop that he led entitled Cooperative Ownership and the Prison Industrial Complex:  A Case Study from Puerto Rico.  "Co-op theory is magical."
Joining him in the ECWD presentation was cooperative educator Lymarie Nieves Plaza, Director of Marketing at the Cooperativa de Ahorro y Credito, Candel Coop in Manati, P.R., who, while a member of another co-op, helped organize the prison cooperative from the outside.  The two plan to present at the Western Worker Cooperative Conference (WWCC) in September. Jessica Gordon Nembhard, a member of GEO, traveled to Puerto Rico and learned of the prisoners' cooperative work.  She hosted Rodriguez and Nieves as they traveled to ECWD and the Association of Cooperative Educators Institute in Amherst this past July, and will accompany them to the WWCC.
Other countries have developed "social cooperatives" which have both prisoners and outsiders as members, to help deal with social issues, but Cooperativa ARIGOS was the first made up entirely of prisoners.  Prisoner cooperatives and social cooperatives that provide services to prisoners or ex-prisoners currently exist in South America, Italy, Canada, Ethiopia, and other parts of Europe, but none of them are composed of all prisoners and run by prisoners.   
"It's important to be clear," Nieves said after the workshop. "Cooperatives exist in the world with inmates, but Puerto Rico was the first to have a cooperative completely working with full inmate members leading everything [as members and on the board]."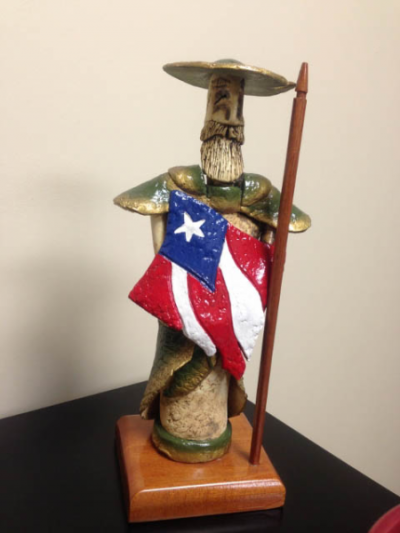 Through Cooperativa de Servicios ARIGOS, organized in 2003, inmates at 945 Guayama Penitentiary, P.R., make crafts to earn money.  Interestingly though, the project started out as therapy.  Other prisoners, like Rodriguez, had trouble dealing with anger and hopelessness.
Rodriguez was five when his mother's boyfriend shot himself at her door.  The incident changed life for him and his siblings.  "She couldn't care for us," he said speaking in Spanish.  From age 5 to 12 he lived in a foster home. It was just a matter of time before he started medicating himself with drugs, and that put him on the road to prison.
"I suffered all kinds of abuse," he said.  "I was so rebellious.  I lost the way.  I ended up doing things I don't know how I did."
At the age of 19, Rodriguez found himself in a correctional institution for the fourth time, after he surrendered himself to authorities.  Nieves said that that surrender in 1995 "was his first and most important decision in his life."  It earned him 125 years.
In prison, he was kept in his cell 22 hours a day, with only two hours for a shower and exercise. "It's a wonder I didn't go crazy," he said.
He managed to complete high school two years later, and in 1998 he started an inmates' college program where he was able to complete a year and a half of the requirements for a bachelor's degree.
Rodriguez became spokesman for the inmate population on the Island, and in 2003 the Department of Corrections and Rehabilitation of Puerto Rico recognized him for his leadership working for the rights of inmates.
The co-op had already started in 1993, two years before Rodriguez's arrival in the prison.  The co-op began with an idea for a mental health program in which inmates started creating art and craft pieces for therapy.  Three prisoners -- Hector Quinones, Efrain Ortiz and Santos Villaran -- initially started the co-op.
"We wanted to create things with our hands to keep our minds together," Rodriguez told the ECWD workshop.  "When they discovered talents they didn't know they had…When they saw the things they could create with their own hands, it transformed them."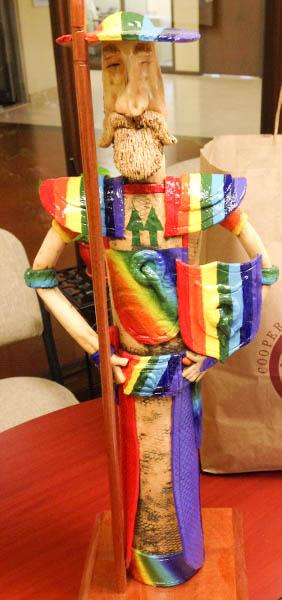 The prisoners started out creating gifts for their families.  "They were amazingly beautiful pieces," Rodriguez said.  Then they wanted to sell them. In their search for business options, the prisoners asked that Liga De Cooperativa y Fomento Cooperativo (cooperative league) for information on how a co-op works.  When the inmates heard the presentation, they fell in love with cooperatives because it allowed them to work together and help more inmates.  The prisoners requested education to learn more.  
When the prisoners chose the co-op model to work with, they ran into an obstacle:  Puerto Rican law did not allow prisoners to be a part of cooperatives.  In 2003, the General Law of Puerto Rico Cooperatives Societies (formerly Law #50 of August 4, 1994) was amended (as Law 239) to allow inclusion of cooperatives from the Puerto Rican Penal System.  
Through working with the art, a more important change took place -- the inmates changed themselves through constructive and satisfying work.
"We started to change the way we saw the world," Rodriguez said.  "It ended up transforming our lives practically without us noticing… It was important for us because it allowed us to be in contact with our community.  This became part of our rehabilitation process."
After the organization was incorporated, the government invited the co-op to show the evolution of the model. Rodriguez was secretary of the ARIGOS Co-op Board and wrote letters to the governor of Puerto Rico, Sila Maria Carderon, letting her know what the intentions of the cooperative were.  He was allowed to go to the Senate, too. Rodriguez, other members of the board, Nieves and other co-op representatives spoke before the Puerto Rican Senate to  lobby for change.
"They gave us the opportunity, and the law was amended," Rodriguez said through a translator.  "We wrote in a small corner in the history of cooperatives that we are the first co-op in prison."
Nieves, who had first made contact with the cooperative because her co-op wanted to write an article on the prisoner co-op and to buy crafts from them, began to volunteer with them in 2008 teaching them cooperative philosophy, principles, history, law and governance.   
Rodriguez said that he transcribed the seven cooperative principles and adapted them to prison culture.  In particular, before they could organize the co-op, they had to educate their members about the bad treatment of gay prisoners.
"We had to see people as individuals regardless of sexuality and religion," he said.  "We created new nouns to see everybody as our equal. We started to change the way we saw the world before we were able to function as a co-op."
The entire Puerto Rican cooperative movement supported them, even holding an exhibition for the prisoners.  Through the co-ops the prisoners exhibit their work at co-op events, and sell their wares.  The board and cooperative members attend cooperative events with two guards.  Nieves lobbied the correctional system to gain respect for the co-op and allow them to work by themselves.  She helped to educate the co-op members inside the prison, organized government meetings so that the members could present their projects, served as the group's spokesperson in the co-op movement, and helped with marketing and seeking support from other cooperatives.  
Rodriguez served on the board of the cooperative as secretary from 2004-2009.  He was released to a transitional program in 2009 after serving 14 years and two months of his sentence.  In 2010, he worked in the Cooperativa la Sagrada Familia as a journalist and assistant editor of El Visionario, an Argentinian rock reality show. He also worked on proposals to develop the Puerto Rican cooperative movement.  In 2013, Rodriguez landed a part time job promoting campaigns with Candel Co-op.  After being in a transitional program for a year and a half, and probation, Rodriguez earned his complete freedom on August 16, 2014.
In just 11 months he was traveling the U.S. mainland, spreading the co-op gospel at co-op conferences.
Puerto Rican law currently prevents ex-prisoners from socializing, Rodriguez said, and he and Nieves are now working on trying to change laws so that people who are released from prisons can be in a co-op together.  He wants to make the model one that benefits prisoners all over.
"We have a rehabilitation model that is amazingly effective," he said. "We have to expand this in institutions all over the country and the world.  It is going to benefit segments of the population who can't get a job."
The success of ARIGOS Cooperative has led to four prisoner cooperatives in Puerto Rico.  Nieves also helped to form new co-ops in jails, following the rules and the model that ARIGOS already worked on.  She worked on legislation for a women's co-op, Tainas Co-op in Vega Alta, P.R.  Nieves is also working with another cooperative, Vencedores Co-op, to get them ready for incorporation. Then there is the Zarzal Co-op, in eastern Puerto Rico, and a co-op organized to offer  renewable energy is in the start-up phase.  The average age of the prisoners is 33 years and they have a 7-9th grade education.  
According to information the Puerto Rico Department of Corrections and Rehabilitation provided to Nieves-Plaza, approximately 12,400 people are in prisons in Puerto Rico, 400 of whom are women; and 425 young adults.  The prison population is expected to grow to 16,000 in 2016.  The island's population is 3.7 million.  It costs $40,000 to $43,000 to keep a person in prison the first year.  After that it costs $20,000 yearly, Nieves said.  The prison system's recidivism rate is 53% annually, she added.  
Nieves also spoke about her work working first at the men's prison and then later with women.  
When Nieves saw the treatment of women and their conditions, it devastated her and almost made her give up the work.  "When I entered the women's prison for the first time, I couldn't stop crying," she said. "I didn't want to go back.  I didn't have the strength."  
Then there was pressure from those who attacked her for working with people who others felt did not deserve their help.  But the need of the women was so great, especially in regards to their children, that it moved her to rise above her own pain at seeing others in such pain.  She learned to challenge the system and to educate people.  Now she says she has named her work "transformational cooperativism."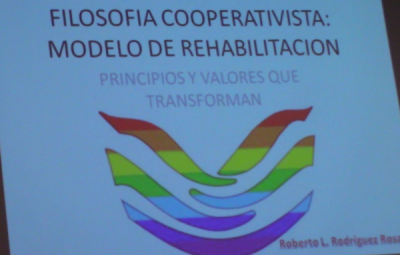 "Each one of them is a promise to me," she said, saying that the work has caused her to be "born again."  "If we don't give people the tools to make change, you can't expect them to make change."  
Rodriguez has written a book, Corazon Libre, Cuerpo Confinado, about his feelings being locked up.  The book, currently only available in Spanish but soon to be published in English, is about his experiences in prison. He hopes it will bring him some income.  "My biggest dream is to have a job to bring money to my family."
Rodriguez is also working to develop the first ex-prisoner cooperative on the island to help with transition and with finding work.  
"I hope to do it to the last day of my life," he said. "It gave me hope in living.  It gave us this unbelievable satisfaction with our lives."  
The Puerto Rican prisoner model, if adopted on the mainland, could lead to overhauling the U.S. prison system, making it truly rehabilitative and leading it to be less of a tax burden and to allow prisoners to contribute more to society by helping to provide them with income and a new sense of their possibilities.
In the U.S., 1,574,700 people were in U.S. prisons in 2013, according to the latest Bureau of Justice statistics, making the U.S. the world's largest jailer.
Imagine what a difference would be made if incarcerated and formerly incarcerated people could get work and transform their lives, particularly in communities of color devastated by disproportionate numbers of their members being locked away in institutions with few or no programs to re-educate and otherwise train prisoners to be productive members of their communities.
Nieves got her first inkling of the power of cooperatives to change a prisoner's life when she visited the Guayama Penitentiary where she met Rodriguez.  "I was completely surprised by their transformational process," she said. "It was exactly at that moment that I discovered my world's mission. I was totally convinced that the cooperative movement plays an essential role in their transformational process."
Nieves is now on a mission to create cooperative consciousness "in my country and the world as a whole," she says.  
"I am a witness to the cooperative movement power among them," she said outside of the workshop.  "I have the courage, power and willingness to be part of this movement, and I am determined to serve as a spokesperson for transformational cooperavatism."
Thanks to Coqui Negro of the Stone Soup Collective who translated Rodriguez and Nieves' ECWD presentations.
Nieves-Plaza, who is better at speaking and writing English, can be reached at lymarienp2@gmail.com; Rodriguez can be contacted at corazonlibre2011@gmail.com.  
Go to the GEO front page
Citations
Ajowa Nzinga Ifateyo (2015).  The World's First Prisoner Worker Co-op:  Transforming prisoners' lives through cooperation in Puerto Rico.  Grassroots Economic Organizing (GEO).  https://geo.coop/story/worlds-first-prisoner-worker-co-op