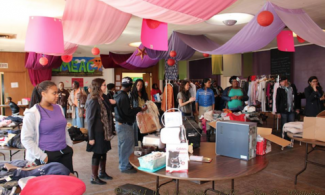 Body paragraph
cross-posted from Shareable
When Shareable and Center for a New American Dream decided to launch the ShareFest initiative, we had very modest expectations that 5-10 cities would step up to host an event. Amazingly, communities from around the world in the Sharing Cities Network have hit it out of the park with 40 ShareFests - some with several thousand participants (Belgium), one with over 40 activities (Porto Alegre) and one month-long ShareFest of 30+ events in Oakland! And many, many more sharing events happening this #SharingSpring. We wanted you to see for yourself what the fuss is all about, so we made this ShareFest Video.
ShareFests are the perfect opportunity to celebrate the city commons and to connect activists excited to create a sharing city together. For newbies just becoming aware of sharing, gifting, cooperatives and solidarity economics, a ShareFest is a great introduction - it's one thing to read about it, and another to experience how empowering a new economy and how rich living it can be first hand.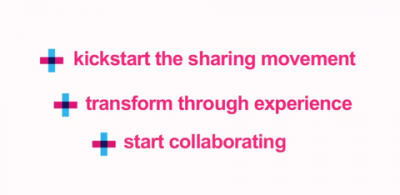 If your city is well on its way to becoming a sharing city, a jumpin' ShareFest demonstrates that we are part of a bigger movement and we aren't alone! ShareFests all over the world are organizing, connecting and supporting the growth of local projects like timebanks, tool libraries, free stores, shared community resource mapping and much more.
Want to get in on the #SharingSpring? Find a ShareFest near you below or use a complete toolkit to host one in your community. It doesn't have to be a huge production (but it sure can be if you want!) and we are here to help.
Interested in participating in an upcoming ShareFest already scheduled in your community?
San Francisco, CA May 30th-June 1st, hosted by FreeSpace
North Bay, CA on May 31st, hosted by Share Exchange and Extended Relative
Asheville, NC on May 31st, hosted by Share Asheville
Siderno, Italy on May 31st-June 2nd, contact Luigi
Prague, Czech Republic on June 1st, hosted by Hearth.net
Melbourne, Australia on June 1st, hosted by Social Surplus
Gothenburg, Sweden on June 1st
Lisbon, Portugal, ShareFest June 2nd, hosted by Aga Khan Foudation
Liège, Belgium on June 14th
Hartford, CT on June 14th, hosted by Public Allies CT
Barcelona, Spain on June 27th, hosted by Aurea Social
Brussels, Belgium on July 3rd
Portland, OR Skillshare and ShareFest on July 12th, hosted by Share Portland
Toronto, Canada July 16th
Porto Alegre, Brazil on July 19th
Oahu, HI, Date TBA
Chicago, IL, hosted by Chicago Time Exchange (Date TBA)
Boston, MA, hosted by Share Boston, (Date TBA)
Adelaide, Australia, hosted by Share & Save, (Date TBA)
Amsterdam, Netherlands, hosted by Share NL, (Date TBA) ​
Need some inspiration? Check out highlights from a selection of ShareFests that already happened this Spring:

Go to the GEO home page