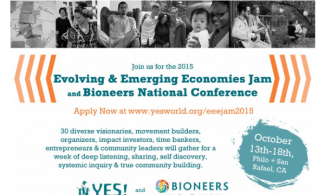 The Emerging & Evolving Economies Jam
Body paragraph
As an activist and solidarity economy practitioner, I often find myself on the edge of feeling overwhelmed: overwhelmed both by a feeling of urgency to react to systemic crises in my community, and by the abundance of opportunities to work alongside deeply courageous and passionate people on the frontlines of social change. From anti-displacement organizing to defending public land from corporate development to supporting worker cooperatives and community land trusts, I am blessed with so many ways to be engaged in communities that I care about.
One thing I've learned over many years of activism and social change work is that community care requires self care: if I want to show up as fully as possible every day and stay engaged over the long-term, I need to take care of myself. And over the past few years, I've seen the power of creating space for others to care for themselves, as well.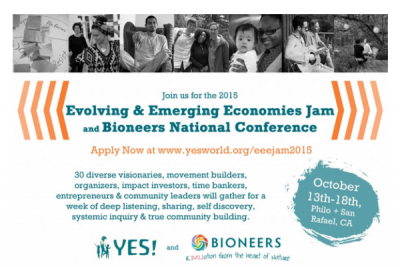 That edge I mentioned is often the most fertile and generative place to be, just as the edge of a forest or a river ecosystem is often the most diverse and full of life. But crossing that unseen line into overwhelm and burnout is not good for me, nor the communities I work with. When working to transform systems based in the historic and ongoing traumatization of certain communities and the natural work, it can be difficult not to internalize that trauma to some degree. The last thing I want to do is recreate those systems of trauma and oppression in the attempt to create more resilient communities.
The Emerging and Evolving Economies Jam is a small annual gathering of economic justice activists, local economy change-makers, and other community leaders committed to creating more just and sustainable economies. The "Jam," as it's often called, is a place to practice and learn tools for self care, to connect into a larger community of practitioners and allies, and to explore how self care and community care can lead to more systemic transformation in the dominant economy. A Jam can be difficult to describe – it's not really a retreat, it's not a traditional conference, and it's not a workshop. It's something altogether co-creative and experiential, and for me at least, deeply nourishing.
In this sense, I believe the Jam is also pre-figurative of the kind of community and economy I'm working to create, one in which we are all in deep solidarity with ourselves, with our community (those present and not present), and with all those who came before us and will come after us. The experience of this kind of pre-figurative community can make a lasting imprint on people, as it has on me, by grounding conceptual understandings of an alternative economy in lived experience.   
This year, the Emerging and Evolving Economies Jam is also partnering with the National Bioneers Conference to create a really dynamic and unique experience. After three days of deep personal inquiry and connecting as a Jam community (25-30 people), we'll travel together to the Bioneers Conference where Jammers can participate in the much larger conference as part of our Jam cohort. It's an opportunity to play with boundaries, and to more deeply engage with the many Conference tracks at Bioneers, including "Eco-nomics," Justice and Equity, Restorative Food Systems, and much more.
We also try to embody a different economy in how we make the Jam accessible by offering sliding scale rates, scholarships, work-trade, payment plans, and other creative ways to ensure that those who need to be there can be. Will you jam with us? Find out more and apply for the Emerging and Evolving Economies Jam here.
Go to the GEO front page