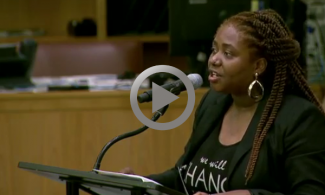 Women of African Descent Speak Their Truth at the UN
Body paragraph
[Editor's note: This recent event at the United Nations represented a milestone for Black Women's Blueprint, a Brooklyn-based organization that works to "place Black women and girls' lives as well as their particular struggles squarely within the context of the larger racial justice concerns of Black communities..."  Here is how BWB announced the event on their Facebook page.
Black Women's Blueprint has officially entered United Nations Headquarters for the 11AM panel debate. This panel represents SIX years of work and sacrifice, and sends a signal to the world that Black women in America REFUSE to be locked out from global discussions that impact our right to bodily and spiritual safety and liberation. This panel represents that when we mobilize together, as grassroots organizers from Brooklyn and hundreds of Black survivors of sexual violence from around the country, we WILL push our way into the hallowed halls of one of the world's most powerful and guarded institutions to speak our truths and call for action to end systematic rape and structural impunity on American soil.
We congratulate Black Women's Blueprint on this historic occassion, and extend our grateful thanks for raising up the voices of these strong, beautiful, inspiring women! See the even announcement below the video for a full list of panelists. ]
29 Apr 2016 - Panel discussion event on "Recognition, justice and development: Women of African descent – at the intersection of race and gender" on the occasion of the International Decade for People of African Descent. Organized by the Office of the High Commissioner for Human Rights (OHCHR), in collaboration with the Department of Public Information (DPI) and Black Women's Blueprint, with the support of the United Nations Entity for Gender Equality and the Empowerment of Women (UN-Women).
Go to the GEO front page