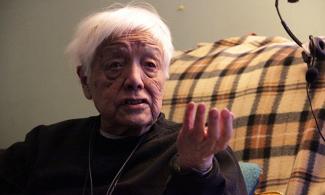 Remembering Activist and Spiritual Warrior Grace Lee Boggs
Body paragraph
On October 31, 2015 in Detroit, Michigan more than 500 community activists, students, friends, longtime community members and people from around the country came to memorialize Grace Lee Boggs. One by one stories were told from both young and old as to the influence that Grace has had in their lives.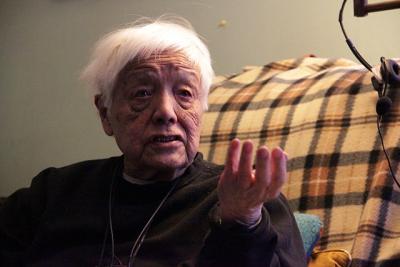 By no means is my story of influence much different than others, except that I would like to think that we shared a special moment several years ago that stands out as a special peek into a different side of Grace.
Four years ago I was Grace Lee Boggs' personal assistant. I had come to be with, study, and assist Grace in her world. I came to learn very quickly what this assignment would entail and that there was much for me to learn. The world of philosophy and theory, Karl Marx and Hegel, socialism and communism and all things in between – I had a lot of reading to do. Whenever, I asked a question in our many discussions, a straight answer was never given, instead I was directed to the library, a particular shelf and a particular book. After reading I could again ask the question but be prepared this time for a discussion that would lead me to discover the answer – critical thinking was the call for the day with Grace, always. Some 30 or so books later I felt reasonably comfortable in our discussion where I could hold my own position in the debate. My position was that a revolution would take more than mere change, it would require a spiritual transformation and of course, I was requested to go in-depth with my statement and I did.
As time and meetings went on regularly at the Boggs Center, which I attended on Grace's behalf (she was regaining her strength to walk, at that time) the idea of transformation would continue to arise, of which there was minimal discussion. After all, spiritual matters didn't surface much in the discussion with these socialist/Marxist based activists – religion and matters of the sort were not well respected. However, I continued with the position I held and we moved forward without my knowing how Grace really felt about these matters. Given time, my doubts would be addressed, and that time came on or about October 24th, 2011 when a surprise birthday party was held in my honor at the Project House.
The surprise party was set like all parties of this sort. The honoree knows nothing and friends and family are invited to eat, drink and be merry with a special person. Upon my arrival I was shocked to see sitting in the middle of the living room Grace Lee Boggs. If ever there was a moment of joy and tears at the same time, this was the moment. I remember her smile like it was yesterday. She told me she had been all over the house looking at the work we had done and wanted to go upstairs. Thinking that she would have difficulty climbing the stairs, there were a couple of men available to carry her but she refused. Instead, Grace walked up to the second floor by her own accord.
Once she arrived to the 'loft' we brought over an office chair and she rolled across the floor from one side to the other. When she sighted the library she rolled over and then stood up and surveyed every shelf and book on it. I stood right next to her in wonderment of what she was analyzing and with tears in her eyes, she turned to me and said: "I have seen this place many times for many years in my dreams. I have been here before." I responded, "We have always had a library." I knew at that moment, Grace not only understood spiritual matters but she recognized a spiritual bond between she and I. That special relationship was later explained by one of my metaphysical friends that had connected us in past lives as sisters.
The remainder of the evening was magical and mystical as Grace ate and relaxed with a small group of friends that sat in a circle around her to listen to her words of wisdom and the stories she told, and the questions she asked them about their lives and what it meant to them to be a more-human human beings for change in the 21st century. Grace stayed at the party until well past 9:00 pm that evening. She talked about that party up to her last days.
Yes, we talked about death, too. More in terms of how we would choose to leave this earth. That was a spiritual conversation as well, even knowing that a person can choose how they want to die. We knew she would sleep away and we came to know why she chose that path. I knew it would not be easy for her but I trusted that she would know when to surrender, and she did. She surrendered the day I left the country for Europe and I knew before the call came. We had it like that!
So, Grace, my sister, go to your peace and rest now. You have been an outstanding Spiritual Warrior and have done your job well! Those of us who understand, have learned and are aware, are called to do our best to get to the finish line and we know it takes commitment.
I will do my best and I will see you, later. Thank you!
Go to the GEO front page
Citations
Gloria Lowe (2015).  Farewell Grace:  Remembering Activist and Spiritual Warrior Grace Lee Boggs.  Grassroots Economic Organizing (GEO).  https://geo.coop/story/farewell-grace