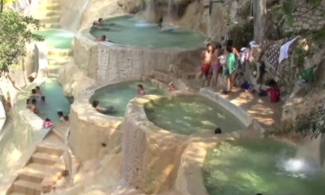 Grutas de Tolantongo Cooperative Seeks Funding for Documentary Film
Body paragraph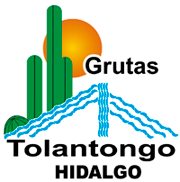 My name is Atahualpa. I am the director of "Grutas de Tolantongo".
I live in the small village of Sosnavar, 8 hours from the US/Mexican border. Since 1994 with the passage of NAFTA (North American Free Trade Agreement), Mexicans have seen millions of mostly poor campesinos forced from their farms and head north to the U.S in search of jobs. At the same time, U.S. corporations closed factories, putting millions of North Americans out of work, moving their businesses to the Global South.
Both countries have suffered enormously.
I believe that there are alternatives to migration for many people in my country. One of these alternatives is Grutas  de Tolantongo, and that is the subject of my story.
My film will take you into another world where years ago 139 families amazingly and cooperatively joined together to form a tourist destination unlike Cancun, Acapulco or any of the other Mexican beaches.
Imagine driving through a hot desert about 2 1/2 hours from Mexico City in the State of Hidalgo, with cacti and a few pulque signs, and you suddenly find yourself being embraced by this magical canyon and tropical plants, where a tourquoise river is surrounded by dozens of hot springs, ,cabins, small hotels, inviting pools and mysterious caves.You will have arrived at Tolantongo, a successful cooperative where for years members of this community have been able to work democratically on their land. They share equitably both in the profits and also invest for the future creating a sustainable, remarkable business for all.I believe that there are alternatives to migration for many people in my country.
They have no need to migrate north to the US or to the bigger cities of Mexico. They work beside their parents,families,relatives and friends. Their cooperative is incredibly unique in that every year each member changes their job duties at the hot springs. One year that person might order the supplies; another, work in the office; or clean the hot springs; or work at the gate. Everyone is paid an equal share and everyone is a member with one vote. Their monthly assembly resolves inequities, makes decisions for the future and celebrates their wonderful life.
I'm asking your help to complete this film both for Mexicans in the US and also in Mexico. Tolantongo can serve as a social business model that provides a partial solution to migration; one that people from every political persuasion can support.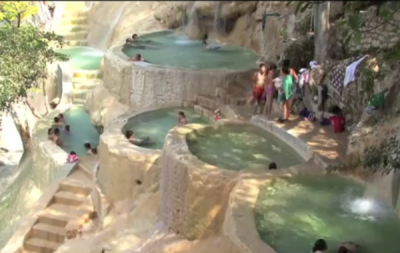 Our goal is to show that cooperatives are a sustainable, equitable way to work and live.  They provide meaningful and empowering jobs for the community, lending much needed stability to a rich culture.
The men and women do not have to migrate from their lands. This model cooperative could be adapted to many different areas of Mexico as well any situation where workers are ready to control their own livelihoods.
With your assistance and tax free donations, this documentary will be used to make a difference in the lives of many for years to come.
We have already raised over $5000 for this project.  These funds have been used to gather most of our bulk video and produce our trailer.  This project is focused on getting another $25,000 to complete the project. These donations will enable us to; finish interviews with community elders, edit our library of footage, complete post production work, music layering, website creation and film promotion materials.  Our budget is available for your review, Contact us for details.
The film's director is Atahualpa Caldera Sosa, Biologist, Master in Integrated Watershed Management, founder of the Group of Environmental Interdisciplinary Action and founder of the Eco-Village "Los Carrizos" where he currently lives, promoting permaculture and sustainable living. He is a collaborator of the Center for Global Justice for more than five years as a board member. He collaborated on several documentaries with renowned documentary maker Francesco Taboada Tabone. The films in which he has participated are "Pancho Villa, The Revolution is not over", "13 villages in defense of water, land and air," "Tin Tan", "Shamans, Knowing and Tlatoanis". Currently Atahualpa Caldera is making another documentary about the Laja River in the state of Guanajuato.
Check out the great Perks.  Most importantly, become part of a long term solution to the immigration fiasco.  Whether you come from a liberal or conservative perspective, we can all agree that building cooperatives that create meaningful work within local communities is a fantastic model.  With few exceptions, everyone would prefer to stay in their native community, with their family.  Given the chance, cooperatives can achieve these powerful goals.  Spread the word.  Like us on facebook.  Make use of the Indiegogo campaign tools.  And Thanks.
Visit the documentary's Indiegogo page to make a donation
Go to the GEO front page