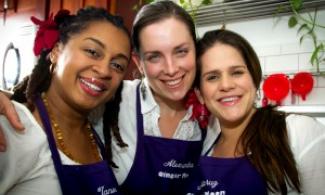 Worker-Owners Share Their Stories
Body paragraph
Editor's note: Today we present the testimony of more worker-owners, delivered this past February at a hearing convened by the New York City Council Community Development committee.  Read more hearing testimony from co-op practicioners here.  Read about the end results of the hearing here.  Complete written testimony from the hearing is embedded below this article.
A Co-op by Mothers, for Mothers
Ginger Moon is a mother-owned cooperative.  As food doulas, we "mother the mother" by providing her revitalizing and healing foods during pregnancy, childbirth and nursing.  After many discussions about how we could create a resource for busy mothers like us, we realized that knowing what to eat and knowing the kinds of support we need during pregnancy, after giving birth and while nursing, is essential and was a gap in society.  We believe that what we eat determines our physcial and emotional wellbeing.  We envision a world where every new mother will have the knowledge and support to nourish herself and her family.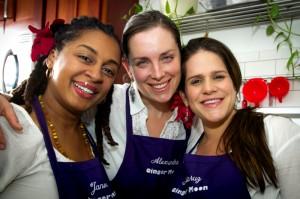 We define success by how we are creating a shift in culture.  By changing the dynamic of a family to one in which a pregnant, new or nursing mother is nutritionally, emotionally and spiritually taken care of by her community and her family, tells us that we are successful at whe whe do.  Success is measured in the belief that healthy and supported mothers create healthy and supported children, families and communitites, we see our work as strengthening the world, one mother at a time.
Ginger Moon has been entirely self and crowd-funded to date, with a great percentage of this support coming from the cooperative community.  This has allowed us--far more than a new non-cooperative small business--to begin with a foundation of support, in no small part due to our participation in the Greenworker Co-op Academy.  This in turn has made it possible for us to expand our services to reach more women, and add a delivery service for current and new clients, so that our foods can reach a larger amount of women both in New York City, and nationally.  Further support to cooperatives will directly support our mother owned worker cooperative, enabling its growth and sustainability so that more women can be impacted by our concept of mothering the mother through cooking workshops and trainings.
Ginger Moon has since its very beginning in 2012 been clear that we are a mother owned business that prioritizes motherhood, family and community.  Mothers are the pillars of why and how we started, and they have remained pillars in our company.  The three co-owners of Ginger Moon are mothers to 6 children, aged 10 months to 10 years, with 4 out of the 6 children under 3 years of age.  We have made decisions to take on part time and occasional jobs to stay at home the most possible time with our children, but since Ginger Moon's inception we have been building our business alongside our children, while providing support to other women as well as taking care of our families and ourselves.
~Ginger Moon Cooperative
I waited until after I was 35 to have my children, and when I decided to have my first baby, I knew that I had to shift things to lead a sane, balanced life.  Alll of my working years, I worked for non-profits, and within the non-profit sector I really grew to become a human rights advocate and defender.  I worked extremely long hours, both in an office and in the community and I still had my work/hobby related projects, like hosting a radio show and facilitating workshops in the community.  I wanted and needed a break in order to really be able to focus on my pregnancy and later on my son.  I committed myself to being a work at home mother for 2 years, and I started consulting with organizations. 
But there was still a gap, as a mother I was lonely and isolated since I was no longer part nor available for the long hours and heavy travel.  that was when I sought out community and relationships with other pregnant and new mothers.  I met my co-owners through sharing of food at our kitchen tables, and that in essence is how Ginger Moon was born.  Ginger Moon's existence and my own ability to reinvent my life to fit my needs as a mother was only possible through a cooperative business model and the resources and support that accompany it.  We are truly a co-op success story!
~Janvieve Williams Comrie
A Life Changing Co-op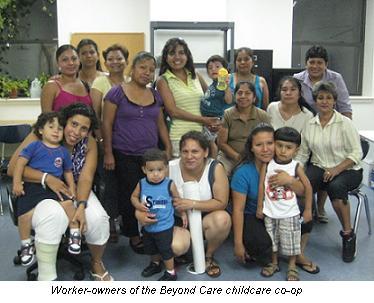 Good Morning, my name is Margarita Ruiz and I am a member of the Beyond Care Cooperative.  I came to this country at a very young age with the American dream to help my parents.  At that time I was getting paid $3.25 an hour.  After several years I changed my job and started working as a house keeper.  I worked for long hours receiving only minimum pay without having sick days and holidays paid for.  But thanks to the Center for Family Life for opening coops my life has changed in many positive ways.  The Center and the cooperative have given me the opportunity to grow as a person and gain valuable skills that help me at my job as a babysitter.  I am able to spend more time with my family and have a reasonable salary.  My rights as a worker are respected and the working conditions of my environment are much better. 
I think I speak for all the coop members in Beyond Care when I say that this coop has changed the lives of the 33 members, 18 founding members including myself and the other 15 members of later generations.  Our working conditions are much better than before.
This is why it is important that we get the support of all the city officials here today.  we need more coops like Beyond Care to provide more opportunities for workers, to have their rights respected and to get a salary that is fair and just.
More than Poverty Alleviation
Good morning.  My name is Ana del Rocio Valderrama.  I co-founded the Caracol Interpreters Cooperative in 2011 when I was on food stamps and expecting my first child.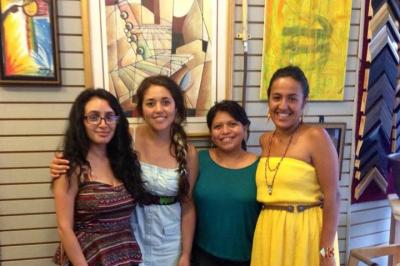 With the support of the Coop Academy run by Green Worker Cooperatives, our team of worker-owners has been very successful in providing translation and interpretation services to organizations with multilingual bases.  In the three years since our launch, we achieved a 150% increase in the hourly fee paid to our interpreters.  We have grown our team of interpreters by 25%, as we work diligently to meet the high demand for our services.
I am no longer on food stamps or any type of government assistance.  I can't overstate the importance of my experience as a worker-owner in contributing to my financial independence, as well as my overall quality of life. 
Following this success, I urge you to consider the ways in which you can incorporate the worker-owned business model into city agencies.
To illustrate this need:
7 days ago an article was published in the New York Post with the headline, "NYPD failed to translate mom's warning ahead of triple slay."  As I read the piece, I learned that a 21-year old mother, Deisy, and her two little girls, Daniela and Yoselin, ages 2 and 1, were murdered by their father despite the fact that Deisy had explicitly warned the NYPD of her husband's homicidal threats.  Deisy's words were in Spanish and they were not translated, against policy.  I can't help but ask myself, as a professional translator and interpreter, whether my work, had it been called upon by the appropriate officials at the appropriate time, could have contributed to getting Deisy, Daniela, and Yoselin to a place of safety.
As a worker-owned cooperative, our work is imbued with a passion for social justice that is not found consistently in traditional businesses.  We would have translated Deisy's words with care and with urgency, along with the cultural sensitivity that comes with our years of experience serving monolingual communities.  Had there been interpretation at this hearing today, we would have ensured that every voice recieved equal audience and opportunity for participation, not only because that's our job, but also because our greater mission as a democratic organization requires us to do so.
It is a noble mission to lift families out of poverty, and to improve lives; however, the power of worker-owned businesses extends far beyond our ability to lift families out of poverty.  We can also save lives, quite literally, as brought to light by the tragic case of Deisy, Daniela and Yoselin.  I hope that the City Council invests in the growth of worker-owned cooperatives by providing capital funding and making them a preferred contractor for city agencies.
Thank you.
Go to the GEO front page