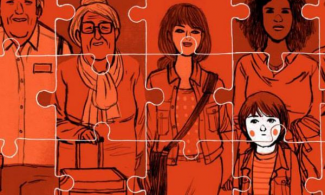 Body paragraph
cross-posted from Commons Transition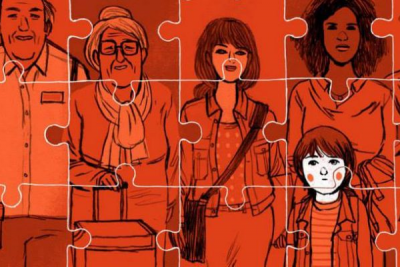 Cities have personalities – they're often described as we would people. They can be dry, manic, laid-back, iconic. Barcelona is what you might call a tonic. Always known as a vivid and creative city, Barcelona is taking the lead as an exemplary change agent on the European stage. Its DIY vigor and urgent form of citizen-level democracy are palpable, contagious, and best of all, effective.
This is a city that has been reinvented by activism. A formidable woman by the name of Ada Colau, herself a longtime front-line activist for housing rights, is now the mayor. As a woman, as an activist, as a mayor, she's a good stand-in for the city itself and the radical positive changes it's making.
But that's not to say that Ada Colau is responsible for all the whirlwind political and civic change. Barcelona is not a city in reform from the top down; it's a city in transformation from the bottom up, and up, and up. It's taking on the challenges of economic and civic change from an inclusive and deliberate position, maturing its street-level praxis into a political force that won't be contained by its own borders. It's ready to share its hard-won knowledge and experience with others internationally.
Barcelona is not alone in its evolution. From our point of view, 2016 is shaping up to be a turning-point year in which the Sharing and Collaborative Economies enter a period of intense self-examination and reinvention, and the emergence of the Commons model or paradigm comes forward to effect powerful change. For example, OuiShare, early and perhaps earnest proponents of the Sharing Economy from its inception, has taken "After the Gold Rush" as its OuiShareFest 2016 theme title. Clever allusions to Neil Young aside, the sentiment expressed is quite clear. It's time to examine what's left after the public image spikes and crashes of so many Sharing Economy darlings; time to pick up the pieces and work harder than ever to re-invent, re-purpose what remains and, perhaps most of all, re-decentralize. Everything.
As part of that process, in mid-March 2016 Barcelona was host to the Commons Collaborative Economies event (also called "Procomuns"), focused on commons-oriented peer production and the collaborative economy. This event centered on producing public policy proposals and technical guidelines for building software platforms for collaborative communities, and it drew a huge and diverse crowd. Over 30 countries were represented, and almost half the attendees were women. The participants page is a welcome relief from the dreaded "all-male panel" awards. There were families with little kids present, which is not so common at events like these. This event was just about ideal in terms of showing that it's possible to bring together a wide range of people who normally interact online into a "real-world" setting, and accommodate some of their expectations of balanced representation, and even a few of their often overlooked real-world needs – like childcare. The outcome: a series of proposals and policy recommendations for governments, 122 in total, ending in a joint statement of public policies for the collaborative economy, targeted toward both the Barcelona City Council and to the European Commission.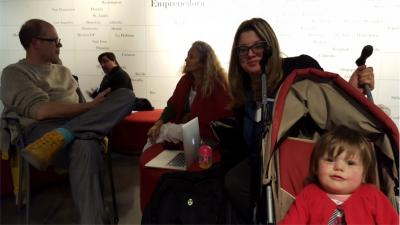 We spoke with our colleague Albert Cañigueral to get his impressions of the event. Albert is part of Ouishare and Barcola — a Barcelona City Hall multi-stakeholder work group exploring Commons Based Peer Production and the Collaborative Economy, and one of the organizing entities behind Procomuns. "It was very intense, between the volume of content, the quality of the debates and the diversity of the participants and speakers. It was also organized in record time. At the closing, both Alvaro Porro (Barcelona Activa) and Jordi Via (Social and Solidarity Economy area of Barcelona City Hall) made it quite clear that within the existing diversity of what we understand as the collaborative economy – without penalizing any of the options – the administration is leaning towards the commons, and supports the commons collaborative economy option."
Another recent policy-focused event held in Barcelona was conducted just two weeks prior to Procomuns, this time by Goteo, the award-winning Spanish civic crowdfunding platform. "It's crucial that the public institutions of our time understand the importance of taking decisions together with citizen participation, and to commit to taking measures that favor inclusion, access to resources and the process of creating public policies," Goteo's Strategic Director, María Perulero, remarked. "Over the last five years, Goteo has built up some experience working with public institutions and other bodies willing to innovate in the decision-making, distribution and execution of financial budgets for culture. What we've seen is that when there's a will to change, transformation mechanisms go to work." Perulero, along with her colleague Carmen Lozano-Bright, conducted a workshop with Pla de Acción Municipal (Municipal Action Plan or "PAM") de cultura (Barcelona), in co-creating cases in the field of culture/economy of culture that participants would like to see included in the PAM. One of the proposals collected during the Procomuns event was put forth by Goteo, on the topic of institutional match-funding for crowdfunding innovative pilot projects.
We also asked Cañigueral, since he lives and works in Barcelona, for his take on the city as an incubator for change. "Barcelona has become a reference point for digitally-based social innovation, with a strong commons orientation. You need only look at the P2Pvalue map of Catalan cases (as was mentioned in the Datathon during the event). Just see the city's diversity of initiatives in Digital Society.eu, and consider the European prizes that have been awarded to Goteo, and Guifi.net, among others. In light of all this, I think that there's perhaps a little lack of ambition, or a bit too much modesty happening. There are similar examples and even replicas to be found in other areas, in part because again, there's too much modesty around promoting all the innovation going on here. We've got a lot to learn from the English and the Americans. Social innovation in general, including what we'd call 'commons-oriented', really needs better marketing."
The focus on civic and social empowerment and inclusion in policy-making, more than just business development, is an obviously welcome expansion in the role of the citizen judging by the overwhelming attendance, local and international, in the Procomuns event. But, as the saying goes, "with great power comes great responsibility", and some of the presentations hit the crowd with some sobering wake-up calls, especially in the context of Barcelona and its position as a European city well acquainted with new technology. Dmytri Kleiner's presentation targeted the devastating human and environmental cost of the raw materials and manufacturing of technology, with the climactic statement "Technology is built out of blood" causing a simultaneous hush in the room and flurry of tweeting.
Because of the unique nature of Procomuns, we're going to outline the basic happenings and outcomes, as we believe this will (or should) become a reference event for future collaborations between cities, their citizens, policymakers, and local economy advocates and producers.
Diving into Procomuns
The event was inspiring, to say the least, and highly varied in content. It was also made available in three languages, Spanish, Catalan, and English, with simultaneous interpreters present for plenary sessions. We've captured a rich sampler to hint at the sheer quantity of speakers and depth of exploration, although we can't claim that this is a complete summary.
The event was coherently organized around three main tracks: the relevance of the commons-oriented model within the Collaborative Economy; public policy recommendations for the urban and European Commons; and the technical guidelines on free and open software and decentralized technologies. Below, we'll describe some of the interventions within each of the three tracks, with a special focus on the policy aspect. If you want to dig in deeper, speaker's names are hyperlinked directly to their video segment. For more resources, see Procomun's comprehensive website.
Public Policies for the Urban and European Commons
"What are the public policies for the economy we want?" asked Mayo Fuster Morell, an event co-organizer from the Dimmons research group and the P2Pvalue EU project. The sessions on public policies strongly advocated for commons-oriented, cooperative and locally based solutions, in contrast to the prevalent private, corporate and absentee partnerships typically favored by the market interests. The outcome was a series of recommendations for Barcelona's Municipal Action Plan, which will determine the policies undertaken by Barcelona City Council during its four year legislature. There's more: these recommendations will also inform the European Commission's consultation process on public policies for the promotion and regulation of the commons collaborative economy as an integral component in city and community building.
Alvaro Porro, director in the area of Other Economies and Proximity of Barcelona Activa (Barcelona City Council) stressed that policies have to be personal and tangible rather than theoretical, and grounded in living, present, realities. He also remarked that Procomuns was "only the beginning" in what will be a long term commitment between Barcelona City Hall and civil society groups. Porro's colleague, Jordi Día, is the Commissioner for the Collaborative Economy — a newly created role — and he made reference to the importance of going from values to tangible practices. Mayo Fuster Morell highlighted the uniqueness of this moment in time, where Commons offers an answer and a political alternative to the economic, humanitarian and economic crises affecting us in this post-2008 context. Barcelona, she continued, is a global reference point for the commons economy, as evidenced by P2Pvalue's directory with more than 1000 practical examples of Commons Based Peer Production in Catalonia alone. For Fuster Morell, the objective of Procomuns was to co-create real, human-centered public policies to not only help Barcelona, but to impact the Commons Economy in Catalonia and beyond.
Commoners from all over shared their experiences. Prodromos Tsiavos, an adviser for the Greek Minister of Infrastructure, Transport and Network, silenced the room by proclaiming that the Internet is dead, arguing that it is so ingrained in our lives that it moves offline and becomes omnipresent, even away from the machine: "It's an environment, not a medium". Going on to explain that "Commons are uncommon", Tsiavos remarked that there is an "acoustic separation" dividing policy makers from the recipients of such policies. The former are also firmly embedded in an old-school left tradition characterized by labor unions and parties which, in their need to centralize power, cannot comprehend the Commons. As a solution, he suggested that we bridge the information gap and build regulatory capacity. Tsiavos cautioned that because EU cross-sector Commons policies are currently very fragmented, we need model policies and transnational consultations to eventually politicize the Commons in a coherent way.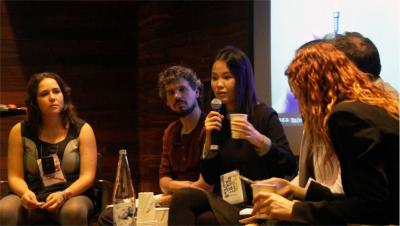 Benedetta Brighenti — Deputy Mayor of Castelnuovo Rangone, Italy, and member of the European Committee of the Regions — coincided with Tsiavos in describing existing policies as being too fragmented in the haphazard road from local to national and EU-level policies. While awareness of the Sharing Economy is growing at the parliamentary level, it is poorly defined and often hijacked by extractive, for-profit interests. What is needed, she explained, are educational programs to help all stakeholders co-design coherent mandates for the sharing economy. In her role in the European Committee of the Regions, she functions as a rapporteur, tasked with communicating policy ideas to the EU Parliament. She stressed that politicians "must begin to listen" to the real Commons-oriented sharing economy.
Sharing City Seoul and Creative Commons Korea were represented by Jennifer Kang and Sun Park, who tracked Seoul's evolution as a sharing city since its mayor declared it so in 2012. By asking "what are the problems, and what resources do we have in this city?" they have been able to guide, promote and connect sharing activities while collaboratively solving problems. The Seoul city government is now releasing all its data (with the exception of security documents) under a Creative Commons license, including information on public transport and space-sharing, disseminated through easy-to-understand visualizations. The city government also supports and promotes sharing enterprises through subsidies and conferences.
Back to Barcelona, Enric Senabre of Dimmons, Barcola and P2Pvalue, showcased decidim.barcelona, a public online platform for city and policy planning. Senabre went on to explain that events like Procomuns are "an analogue version of decidim", and that this type of online/offline interaction will continue with future meet-ups and events. As a complement, Barcola uses the online platform Democracy OS as an independent feedback portal where recommendations are compiled, deliberated and eventually forwarded to the Municipal Action Plan. These grassroots initiated policies are expected to reach beyond Barcelona and scale up to the EU Commission, who is very clear on the need to regulate the Collaborative Economy.
The focus on the Urban Commons continued beyond Barcelona in the "Commons and the City" plenary. George Dafermos (P2P Foundation) spoke about his experience in Ecuador's FLOK Society/Buen Vivir project. With two years' hindsight, he can highlight the partial successes. Apart from abolishing patents, the Ecuadorian government has passed a series of "organic laws" heavily influenced by FLOK. According to Dafermos, the new organic law on software "is the most commons-oriented framework for software in the public sector in the entire world". He also commented on FLOK's unmet expectations. "Despite a wealth of forward-looking policy documents, adoption by policy makers has been inconsistent, although the process ignited a discussion in society, which hadn't taken place before, which is no small thing". Dafermos explained that the spirit of FLOK also lives on here in the Commons Transition platform which highlights the need for direct advocacy targeted at community and civil society groups, not only policy makers, who can influence commons-friendly governments through assemblies and chambers of the Commons.
As we live in a world of uncertainty, these radical new policy-making processes are fallible. However, the post-2008 decline in living standards unleashed the freedom of action and experimentation that only the Commons can provide, admitted Christian Iaione, director of The Bologna Regulation for the Care and Regeneration of the Urban Commons. The Commons, he feels, are uniquely suited for changing the models used by public and private institutions in an environment where people are fed up with competition, decaying public infrastructure, and a slew of privatizations begun in the nineties. Citizens, according to Iaione, are eager to learn about service provisioning that eludes the charade of public/private competition. Public subsidies are not enough, and the collaborative spirit of the Commons and public-based collective action should be firmly embedded into any foundational layer of an urban co-governance matrix. He also stressed the need for more complex partnerships and institutions which would result in a type of polycentric governance where not everything needs to be regulated; where innovation is fed both by the public policies which inspire it, and by a civil society capable of producing it. The ultimate aim, for Iaione, is to "create commoners and provide tools to organize the management of their commons resources".
The director of IGOP (The Institute of Government and Public Policy at the Autonomous University of Barcelona), Joan Subirats, expressed the immediate need for alternatives, characterized by widespread institutional disappointment with a market-oriented society incapable of addressing people's problems. While Subirats feels that the concept of the Commons is problematic in the city, he sees "commoning" as a "non-static locus of actions expressed through social mobilization" rather than the usual either/or categories. Referring to Barcelona, Subirats advocates collective action through resistance, pressure and "dissent in order to construct something new". To illustrate this, he offers that instead of merely protesting or fighting against the oligarchy of electrical companies, you can join a renewable energy co-operative like Som Energia. While necessary, this still doesn't disrupt existing power structures, so we need to politicize the debate and address the co-production of public policies.
Carolyn Hassan, founder and director of Knowle West Media Centre in Bristol spoke of the city's flourishing commons-oriented approach to co-creation of community value. Using a local approach to citizen sensing, the Media Center has brought in techies to assist commoners in framing the issues within their communities, and then representing them through data visualizations and inspiring talks. This type of grassroots design, she said, can be applied to other communities worldwide.
Ivana Pais,  a researcher from Milan centered on social networks, labour markets, organizations and entrepreneurship, spoke of "Sharing Economies" in plural, as there are many variants and she believes we need to understand their differences. Examining the situation in Milan, Pais described a bottom-up approach based on reciprocity, common pooling and redistribution. The city itself has adopted a series of guideline documents drafted by 40 experts and 52 start-ups. This has led to the creation of a "house of collaboration", where the network meets, and an incubator for Sharing Economy start-ups.
An overview of worker rights in the on-demand economy was presented by Adrián Todolí i Signes, a Law Phd specializing in labor. He argued that current labor rights are designed to protect a 19th century worker and are inadequate for current trends, and that new tailor-made legislation must be drafted to offset the current practice of muscling on-demand labor into existing legal frameworks.
David Hammerstein from the Commons Network offered a gripping presentation on the state of EU today. In his words, "the chickens have come home to roost". In response to climate crisis, war and the resulting displacement of refugees, the EU has simply decided to build higher walls, and for Hammerstein this unethical reaction parallels the enclosures of knowledge currently being enacted through prospective treaties like TTIP, and is redolent of a culture characterized by fear. On the other hand, Hammerstein feels that the EU can be either a barrier or a facilitator for our Commons project. As a facilitator, it could solve the contradictory absurdity of artificially limiting knowledge, culture, education and science by means of IP, and turning these into ethical, democratic and participative commons for the benefit of all. We need locally based innovation that can crystallize at the European level, but the kinds of decentralization and democratization we need to achieve these noble goals will not be possible unless we are on top of the politics.
Closing out the policy track, Primavera De Filippi from P2PValue and the Berkman Center and Rachel O'Dwyer from Trinity College and the P2P Foundation decided to play "good cop / bad cop", describing the roles of blockchain and distributed ledger technologies for Commons-based peer production and public policy.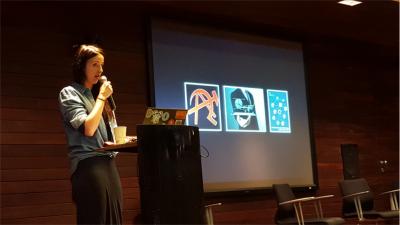 O'Dwyer explained that there are competing interests within the blockchain, characterized by radically different politics: from anarcho-communist to Fin Tech to the government. She criticized the blockchain for delegating rules to a technical architecture which steals the possibility of compliance or non-compliance away from users. The politics that the blockchain imagines are severely limited, being based on consensus and agreement while antagonism or dissent, which are arguably essential for progress, are obfuscated. Finally, she explained that the blockchain reproduces a liberal political and economic subject even when a lot of people (i.e. P2P communities) hold it up as a tool that can take us away from liberal economics. In summary, our "bad cop" O'Dwyer argues that, while the blockchain is a useful technology in some contexts, we need to understand the politics of automated governance, recognize the need for a politics of dissent, and cultivate a politics of the commons that nurtures other subjectivities which go beyond algorithmic limitations.
On the other hand, Primavera de Filippi, the "good cop", pointed out that "blockchain is extremely resistant to corruption or manipulation, since all data are digitally signed by cryptographic keys, and once they have been added to the blockchain, they can no longer be deleted or modified by anyone". She also stressed that such a transparent and incorruptible data store ensures the authenticity and the integrity of the data it contains, and could potentially "serve as a backbone for more reliable and accessible government records". Bolstering her argument, de Filippi cited examples of governments which are convinced of the potential of this technology to improve the efficiency and accountability of public administration, including Estonia, which has partnered with BitNation to provide blockchain notary services to its e-residency program. Another example was Honduras, which has been exploring the possibility of building a new land registry using blockchain technology. In her concluding remarks, Primavera de Filippi described the blockchain as "a new form of technical accountability". Instead of relying on complex systems of checks and balances which require the intervention of third parties, with the blockchain the rules of accountability are encoded directly into the technological infrastructure, and are automatically enforced by the technology itself.
What Economy do we want
"What economy do we want in this post-2008 context?" The economic track explored the relevance of the Commons as a stewarding principle of a collaborative economy worthy of that name, while also emphasizing the many Commons-oriented productive experiences occurring in Barcelona and Catalonia.
This track included Boyd Cohen's presentation on the Barcelona-based Ethical Sharing Economy Accelerator, which hopes to attract local and European positive-impact projects supported through crowdfunded capital. Economist Bruno Carballa shared a proposal entitled "Towards a Competitive Commoning Policy in the Sharing Economy", which included a proposal to treat personal data as a Commons, while protecting it through CopyFair licenses.
The creator of, arguably, the first CopyFair License (the Peer Production License), Dmytri Kleiner from Telekommunisten, explained that the internet was "born disintermediated", but that these types of peer-to-peer value dynamics were not tolerable to the vested interests who created Web 2.0 and the centralization of data. Against the subsequent anti-disintermediation, he calls for…wait for it…"CounterAntiDisintermediation" (at this point the simultaneous translator simply gave up), explaining that we can't possibly scale commons-based platforms unless they're truly end-to-end. Theorizing that "every mode of production is happening at the same time", Kleiner also unpacked concepts such as Venture Communism and the Venture Commune, Technological Disobedience, Counterpolitics and Transvestment.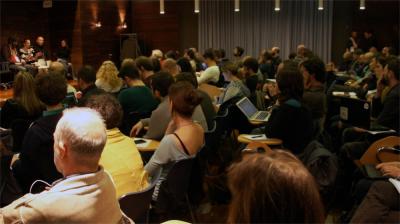 Telling the story of his personal journey from San Francisco to New Zealand and beyond, Derek Razo from Enspiral described his mission to "help more people do stuff that matters". He broke down Enspiral's unique solidarity model for carrying out socially innovative, meaningful work. This dovetailed nicely with Felix Weth's presentation. Weth is the co-founder of FairMondo, a cooperative, ethical alternative to giants like E-bay. It's not hyperbole to call their governance model, Co-op 2.0, revolutionary (and it parallels our own work on Open Cooperativism). Nuria del Río Paracolls, a long time Social and Solidarity economy expert from Madrid, posed a number of thought-provoking questions about sovereignty, food, safety, the new economy and many other topics, including the precarity of freelancers, and envisioning the city itself as a multi-stakeholder co-op where no citizen gets left behind.
A session on value and the commons collaborative economy featured presentations from P2PValue member Marco Berlinguer, who spoke about FLOSS (free/libre open source software), property, and the sometimes invisible value regimes present in Commons Based Peer Production.
The de-commodification aspects of the Commons Collaborative Economy and how it will affect existing market dynamics were outlined by Susana Martín Belmonte, a researcher and author specialized in alternative and social currencies. These new modes of production need new community-sourced, trust-based metrics for rewarding value creators, according to Belmonte. Ultimately, a future Commons Economy won't be able to rely on short term solutions like fiat money-based Basic Income, but will need to create other types of money and access to credit based on "a Commons of trust".
Speaking of metrics, Ruben Suriñach Padilla, from the Catalonian Social Solidarity Economy Network (or XES), described XES' groundbreaking work in identifying value flows in the new economy, echoing the emphasis on "invisible labor" such as home and reproductive care. XES has a tool for identifying what they call the "Social Balance" of social enterprises and coops. Its process involves roughly 70 questions and 52 indicators for mapping out aspects such as internal democracy, gender equity, environmental and social responsibility, financing, labor rights, etc. The tool also takes into account the input of external stakeholders and communities affected by social enterprises.
Mayo Fuster Morell, introducing a session on connecting and expanding the different trajectories of economy (market, state and commons), brought up other areas to which this event devoted careful thought and exploration: feminism and environmental concerns. "Where, here, is the environmental system, on which all three depend (commons, market, and state)? Where, here, is the feminist economy, and the care economy?" If the Commons model can be used to break the binary between market and state as the only means of production, these questions must be addressed. Moving through to this more complete vision was the goal of this plenary, she explained, and the speakers joining the session included María Cristina Carrasco Bengoa and Hilary Wainwright.
María Cristina Carrasco Bengoa, a professor of Economic Theory at the University of Barcelona from the International Association for Feminist Economics, spoke about the current predatory and patriarchal capitalist system in which we do not produce for needs, but for profit. Meanwhile, the home or household care that ensures social reproduction is undervalued, even invisible. This is a tide which clearly needs to be turned, and the only way to build a transformative economy is by producing in accordance with nature, without reproducing patriarchal structures, according to Carrasco. "When we were activists in left-wing parties, colleagues would say, 'women: we have to take hold of power, and then we can discuss'. Now it's time to discuss, to talk about the feminist economy and ecological economy, as well as time – how do we manage time? In the agricultural economies, people had a closer bond with nature and the agricultural processes followed the natural. With the industrial revolution, the clock established the working times; whether it rained or it was sunny, machines began to demand speed, and that we be more productive."
Hilary Wainwright of the Transnational Institute and co-editor of Red Pepper offered her insights on the hidden commons of care. "Women have been creating a Commons for a long time: the domestic labor and economy is, de facto, an invisible economy". Wainwright argues that to integrate feminism, we need to overcome the gender-based division of labor in the domestic economy, and to make that Commons visible. "It's a bit strange that the Commons and P2P movements are male dominated. I think is because this gendered Commons, the economy of domestic labor, is completely hidden in the Commons and P2P movements, as in society in general". She offers that there's something else to learn from the women's movement; that sharing of knowledge or information is not just the sharing of data. "It's the sharing of understanding, of knowledge that's embedded in emotion, or even gossip, all those things that are not treated as relevant to knowledge".
She concluded by describing a document produced while she was working with the city government of London. Given the importance of the domestic economy, the local administration decided to factor this into its industrial strategy, and not relegate it to "the womens' committee", but instead make it a key point. A sectoral investigation of the domestic economy was produced under a similar methodology, mapping existing commons initiatives like childcare, domestic work, and food, and questioned how the municipality could support this implicit, emerging commons.
Free Decentralized and distributed technologies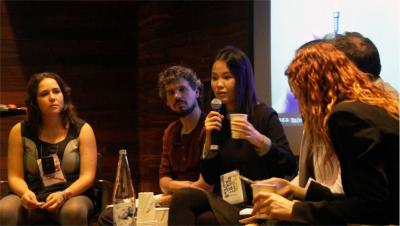 Procomuns featured many presentations on the technological frameworks that support policy making, value creation and new economies. A thorough examination of the political and commercial interest embedded in the architectures of the technologies we use was a constant theme. These streams converged in a plenary entitled "Free Decentralized and Distributed Technologies". Standout moments from the Technology track included Samer Hassan, from P2Pvalue and UCM-Madrid, describing how the impulse present in responsible consumption is an entry point for helping people understand the importance of using open/decentralized infrastructures, and to do away with invasive, hierarchical monopolies. Irina Bolychevsky from Redecentralize.org spoke about power as "a gravity field for centralization" and how it manifests through data absorbing for-profit conglomerates. It seems we can't opt out of these omnipresent systems with their unyielding terms and conditions and walled gardens unless we start saying "no", and supporting re-decentralized, community led, self-hosted projects. Laura Hona, from Debian and Pump.io, detailed the many decentralized alternatives available, stating that we have the technology to build "The Happy Internet" with tools like Pump.io which are designed to be federated, decentralized, and community-based.
The event also featured the presentation of two new software projects developed by the P2PValue team. The first of these is Swell RT, the first free/open source, full-stack framework for developing collaborative, decentralized apps in real time. The second, Teem, is an app developed specifically for collaborative community teams.
Conclusions
Using these three days of the Procomuns conference as the condensed expression of the astounding economic and policy innovations taking place in Barcelona and beyond, we can readily see some patterns and inchoate conclusions:
There's no "Collaborative Economy" without Commons: By simply appending the word "Commons" to "Collaborative Economy", the organizers of Procomuns have revitalized a term which had been co-opted by commercial interests – enough to have lost its meaning. Conferences attendees didn't need to have the shortcomings of the Silicon Valley micro-rental industry spelled out for them. It's understood that the "Sharing Economy" is a flawed model, structurally unable to disrupt the status quo or provide long term solutions to the problems we face. The Commons Collaborative Economy is a totally different game.
Cooperatives are the original collaborative legal structure: The cooperative framework was omnipresent at the event. Throwing around terms like "sharing" and "P2P" when describing the interactions between platform value providers and venture capitalists or shareholders is now understood to be a farce, and that coops and not-for-profits provide more coherent market interfaces than models designed to maximize absentee profiteering. More importantly, while acknowledging its rich history, the cooperative model is understood as synonymous with innovation and real disruption.
The (sharing) revolution will be feminized: Or perhaps "feministed", but then we lose the play on the Gil Scott-Heron classic. The Procomuns event was attended by more than 400 people from 31 countries. Better still: the attendance was 44.53% women to 55.47% men – a good correction against the perception of imbalance in the P2P and Commons communities. The female to male ratio of speakers was similar. It was not ignored that any political and economic revolution worthy of the name must address issues like male privilege, the oft-invisible care economy, and feminism.
The Commons Collaborative ethos needs to make itself visible and coalesce: The terms "make visible" and "defragmentation" were heard throughout the conference. There was a shared consciousness of the vast potential of the Commons as a more grounded economic and political framework, but also of its fragmented nature and inter-legislative shortcomings. It was generally agreed that these alternatives must be bolder, more visible and more inter-communicated.
Open Source is the way to go: We were pleasantly surprised with the tone of all the tech presentations. Rather than guilting people into using free/libre or Open Source software, advocates made attractive and non-exclusionary arguments, while clearly describing the major pitfalls of private platforms and networks. The technical aspect also cleanly dovetailed with the political and economic tracks to form a coherent whole.
Taking the power back – and not being afraid to use it: We were simply blown away by the political savvy of the people working in Barcelona city hall. Those present at the event were fully cognizant of the failings of our current socio-economic system, along with the ongoing co-option of (supposedly) disruptive innovations by vested interests. The officials present were far more interested in listening to activists and Commons advocates than tooting their own horns. Now that these 15-M seasoned city officials have taken power, they are not coy about using it to truly revolutionize the way we produce, own, and govern our lives. Barcelona city hall is listening to the citizenry and ready to prioritize their needs. Barcelona leads – let's all follow.
Images by Stacco Troncoso, Ann Marie Utratel and Xavier Dengra from WikiMedia Commons and Andreu Meixide from his video work.  Lead Image by Movimiento de Liberación Gráfica Barcelona
Originally published under a Peer Production license.
Go to the GEO front page