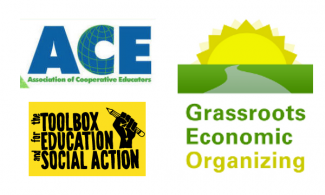 ACE, GEO and TESA Team Up to Create New Co-op Ed Tools
Body paragraph
In early December of 2015, the CHS Foundation funded a $30,000 one-year planning grant for developing a Cooperative Education Hub and Online Community.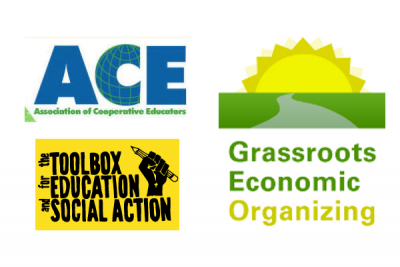 The Association of Cooperative Educators (ACE), Toolbox for Education and Social Action (TESA) and the Grassroots Economic Organizing collective (GEO) prepared the grant, which ACE submitted. Together the three organizations will implement the program during the coming year.
The project will include a system of co-op library resources connected to a Cooperative Educator and Practitioner Network (CEPNetwork) through an online capacity for live streaming, forums for collaboration and discussion, and the delivery of education and research services.
The project will not replace the existing resources. Rather, it will be designed to link them into a larger co-op library system.  An example of a mature online community is TES Community  This is an online community for teachers across the globe (if you take a look, notice the range in forums and the number of users).  The usage of forums is powerful in and of itself, but the site also offers a library of resources, courses, news and items for sale. 
The Cooperative Education Hub (CEHub) component would connect existing online co-op education libraries and other online resources, as well as create a place for the continued collection of new resources and materials. The Cooperative Education Online Community (CEOCommunity) component will offer space for collaboration and discussion about resources, and various ways to deliver education and research services.
Grant funds will also be used to build the Cooperative Educator and Practitioner Network (CEPNetwork ) along with developing these two components so they can be launched by the end of the grant year. CEPNetwork will involve organizations and individuals active in cooperative education and interested in the widespread access and ongoing evolution of cooperative education and learning processes.
The planning process will allow for the development team, comprised of ACE, GEO, and TESA, to understand the technology needs, develop a plan for continued management, usage and financial support, and involve collaborating organizations and individuals.  
Through the planning process the team will prepare a viable ongoing project by:
Building our online community around TESA's existing Cultivate.coop, a known co-op education resource provider;
Building a strong Cooperative Educator and Practitioner Network of organizations who already create and have curricula and education materials—such as the University of Wisconsin's Center for Cooperatives, The Canadian Cooperative Research Network, Democracy at Work Institute, etc.—as well as other organizations with a strong interest in cooperative education;
Determining how to expand Cultivate.coop's technological capacity for linking existing online co-op libraries, to create a space for new resources, and to create space for collaboration and the delivery of education, such as webinars, live streaming, etc.;
Preparing how to best market and support the resources for its ongoing usage;
Determining the best governance and financial structures for long-term sustainability.
One half (or $15,000) of the requested funds will be for a staff of three co-coordinators from ACE, GEO, and TESA respectively. Another $8,000 will go for covering estimated expenses involved in building the CEPNetwork. About $4,000 is benchmarked for developing the necessary internet, live streaming, and social media capacities to launch the project during the last quarter of the funding period. The remaining funds will cover all other expenses.
This is a a large vision with lots of big questions:
how do you create an online community with so many components?
how will people be drawn to it? and 
how will they be able to utilize it easily and effectively?  
These communities already exist in other sectors, and they are dramatically changing how people get engaged and connected as well as how information is delivered and exchanged.  Michael Johnson of GEO, speaking for the team, emphasized that "It's important to remember the TES Community was not created overnight.  This is an evolutionary process.  We feel that to grow such an online community for cooperative educators requires important foundational planning."
Go to the GEO front page