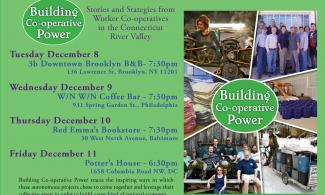 December 8th - 11th
Body paragraph
On Tuesday, December 8th the three co-authors of the recent Building Co-operative Power: Stories and Strategies from Worker Co-operatives in the Connecticut River Valley will begin a 4-city book tour in Brooklyn, NY at 3B Bed & Breakfast Co-op (136 Lawrence St.) at 7.30pm.
The Valley Alliance of Worker Co-operatives has developed a model strategy for this work. Building Co-operative Power lays out that strategy and tells the story of its development. In addition, it devotes half of its pages to describing what it is like to be part of a worker cooperative (based on 50 research interviews) and profiling ten different worker co-ops.
Janelle Cornwell, Adam Trott, and Michael Johnson are the three co-authors.
On Wednesday, December 9th they will do their presentation at W/N W/N Coffee Bar (931 Spring Garden St), a worker co-op cafe and bar in Philadelphia at 7.30pm. The Philadelphia Area Cooperative Alliance (PACA) is sponsoring this event as part of its local efforts for regional cooperative economic development. Caitlin Quigley of PACA is coordinating their sponsorship. (Facebook event page here)
The co-authors go from Philadelphia to the famous Red Emma's Bookstore (30 W. North Ave) in Baltimore for a Thursday, December 10th presentation at 7.30pm.
They conclude their tour in Washington, DC on Friday, December 11th at The Potter's House (1658 Columbia Rd NW) starting at 6.30pm.
The book focuses a lot on regional co-operative economic development. This is emerging as a major form of alternative urban economics across the country. Projects in Boston, Worcester, MA, New York City, Madison, WI, and Austin, TX are well underway as they are in Philadelphia. Initiatives are beginning in many other areas as well, including Baltimore and DC.