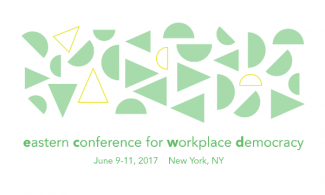 Co-creating Grassroots Economic Strategies: Surviving and Thriving Through 2021
Body paragraph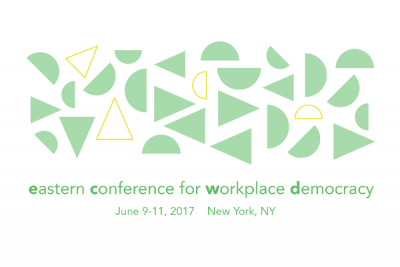 GEO is happy to announce that we will once again be offering our Advancing the Development of Worker Cooperatives one-day mini-conference in conjunction with the Eastern Conference for Workplace Democracy.  This presession will be held on Friday, June 9th from 9:00 am - 5:00 pm.  The day will be broken into two sessions.  Cost are $55 for one of the sessions, or $90 for the full day (lunch is included for full and half-day participants). Spanish translation services will be provided.  Register here (or add ADWC to your registration here).
This session is about creating common ground around tools, methods, and approaches ​to grassroots economic organizing and worker co-op development in this new era. We will also dig into issues of race/class/gender/etc in replicating oppressive dynamics​; and move toward remedying this.
Morning

Train the trainer format, workshop on organizing solidarity economics in regressive times. Participants will design an ongoing, participatory framework for sharing effective grassroots economic strategies between people at the local level and between regional groups, to help people get their basic needs met through their own efforts, regardless of what happens with federal policy. Resources specialists will cover, worker co-ops, housing co-ops, immigration rights, co-ops in food deserts, anti-oppression, etc.

Afternoon

Plenary panel including worker-owners and co-op activists, moderated by Jessica Gordon Nembhard, on remedying oppressive dynamics in the solidarity economy and cooperative movements. GEO will facilitate frank conversations about race, gender, class, movement self-critiquing, and how to avoid re-creating systems of oppression in our movement, or reproducing existing social hierarchies on the co-op space.  This session will provide a forum for participants to discuss how hierarchies and oppressions manifest themselves in our co-ops and movement, how to develop ways for constructive self-critique, and best practices for addressing and overcoming these challenges.
Register for ADWC4 and ECWD here

GEO está feliz de anunciar que estarémos una vez más ofreciendo nuestra conferencia de Avanzar en el Desarrollo de Cooperativas de Trabajadores, la cual se dictará junto con la Conferencia del Este para la Democracia del Lugar de Trabajo. Este evento se realizará el viernes, 9 de junio desde a las 9am hasta las 5pm. El día estará dividido en dos sesiones. Cada conferencia tiene un costo de $55 y el día completo tiene un costo de $90 (el almuerzo está incluido para los participantes que adquieran medio día o el día completo). Tendremos servicios de traducción al español. Registrar aquí
En esta sesión se compartirá información sobre las herramientas, métodos y formas de abordar la organización desde la base económica y el desarrollo de la cooperativa del trabajador en esta nueva era. También discutiremos a profundidad sobre cuestiones de raza, clase y genero entre otras. Replicando las dinamicas opresivas en nuestro movimiento y la forma de trabajar para solucionar esas dinámicas opresivas.

En la Mañana
Entrene en el formato del entrenador, un taller en la organización solidaria económica de los tiempos regresivos. Los participantes diseñaran un marco participativo continuo para compartir unas estrategias con bases económicas entre personas en el nivel local y entre grupos regionales para ayudar a las personas a lograr suplir sus necesidades básicas por sus propios esfuerzos independiente de la política federal. Especialistas de los recursos discutirán las cooperativas del trabajador, las cooperativas de vivienda, los derechos de inmigración, los cooperativas qué hay en barrios sin mercados de comida, contra la opresión, etcétera.

En la Tarde
Un panel de Plenaria moderado por Jessica Gordon Nembhard sobre trabajadores autogestionados y activistas de cooperativas, solucionando las dinámicas opresivas en la economía de solidaridad y los movimientos de cooperativas. GEO facilitará conversaciones francas sobre raza, genero, clase, autocrítica del movimiento, y cómo evitar la recreación del sistema de opresión en nuestro movimiento, o para reproducir jerarquías sociales existentes en el espacio de la cooperativa. La sesión proveerá un foro para que los participantes puedan discutir las maneras en que manifiestan las jerarquías y las opresiones en nuestras cooperativas y movimientos y para desarrollar unas formas constructivas de autocrítica y las mejores formas para dirigirse y para superar estos retos.
Go to the GEO front page