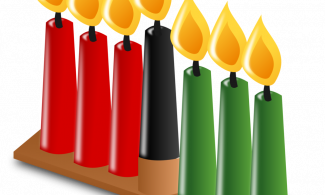 This Year Celebrate Kwanzaa by Organizing and Taking Concrete Action in Your Communities
Body paragraph
For 53 years now, African people in the diaspora have celebrated Kwanzaa, the holiday anchored in seven principles – unity, self-determination, collective work and responsibility, cooperative economics, purpose, creativity, and faith.
Dr. Maulana Karenga conceived the holiday in 1966, during the movement for black freedom, often identified as the "civil rights movement." The holiday "was understood as part and parcel of that two-fold struggle to be ourselves and free ourselves," wrote Karenga of that movement for freedom in his 2019 annual founder's message. "It was a struggle to be Black, to be African and to be free from domination, deprivation and degradation and to be free to live good, meaningful lives, bring good in the world and come into the fullness of ourselves."
However, more than a half century later, black people are, in many ways, worse off due to huge issues of poverty, unemployment and underemployment, stress, inadequate health care, police violence, mass incarceration, and self-hatred and apathy, alienation and hopelessness.
"We need to think about those who have and those who have not," said Kelechi Elgwin, of the Kwanzaa Organizing Committee in Washington, DC. "There has been a great degradation in black wealth and the idea that collective cooperative economics was even beneficial to an original black people.
"As a mass movement, we have moved away from people being accountable to each other in terms of economics. We need to broaden our horizon. All the money in the world without orientation is not going to do us any good. If you don't have a strong sense of self and purpose. Your sense of self, as an individual and collectively, is essential to actualizing Ujamaa (cooperative economics). "You have to see yourself as part of the group. You have to see the group as essential to your progress. You can be a magical Negro. It's not beneficial for me to prosper if my community doesn't proper."
"As black people, we need to see our struggle as being global, and when we see that we see where progress can be made," Egwim said.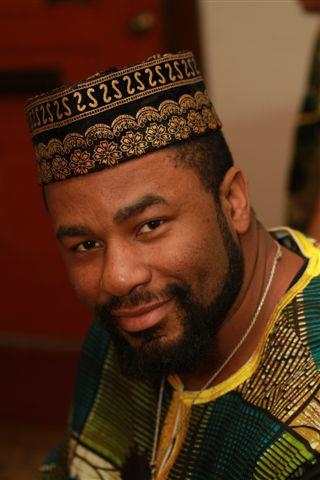 Egwim said many African-Americans in the U.S. are doing businesses with Africans, and these can open up many possibilities that benefit all around. In addition, young people
This year, it's imperative that we, as Dr. Karenga writes, make the Kwanzaa principles "living Kwanzaa" and expand the celebration to include organizing and taking concrete action around one or more of those principles. It is becoming clearer that African people all over the world must redouble efforts for economic self-determination and building a sustainable future.
Cooperative Economics, the kind that involves not just "buying black" but building cooperatives and cooperative ventures in our neighborhoods, and local regions to break away from dependence on a hostile imperialist power.
Everyone should look around their neighborhoods and their various communities or affiliations (youth, elderly, feminists, artists, etc.) to see what one thing they can do, give or organize to provide what's missing like a food cooperative in a food desert, to make life better. That might be coaching kids in music, art or sports, or organizing a gym or cultural club, helping to care for and entertain and stimulate the elderly, organizing a worker cooperative or a housing cooperative, training a group of people in your field, building self-esteem, dealing with drug and alcohol addiction….whatever is needed. We can no longer pretend that we don't live in a white supremacist world economy whose interests are opposed to the health of African people.
If organizing or doing work is not an option, support existing projects. Or do both.
Four projects or organizations taking place in the U.S. embody the spirit of Cooperative Economics and Collective Responsibility. Some people combined the two principles into Kujima. One way to practically practice these principles is to 1) donate to these groups; 2) join these groups; 3) otherwise support these groups buying from them and/or making connections, volunteering expertise for marketing, technology and otherwise growing and making strong these organizations.
Epes, Alabama is the headquarters of some of the most important work that African people are doing – preserving black farmland. The Federation of Southern Cooperatives/Land Assistance Fund is a nonprofit cooperative association of farmers, landowners and cooperatives, including credit unions, based in the Southern states of Georgia, Mississippi, Alabama and Louisiana. Black leaders active in the civil rights movement in 1967 formed FSC as a means of community development. Just as the U.S. government enabled banks to discriminate against African people seeking mortgage loans, denying black people from participating in the major way of building wealth in this country, the government through the U.S. Department of Agriculture also denied black farmers loans to keep their farms. Where in 1960 black farmers and landowners in the South owned 8 million acres, today those numbers have declined to 20,000 landowners and farmers owning a mere 2.3 million acres, according to the FSC/LAF. The federation has helped these remaining farmers and landowners to share resources, and expertise to employ alternative technologies and appropriate forestry enterprises to sustain ownership and survival.
"A major focus in the coming decades is how to more effectively utilize the remaining valuable land-base owned by Black people in the South," according to the FSC/LAF website. Because white supremacist discrimination been more overt, clear and active in the South, FSC has much to teach organizers outside the South.
Land is essential to freedom for any people. When we own land, we not only have a place to live but we have a base from which to feed ourselves and create independent businesses and places to practice cultural values.
One act of Ujamaa is simple: utilize the produce, products and services of black farmers whenever possible.
The Us Lifting Us Economic Development Cooperative is a for-profit member-owned business that has the goal of organizing local and global businesses to make African people less dependent on the current economic system. The Cooperative plans to create "successful business models that give us the capacity to gain significant control over the economics of our communities and nations, and to help free us from the current state of economic domination and exploitation by multiple forces in the world," according to its website.
Hekima Kanyama, a co-founder and elder with the cooperative, said the models can be funded nationally and internationally but local communities will help determine what kind of businesses are started in their locales.
ULU is an international membership organization of more than 550 members in the U.S., Africa, the Caribbean and England. Membership costs are $50 in the U.S. but may vary based on currency values in different countries. A $1,000 membership share is also recommended; that can be secured incrementally.
ULU takes the "strong position" that traditional entrepreneurship and black business ownership alone cannot significantly advance the economic situation of African people. It is "impossible," Kanyama says, because scattered ventures lack glue or thread to tie them together, or a "rudder, or steering mechanism."
"If we belong to a large scale cooperative enterprise, those co-ops that can give flow to economic activity," he said. "We feel that's important." An example, Kanyama says, is the monies that black churches collect on Sundays. "On Monday, they deposit all that money in white-controlled banks but they do not determine the flow of that money. Our business is not connected with our business activity," he said. "Not within a city, not city to city."
ULU's major project is building bricks-and-mortar marketplaces for multiple locations. The marketplace is conceived as a multi-use facility that would serve many community needs. Online selling and marketing may also be a possible next project, Kanyama said. A first effort, the ULU coffee shop (Café ULU) was closed after 18 months. Kanyama describes the closure as a "stumble," which provides an opportunity for internal reflection, learning from mistakes and refining of their education and training, and business choices.
Kanyama said that ULU long-range vision is toward building global economic ventures similar to a fish wheel, a mechanical device often used in Alaskan salmon fishing that Eskimos often install in a river. The device is powered by the flow of currents and has baskets to capture many fish.
"What we are collectively doing is scientifically building an infrastructure that places us in the natural flow in terms of global business trade and its structure to divert that flow into a reservoir that's dedicated to African development," Kanyama said. "We want to build and maintain, and pass to future generations the machinery of economic self-determination. That fishing wheel is the machinery of sustenance into that Eskimo village. It's very practical."
ULU, which was developed out of the non-profit African Community Centers, is itself a combination of the first two Kwanzaa principles of Ujima, collective work and responsibility, and Ujamaa, cooperative economics. The two principles come together in ULU as "family-centered economics," with the community being considered "family" in the larger sense.
In the nation's capital, The Association of People for Pan-African Economic Advancement through Leverage, known as APPEAL, has a mission to "to organize and strategically utilize the vast resources of people of African descent, locally, nationally and globally, to facilitate economic empowerment and educational enrichment to produce strong, self-sufficient and prosperous communities."
The nonprofit organization has two main projects: working on building a national credit union with on-line banking and twice monthly Saturday markets that sell products from black businesses locally and nationally through a group known as "Black Saturday Co-ops." The markets take place at Umoja House in Northeast D.C., and sells products made by black companies such as Freedom Paper Company (toilet paper and tissue), True Detergent, Shea of Life (natural toothpastes, mouthwashes and deodorants), Kenyetta's Shea Butter from Ghana, Erzuli – Original Black Soap from Ghana, Asli Pure cosmetics, Black Star Alkaline Water, East Coast Honey, Good Vibes Cleaning Products, and "Be In the Mix" Vegan specialties. The idea is for the marketplace to eventually evolve into a 7-day-a-week store.
"The ultimate idea is to create our own Costco with black manufacturing," said Dr. Kelechi Egwim.
The group also operates the Lasana K. Mack Think Tank to address issues relevant to Africans. The think tank is "networking through organizations and institutions throughout the world looking at ways to improve the lives of black people," said Egwim. "If you don't know you who are and appreciate perspectives, then economics don't really matter." Historical and cultural workshops on issues such as financial literacy, world history and African history also take place regularly, and the group has a suggested reading list.
The Boston Ujima Project is designed to pool resources to grow community wealth. The Ujima Project is organizing neighbors, workers, business owners, and investors to create a new community-controlled economy in Boston. "Ujima inspires us to take responsibility for our communities, to see our neighbor's problems as our own, and to build collective power to solve them together."
The Ujima Project has formed the Ujima Business Alliance for community orientated businesses to work for social justice, providing a role for black and non-black allies.
One way of looking at Kwanzaa is preserving the wisdom, practices and what is good and special about African culture, and using it to save black people living under white supremacy or suffering the effects of white supremacist exploitation, but also using what's big, bold, and beautiful about African values and culture, and using them to save the planet and our world.
Citations
Ajowa Nzinga Ifateyo (2019).  Four U.S. Projects that Embody Kwanzaa:  This Year Celebrate Kwanzaa by Organizing and Taking Concrete Action in Your Communities.  Grassroots Economic Organizing (GEO).  https://geo.coop/articles/four-us-projects-embody-kwanzaa