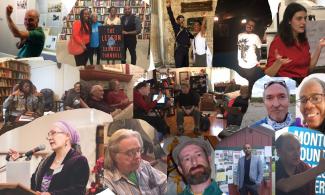 Body paragraph
Current members of the collective are:
_______________________
Born Vicki Lolita Adams in a small town in South Florida 1954, the year of the Brown v. Board of Education decision.  The TV images of assassinations of John and Bobby Kennedy, Martin Luther King, and Malcolm X and of the civil rights movement, rioting, etc. fired the rebel in me. At 17, I'd co-led a boycott of classes to protest Hollywood High's refusal to allow a black history program.  Protesting racism at the University of Florida fueled more activism.  I joined the African People's Socialist Party, and became the editor of The Burning Spear newspaper, APSP's journal.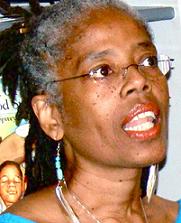 I adopted an African name, Ajowa, and in 1985, legally became Ajowa ("Girl Born on Monday"), and in 1985, legally became Ajowa Nzinga Ifateyo. I deeply admire Queen Nzinga of Angola who fought Portuguese enslavers for more than 50 years.  Ifateyo is Swahili for "Love Brings Happiness."  After profound political disappointment in the APSP, I became a mainstream journalist to try to "change the world."  I also worked on feminist issues in D.C. For more than 10 years I wrote for The Washington Afro American, the Los Angeles Times (where I interned), The Morning Call in Allentown, PA and The Miami Herald.  I did important work, but soon learned that mainstream journalism had its limits, and its own race issues.
So I moved on to institution-building. First, I co-founded the Ella Jo Baker Intentional Community Cooperative in DC.  (I did this while earning masters degrees in Community Economic Development and Business Administration from Southern New Hampshire University.)  I serve on the board of the Eastern Conference on Workplace Democracy, and am a founding board member of the U.S. Federation of Worker Cooperatives.  I joined GEO.  Now I'm also working with the Democracy at Work Institute to create technical assistance network for worker co-ops, and have served on many boards over the past eight years.
At 55, I understand better now that deep and meaningful change starts with knowing ourselves, confronting our own racial, sexual and political brainwashing - internalized oppression and spiritual ignorance.  This learning is an exciting journey. I am writing my memoir, Outside Child, about growing up fatherless and the child of "the other woman."  I am organizing Beautiful World Cooperative and Business Services.  Health is another passion -- I'm a contributor to the recently published book, Sistah Vegan:  Black Female Vegans Speak on Food, Identity, Health and Society -- as is enjoying nature and creating a more joyful life.
---
CADWELL TURNBULL
Cadwell Turnbull grew up on St. Thomas, U.S. Virgin Islands. He is a writer of social fiction, science fiction and fantasy with a specific interest in the solidarity movement. His short fiction has appeared in Lightspeed, Nightmare, and Asimov's Science Fiction. His debut novel, The Lesson, is forthcoming from Blackstone Publishing. His short story "Loneliness is in Your Blood" was selected for The Best American Science Fiction and Fantasy 2018. He joined GEO collective in early 2018, drawn by his interest of practical alternatives to social and economic problems. He quickly fell in love with GEO's commitment to the solidarity movement and to each other. 
---
I grew up on a patch of hillside in rural West Virginia as the daughter of back-to-the-landers. The violence I experienced there - economic, ecological, physical, and emotional - profoundly shaped my political and spiritual beliefs from an early age, and remains a driving force in my commitment to building a more just society. My organizing is also grounded in love as a response to violence and oppression and a point of access for greater democracy.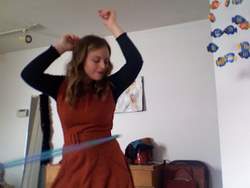 My work crosses movements but is grounded in the pragmatic idealism that I developed while working with the West Virginia Economic Justice Coalition. That group acted as a clearinghouse for radical/progressive issues in the northern half of the state, and used a dynamic and functional non-hierarchical organizing model that allowed me to quickly gain experience in all aspects of grassroots organizing. We ran campaigns to address local issues -- student slums, environmental disasters, campus free speech, and regional economic development -- and national or global issues -- the wars in Afghanistan and Iraq, anti-sweatshop/labor solidarity, university investments. Slowly I began to understand that the plight of my folks in Appalachia wasn't so very different from that of folks I met in the developing world, or in American cities. That was a big lesson for me after years of internalizing oppression that somehow my people were exceptionally stupid and deserving of the trauma they experienced.
When I left West Virginia I headed to grad school. By age 23 I had earned an MA in World History from New York University and was teaching radical American history courses in the City University of New York system. I headed back to organizing when I grew tired of the adjunct labor exploitation, this time running a national student activist network focused on changing the way universities invest their endowments. We were focused on Ralph Nader's instructions to subordinate and displace corporations, and our strategy of using university capital to fund community enterprise led me to the U.S. Solidarity Economy Network. Quickly I realized working on the solidarity economy, which is the closest a framework has come to encompassing my vision for strategic change, had to be my next step.
Since 2009 my focus has been mapping, researching, networking, and organizing within New York City's solidarity economy, primarily through SolidarityNYC. My other overlapping passion is developing tools and strategies for young activists who are struggling with their individual and collective ability to become the change they wish to see. When I'm not working on these projects or supporting GEO's efforts to raise the profile of the solidarity economy movement you can find me hoop dancing by the East River, sailing in New York Harbor, or experimenting with seasonal produce in a tiny New York City kitchen. 
Please don't hesitate to be in touch if you have ideas or questions related to any of my work: cheyennawebernyc AT gmail DOT com.
---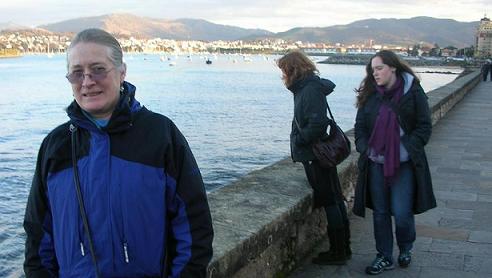 I am a professor of Community Economic Development at Southern New Hampshire University, where I also direct the Center for Co-operatives and CED.
I have been active on the board of the ICA Group, a developer and technical assistance provider to employee-owned and worker co-operative businesses since 1994.  
Here are some other highlights of my life work:
served on the board of the National Co-operative Business Association for nine years, from 2000 to 2009;
former chair of the board of the Co-operative Development Institute in Greenfield, MA;
current treasurer of the Allston Brighton Community Development Corporation, Boston MA.   
served on the board of Northeast Co-operatives, Brattleboro, VT.  
was a clerk of the Childspace Development and Training Institute Board, a national replication program for sectoral development to create and re-design jobs held by primarily low-income women in the field of childcare using a worker co-operative model.  
I earned a bachelor's degree from Friends World College where I first studied co-operatives in the American South, India and Central America.  I completed both an MA and a Ph.D. in Sociology at Boston College where I studied worker co-operatives and employee ownership in the Mondragon Cooperatives in the Basque region of Spain. c.clamp@yahoo.com
---
ELIZABETH BOWMAN AND BOB STONE, CO-AUTHORS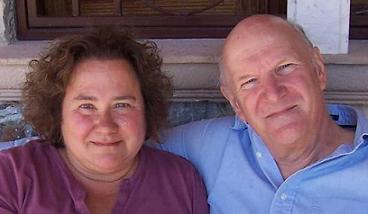 Elizabeth Bowman earned her PhD degree in French Literature from Columbia University in 1987. Its theme was Sartre's ethical plays. She published in French and English journals on that theme and taught French Literature at Memphis University, University of Hartford, and Middlebury College. She is active in the feminist and worker rights movements. Bob Stone taught philosophy for 35 years - mostly at C. W. Post College of Long Island University. In 1982, with Cliff DuRand and others, he co-founded the Radical Philosophy Association and the Review of Radical Philosophy. Stone has been active in the civil rights, peace, worker cooperative, and solidarity economy movements.
In 1985 Bowman and Stone joined forces as co-authors. Their work has been on parallel themes of economic democracy and Sartre's ethics of the mid-1960s. They have been members of the editorial board of Grassroots Economic Organizing since 1994. Over a dozen of their articles have appeared in journals and collections in philosophy, sociology and political science in Russia, Bulgaria, Belgium, France, Mexico and Argentina. In 2004 they joined with DuRand and others in founding the Center for Global Justice in San Miguel de Allende, Mexico where they currently work. The Center is devoted to "research and learning for a better world". Main research themes so far have been neo-liberal globalization and ways of surviving it, including the solidarity economy. Since 2004 many of Bowman and Stone's writings have appeared on its website, www.globaljusticecenter.org They have long worked on a book manuscript titled Sartre's Morality and History: An Introduction to the Ethical Writings of the mid-1960s. They hope to finish it.
---
I grew up in eastern Pennsylvania, but have lived in Maine --my heart's home-- for about 15 years. I've been passionate about ecology and cultivating solidarity with our more-than-human living world since I was a child, but it was only in college (Bates, in Lewiston, Maine) that I began to make real connections between our culture's relentless colonization and exploitation of our ecosystems and its long legacy of cultural and economic colonization, racism, sexism, homophobia, class division, and other forms of social and economic injustice. It was clear --particularly after an inspiring semester studying social movements in Mexico, and amidst clouds of tear-gas in the streets of Quebec City at protests against the FTAA-- that my own life history and identity, my own privilege and struggles, called me to take responsibility for my complicity in these relationships, and to dedicate myself to a life-long process of learning, action and transformation.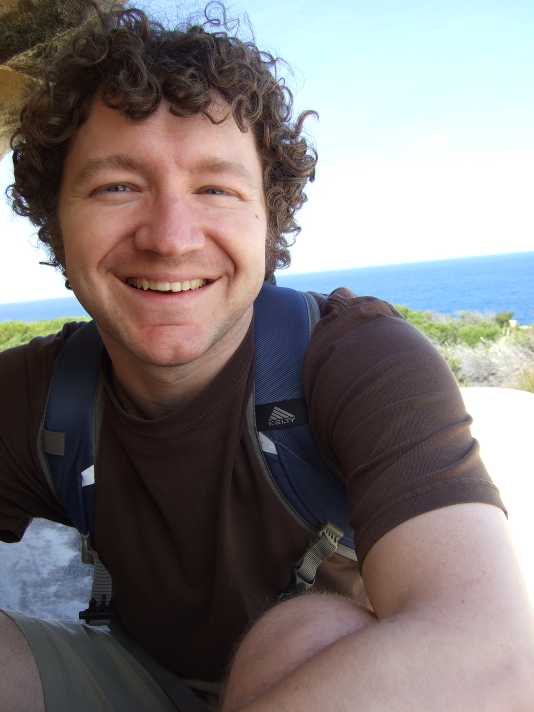 For a few years I focused on community-based popular education and organizing against the institutions and policies of neoliberal globalization (really a way, in the early 21st century, to talk about capitalism)--NAFTA, the FTAA, the WTO, the IMF and the World Bank. This work felt useful, but I kept running up against a persistent and unsettling question: these institutions and economic structures are clearly unjust and unethical; but what are the alternatives? This question sent me on a quest to learn about the ways that activists, scholars and social movements--today and throughout history--have thought about more just, ecologically-responsible and democratic ways to organize our economic relationships. And this question sent me, among other places, to GEO.
I was profoundly inspired by the movements emerging in Latin America, Canada and parts of Europe under the term economia solidaria, or "solidarity economy." Discouraged by a (still quite prevalent) trend among left economic thinkers to work out a Big System, a Coherent Systemic Alternative to capitalism (which, they concede, is also a Big Coherent System). While we can learn quite a bit from these thought exercises, as political programs they leave us in the same old place of the famous "circular firing squad": we'll argue amongst ourselves, divide up into factions, and then maybe take over the state and impose our Big Idea on everyone else. There's got to be a different way to think about these things! And sure enough, the solidarity economy movement offered this.
GEO was one of the first publications in English to carry news of this emerging movement, and its articles inspired me to get involved and to begin doing my own writing about what the concept of "solidarity economy" could offer to social movements in the U.S. In the process of joining GEO, of course, I also unwittingly joined some of the most inspiring and creative communities of people working for economic transformation that I have ever known: the worker cooperative movement, and the GEO collective itself. I'm incredibly grateful for the wisdom and companionship that this crew has shared, and the sense in which GEO--as a web of relationships, as a process, as a dream--is as much about creating the world I long to live in as it is about reporting on its ever-growing emergence.
In addition to GEO, I'm also involved in the Data Commons Project, working to create a cooperative directory of solidarity economy initiatives in North America (and perhaps beyond); in the Riotfolk Collective, a group of radical musicians who I'm proud to share a website and a heart-felt kinship with; in the Community Economies Collective, an international network of reasearchers working to re-think economy and foster the emergence of new forms of economic knowledge and practice; and, finally, the JED Collective, my home-- a cooperative homestead in Greene, Maine. We are a small, close-knit community of adults and kids who live together, maintain a subsistence-oriented farm, care for a very special part of the Earth that we call "the Giant's Belly," and support each other in our diverse forms of work for personal and social transformation. Yes, I'm really into collectives.
I'm currently far from home, however, in Australia, with my sweetheart Kate. We'll be back-and-forth between Sydney and Maine over the next 3 years as I finish a PhD in social and political thought at the Centre for Citizenship and Public Policy, University of Western Sydney. My research focus is on developing tools for thinking about "economy" and our larger webs of livelihood that can help to enable creativity, empowerment and possibility in collective work to build new kinds of economies.
---
JESSICA GORDON NEMBHARD, PH.D.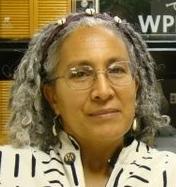 Author of Collective Courage: A History of African American Cooperative Economic Thought and Practice and 2016 inductee into the U.S. Cooperative Hall of Fame (www.heroes.coop), Jessica Gordon-Nembhard, Ph.D., is Professor of Community Justice and Social Economic Development, Chair of the Department of Africana Studies, and Director of the McNair Post-Baccalaureate Achievement Program at John Jay College, City University of NY. She is also an affiliate scholar with the Centre for the Study of Co-operatives (University of Saskatchewan, Canada), and the 2017 recipient of the CASC Merit Award for exemplary contributions to the field of co-operative studies (Canadian Association for Studies in Co-operation). Dr. Gordon-Nembhard is a political economist specializing in community economics, Black Political Economy and popular economic literacy. Her research and numerous publications explore problematics and alternative solutions in cooperative economic development and worker ownership, community economic development, racial wealth inequality, credit unions and community-based asset building, and community-based approaches to justice. Collective Courage (2014 The Pennsylvania State University Press) was a finalist for the University of Memphis Benjamin L. Hicks National Book Award in 2014. Gordon-Nembhard is a member of the board of directors of: Green Worker Cooperatives, the Association of Cooperative Educators, Grassroots Economic Organizing Newsletter, Southern Reparations Loan Fund, Organizing Neighborhood Equity DC; a co-founder of the Eastern Conference for Workplace Democracy, the US Solidarity Economy Network, and the US Federation of Worker Cooperatives; and a member of the Federation of Southern Cooperatives/Land Assistance Fund. She is the proud mother of Susan and Stephen, and the grandmother of Stephon and Hugo Nembhard.
---
JIM JOHNSON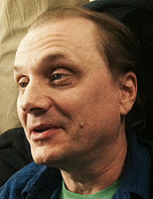 Two major influences have guided my life from the very beginning. One is that my parents ran a small technical business out of our house, and the kids were expected to work in the business. So from an early age, I learned how bills got paid, how customers were treated, and what made the difference between sweating the rent or having money in the bank. My second major influence is progressive activism - my parents were early supporters of the Civil Rights Movement and early opponents of the Vietnam War. Their outspoken positions lost them some friends, but gained them many others, and our house hosted lots of interesting people engaged in ponderous, altruistic discussions. Thus, trying to run a business ethically, while also living and working in a dissident, quasi-tribal culture, has always felt like home to me.
When I struck out on my own in the late 70s, I found my first affinity group through my local food co-op. Before long I had joined a DC collective publishing a dissident 'zine, and was organizing punk and reggae benefits and training people for non-violent civil disobedience actions. I got into freelance IT work in the mid-80s, and remained involved in many different democratic grassroots activities until the mid-90s, when I decided to focus my efforts more exclusively on economic democracy and website development. This again led me to my local food co-op, and to a local software company that was just beginning to convert to a worker-owned co-op. Through those experiences, my studies in co-op development, and my networking with other worker co-ops, I started working with the GEO collective in 2005, and began to do an increasing amount of consulting to co-ops as well. After 10 years with my worker co-op, with the movement growing quickly, I decided to go back to full-time freelancing - but this time, as an advisor to worker co-ops and other types of co-ops, with the perspectives of a worker-owner. 
---
JOEL SCHOENING
I was born in Delaware and raised in suburban San Jose, CA, but I truly discovered myself in San Francisco, where I completed my Bachelors degree in Sociology at San Francisco State University.  During my years in SF, I became active in Critical Mass, a bicycle advocacy social movement, and realized the potential power of direct action and direct democracy for making urban change.
I then moved to Eugene, OR were I continued to pursue this interest as an environmental and labor activist and scholar during my graduate studies at the University of Oregon. One of the highlights of these years was my participation in the World Trade Organization protests in Seattle, where once again, direct action and direct democracy demonstrated its incredible power. In the culmination of my graduate work, my doctoral dissertation, I conducted an organizational analysis of Burley Design Cooperative, an Oregon producer cooperative famous for the little blue and yellow trailers that people use to haul their kids and groceries behind their bicycles.
For the last three years I have been working as an Assistant Professor of Sociology at Shippensburg University of Pennsylvania where I have been teaching and researching in the areas of community development, organizations, and social change. This summer (2010), my spouse and I will be returning to Oregon, and our family there, and I'll continue to pursue my commitment to democracy and social and environmental justice.
 
---
JOHN LAWRENCE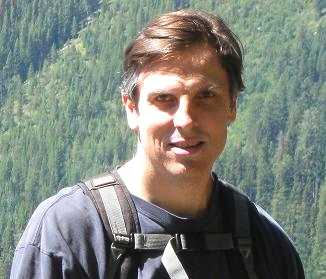 I became a peace activist during the US-sponsored wars against the people of Central America during the 1980's. Later, while searching for a path to a peaceful democratic egalitarian society, I came across this quote by Noam Chomsky: "The task for a modern industrial society is to achieve what is now technically realizable, namely, a society which is really based on free voluntary participation of people who produce and create, live their lives freely within institutions they control, and with limited hierarchical structures, possibly none at all" (Language and Politics). I thought, "That is a very interesting idea. I wonder who is trying to create those institutions now." My search led me to GEO.
Founded by Len Krimerman and Frank Lindenfeld, GEO has been reporting on democratic worker cooperatives and other grassroots economic institutions for over 25 years. Believing this work is very important, I moved from being a GEO subscriber, over the years, to being a GEO writer and editor. In my day job, I am a professor and clinical psychologist. I worked for eight years in a regional burn center and my research focuses on helping people cope with severe burns.
 
---
JOSH DAVIS
Josh Davis lives and works in beautiful Hot Springs, MT.  He received a bachelor's degree in economics from the University of Montana in 2004. In 2005 he began a project in conjunction with villagers in Challing, Nepal to build a free community school.  The project enjoyed limited success for three years but was cut short by earthquake damage in 2015.  Josh became aware of worker cooperatives during the Occupy movement in 2011, and eventually stumbled across the GEO website.  After years spent working as a janitor and house-painter, Josh is quite pleased to be working with the GEO Collective, helping to spread information to help build a better, more just economy.  Besides working as GEO's content manager, he has also helped some friends start a worker-owned, democratic kombucha business. 
---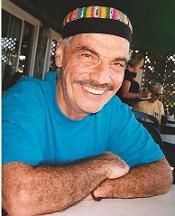 LEN KRIMERMAN
Len Krimerman lives, works, dances, and dreams in rural eastern Connecticut, and has helped build bridges between the many varieties of grassroots democracy over the past five decades. In this, he has invariably been mentored by his amazing GEO colleagues, by the imagination and support of his lifelong partner, Marian Vitali, and by the courageous activism of so many of his students and community partners. Marian and Len are now engaged in helping develop the Windham Hour Exchange, a community barter initiative in and around Willimantic, CT.
---
MALIKIA JOHNSON
Malikia Johnson is the daughter of Vanessa Howell and Eric Johnson.  She is a recent Howard University graduate with degrees in Sociology and Afro-American Studies. Johnson has a background in research and archival work and is currently interested in the intersection of cooperatives, food resiliency, renewable housing, and the commons.  She currently lives in DC where she works for the Georgetown Law Library as a Digital Archive assistant.
---
MATT NOYES
A Colorado Springs, Colorado based movement educator with over 25 years experience working with union reform groups, immigrant workers centers, worker cooperatives and other grassroots organizations. Former Education Coordinator at the Association for Union Democracy in Brooklyn, NY. I taught at City University of New York and Meiji University in Tokyo, Japan where I worked on transnational labor and cooperative regeneration. Received a Masters in Social Economy and Cooperative Organization from Mondragon University. 
---
MICHAEL JOHNSON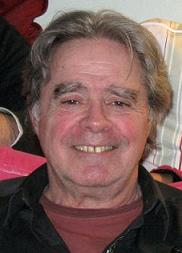 1. Born in the panhandle of Texas in 1942 of an Irish lass and a Mississippi gentleman...Grew up deeply Catholic in a bible belt with a nurse, a doctor and three brothers, on land as flat and rolling as the ocean, under an enormous vault of sky either full of sun or moon, and in the face of constant wind...Got the message at 16 that "the world doesn't work."
2. Entered a Kansas monastery in '63, left in '66; entered law school in NYC in fall of '67 and left in winter of '67; became an 'outside agitator at Columbia in April of '68 and discovered that the far left can be as top/down as the middle and right...deeply involved in group dynamics and community organizing in NYC '68-'73...bottomed out in Phoenix '73-'76. A member of the desegregation unit of Austin school system '76-'80.
3. Co-founded an intentional community in Staten Island, NY in '80, in part an experiential research center in democratic culture...still there 30 years later...immersed in the worker co-op and solidarity economy movements since 2007 with the Valley Alliance of Worker Co-operatives (New England), GEO, and the Community Economies Collective.
---