Body paragraph
Permanent link to this article: http://geo.coop/node/585
By Traci Kuratomi, current Fulbright Fellow in Argentina
In 2001, Argentina was devastated by an economic crisis that led to widespread deindustrialization and unemployment levels of 21 percent. As factories closed, thousands of people suddenly found themselves jobless and without the possibility of finding work. Worse, the factory owners who declared bankruptcy often owed their workers months of wages and failed to provide workers severance pay.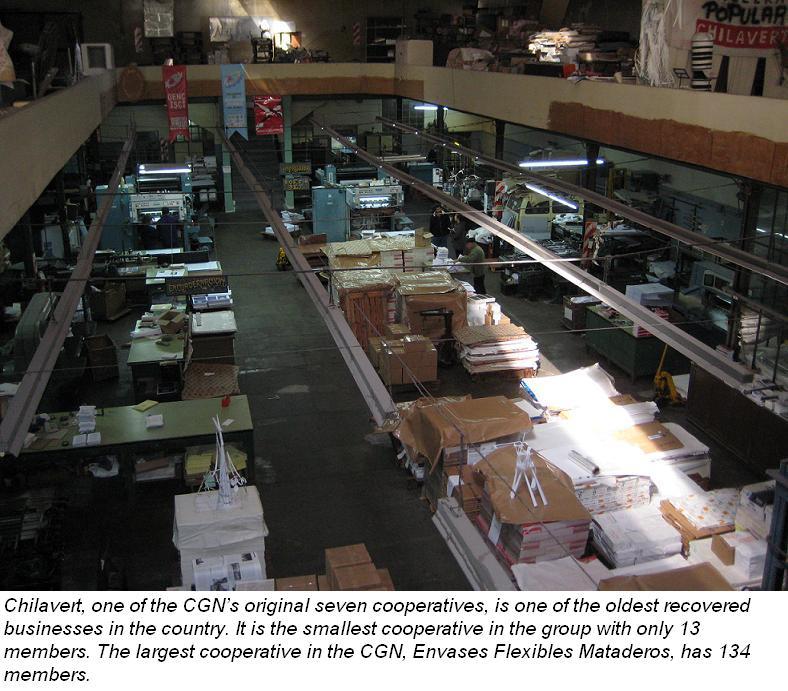 In order to protest their situation and pressure the government into protecting their rights, workers began to occupy their old factories. During this time, they collaborated with local organizations and built informal networks between groups of workers in order to provide each other with legal and political support. The mounting political pressure eventually led the government to compensate workers by expropriating the factories and giving workers permission to use the machinery. Workers restarted production as cooperatives and, thus, a new wave of cooperatives known as 'recovered businesses' were born.
These recovered businesses faced two major challenges. They not only had to learn how to administer a business and how cooperatives worked, but also had to figure out how to compete with larger and more established businesses.
The Creation of the Cooperative Graphics Network
One innovative strategy developed to address these challenges is the formation of a second-level cooperative, La Red Gráfica Cooperativa or the Cooperative Graphics Network (CGN), by seven Argentine printing cooperatives in September 2007. Placido Peñarrieta, the current president of the CGN, describes the emergence of the network as a something that developed naturally from previous collaboration and from the support that the cooperatives provided each other during their initial recuperation process. "As a result of our previous experience, all of the cooperatives from the printing industry knew each other. We began discussing the possibility of making bulk purchases and, thus, the idea for the CGN was born," explains Peñarrieta.
Leandro Miret, the organization's General Coordinator, describes the group as a new and ambitious organization whose mission is to use integration in order to improve the competitiveness of its member cooperatives and ensure their economic viability and social aims. He views the body as a channel, connecting its members to resources, to clients, and to the government. The CGN is groundbreaking because there are no other networks of recovered businesses that focus on improving economic performance nor are there networks whose member cooperatives all work within same sector.
Accomplishments of the CGN
Though the CGN is still in its first years, it has made notable progress towards helping its members improve their performance. The organization has been working on the following objectives:
Connecting member cooperatives to government resources. The CGN guides its members through the subsidy application process and has helped them receive over 1.5 million pesos (375,000 dollars) from the government.
Strengthening internal operations of cooperatives through training workshops and technical assistance. The CGN serves as a liaison between its members and various institutions that provide them with technical assistance and courses on cooperatives. Over 80 workers in CGN's member cooperatives have been trained in these courses.
Reducing members' costs through bulk purchases. The CGN has recently completed its purchasing program's pilot project, which allowed the member cooperatives to purchase paper at a 10 to 15 percent discount. It is seeking to expand this program to include the purchase of ink.
Improving sales of member cooperatives. The CGN created a sales center, which actively searches for new clients based upon members' competitive advantages. When the CGN is asked to prepare a bid for a project, it asks each of its member cooperatives to submit a budget and then it submits the lowest budget received. To date, the Cooperative Graphics Network has been asked to prepare bids for 223 projects and has won 30 to 35 percent of those projects.
Creating business opportunities by facilitating productive integration. When the CGN's sales center is asked to prepare a bid for a large project, it works with members to divide the work and coordinate production. Peñarrieta describes this to be one of the great benefits of the CGN because it takes advantage of the group's economies of scale and allows member cooperatives to work on big projects that would otherwise be beyond their productive capacity.
Facilitating members' access to capital. The CGN is beginning a new project designed to help cooperatives gain access to capital. The CGN plans to help its member cooperatives access capital from banks by building relationships with banks and helping its member cooperatives with the loan application process. The CGN also plans to develop and administer an internal fund that will allow it to make microloans to its member cooperatives.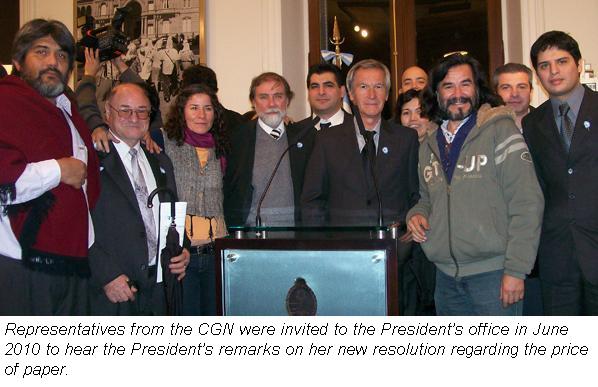 Current State of the CGN
The CGN, initially funded by the Government of Buenos Aires' Innova Award for innovative business organization plan, has become self-sustaining. The five-member staff and infrastructure are financed through its sales center commissions as well as a small fee paid by each member cooperative. The staff of the CGN is managed and directed by the general assembly of the CGN, which is composed of one representative from each member cooperative.
Since its formation, the CGN has grown from seven cooperatives to include 14 members and 4 affiliated cooperatives. The CGN has member cooperatives spread throughout Argentina and affects over 500 individuals working in those cooperatives.
In the end, the cooperatives in Argentina's printing sector were able to transform their social and political networks into a tool for growth. Creating the Cooperative Graphics Network allowed them to overcome the challenges faced by working in a capitalism-based economy through developing economies of scale, sharing human capital and having a larger voice when negotiating with the government. However, for some, the greatest benefits aren't the economic ones provided by the CGN, but rather the solidarity between members. Miret believes, "The advantage of being in the Cooperative Graphics Network is knowing that you always have someone to support you and to help you grow."
---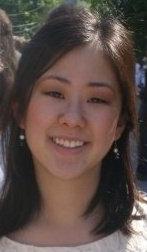 Traci Kuratomi is a current Fulbright Fellow studying recovered business cooperatives in Argentina. She is examining these cooperatives from an economic perspective, identifying the strategies employed by top performers as well as determining the largest challenges facing these businesses. She has a B.A. from Smith College in Economics and can be reached at traci.kuratomi@gmail.com.
When citing this article, please use the following format: Traci Kuratomi (2010). Working Together to Achieve Economic Success: Argentine printing cooperatives transform social networks into economic ones. Grassroots Economic Organizing (GEO) Newsletter, Volume II, Issue 6, http://geo.coop/node/585

Photos courtesy of CGN.