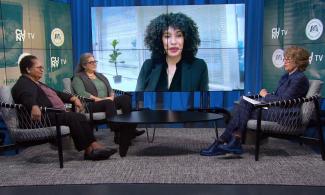 Body paragraph
On this episode of City Works, Laura Flanders speaks to founder of the Community and Worker Ownership Project Rebecca Lurie, CEO of One Brooklyn Health LaRay Brown, and New York City Council Member Sandy Nurse about the recent enthusiasm surrounding worker cooperatives throughout the country, and what they can offer workers that traditional employment cannot.
Guests:
LaRay Brown - CEO, One Brooklyn Health
Rebecca Lurie - Founder, Community and Worker Ownership Project
Sandy Nurse - Councilmember, New York City Council, District 37
Shawn Santana - Co-Founder and Worker Owner, Brooklyn Packers
Karna Ray - Worker Owner, Brooklyn Packers
Recording Date
12/08/2022
First Air Date
01/02/23
City Works is a show that highlights the vast array of workers across New York City. Hosted by Laura Flanders and produced in collaboration with the CUNY School of Labor and Urban Studies, the show spotlights the occupations and projects of the working people of our city, with inquiry carried out by one of the nation's most outstanding universities.