Body paragraph
By Margaret M. Bau
Demand for long term care
By the year 2030, about one in five Americans will be over the age of 65.  Thanks to advances in medicine, public health, and nutrition, we are living longer, healthier lives than any previous generation.  In fact, the fastest growing segment of the population is aged 85 and over.  People are also surviving injuries and illnesses that in previous decades would have been fatal.
Needing care does not mean a one-way ticket to a nursing home.  Nationally, only 18.2% of those aged 85 and older live in nursing homes (and 4.5% of those aged 65 and older).  With a little assistance a few hours a day, most seniors can live in their own homes.  With consistent and reliable help to get ready for the day, people with disabilities can enjoy independence and participate in the workforce.   
Labor force supply and realities
There are 3 million direct care workers in the US - and another 1 million are needed in the coming 10 years.  Direct care workers are the eyes, ears, hands, and backbone of the long term care system.  Elders and people with disabilities spend more time with direct care workers than they do with their physicians, social workers, or nurses.  Yet this essential workforce earns a median wage of $9.46/hour, with most unable to piece together a full work week.  Over 37% of workers in home care lack health insurance.   
Since the 1970s, the long term care industry has counted on an endless supply of baby boomer, low-income women entering the workforce with a willingness to do this work.  According to Steven Dawson of PHI, a long term care research center, the business model is built upon low investment in training, high labor force turnover, and low expectations of quality.  Turnover rates at home health agencies are up to 75% annually.  This is devastating to the quality of life for a frail elder or an individual with a disability who depends upon a stable relationship with the persons providing their most intimate of care.
Background - worker co-ops in long term care
There are a handful of worker cooperatives in the homecare industry across the United States.  The very first such co-op - Cooperative Home Care Associates (CHCA) - started as a welfare-to-work experiment in the mid-1980s to train African-American, Latina, and new immigrant women into the direct care field in the south Bronx, New York.  But project organizers were dismayed by the work conditions these newly trained women faced (minimal wages, no benefits, injuries, part-time work, low status).  So they created a worker co-op in an effort to address fundamental issues within the homecare industry.  In theory, worker cooperatives should maximize wages, increase benefits, provide a voice in decision making, and increase status through business ownership.  Several other homecare worker co-ops were organized in northeastern cities in the early 1990s.  But sudden Medicare and Medicaid regulatory changes made by Congress in 1996 caused the closure of all but two of these worker co-ops. 
Inspired by CHCA and responding to local conditions, Cooperative Care opened in 2001 in Wautoma, Wisconsin - the country's first homecare worker cooperative in a rural area.  A handful of similar worker co-ops were explored or organized in rural Wisconsin, Hawaii, Washington, and Oregon (thanks partially to one-time seed money provided by USDA Rural Development in 2005).  CHCA also inspired I Am Unique, a worker co-op of nurses providing   highly specialized ventilator and tracheotomy care for clients in Raleigh, North Carolina.     
This handful of worker co-ops has provided modest increases in wages and a range of benefits for the member-owners.  Several of the worker co-ops provide initial and on-going training.  The more established co-ops offer peer mentoring and opportunities for advancement within management.  Turnover rates at the homecare co-ops average around 20% annually. 
More striking are the opportunities for leadership development.   Tracy Dudzinski, Certified Nursing Assistant and Board President of Cooperative Care, exemplifies the very best of what a difference a co-op can make in a person's life.  Tracy started with Cooperative Care not knowing what a co-op was; she then served on a committee, was elected to the board, became board president, and then moved into leadership positions at the state level (presidency of the newly formed Wisconsin Direct Care Alliance) and the national level (presidency of the Direct Care Alliance or DCA).  Tracy said she found her voice in a one week leadership training sponsored by DCA.  Thanks to Cooperative Care and the DCA training, Tracy observes, "I used to be a mouse in a corner.  But now I am a mouse that roars."       
Key questions 
Given the potential that worker cooperatives can offer member-owners in enhancing wages and benefits, professional development, a voice in decision making, and business ownership, why haven't the gains to caregivers in worker co-ops been more dramatic?  As long term care researcher Robyn Stone has asked, "Why aren't there hundreds of these homecare worker co-ops across the country?" Why aren't there thousands of Tracys?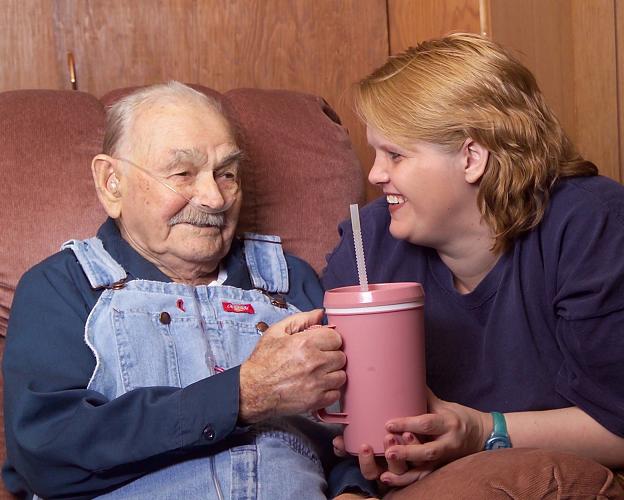 Ray and Tracy
Prevailing market structure
Cooperative impact on long term care has remained modest due to the structure and funding mechanisms of the industry.  Rather than supporting individuals to live life to the fullest (more of a hospice approach), people with chronic conditions and life-long disabilities are expected to "get better" (a medical intervention approach).  The prevailing funding mechanism for medical care in the US is fee-for-service - but this is an ill fit for helping people manage on-going conditions. 
The majority of people who require long term care are not covered by private insurance and cannot afford to pay for services out-of-pocket for an extended period of time.  Most long term care is paid for via Medicaid and Medicare.  Government-funded reimbursement rates were based upon an exploitive 1970s-era labor model that assumes a low level of professionalism, thereby requiring micromanagement of service delivery.  Whether in a for-profit, nonprofit, or worker co-op agency, wages have been stymied by the dominant Medicare/Medicaid reimbursement rates.  In the budget-cutting environment plaguing most state and federal legislatures, public funding for the current structure of the long term care system is unlikely to increase in the coming decade.
We can do better
If we as a society are serious about addressing the coming exponential demand for long term care, funding should focus on preventative care and increasing quality of life.  Resources would be better spent helping a diabetic manage his chronic illness than reimbursing costly emergency room visits.  Funding should entrust a team of front-line professionals and client advocates to engage seniors in activities that prevent social isolation and depression rather than quibbling over the number of service minutes allotted for bathing.   
The cooperative model could fundamentally alter the status quo.  Cooperatives provide a mechanism to engage direct care workers as professionals, to give voice to care recipients, and to partner with care advocates and health systems.   We need to move beyond transactional thinking (fee-for-service) to transformational thinking (how can we improve the long term care experience for everyone involved).
Multi-stakeholder approach
Caregivers can't go it alone.  Dedicated caregivers have big hearts.  But most are the first to admit they have limited business experience and contacts.  And if caregivers try to make a go of it alone in the current system (via purely worker co-ops), their economic gains will continue to be modest.     
What about a multi-stakeholder (or solidarity) approach among workers, users, and supporters of long term care services?  The workers would bring their eyes-and-ears experience to delivering quality care.  The users of long term care services (be they direct recipients, family members, or client advocates) would bring their perspective on receiving that care.  Supporters (such as a regional health system or a rehabilitation center) would bring business acumen and market opportunities. 
For example, day surgery is increasingly common.  However, many patients need several days or weeks of help bathing, grooming, and housekeeping when returning home for recovery.    A forward-thinking hospital would welcome the opportunity to partner with home care workers to assure a high level of quality care - and thereby avoid infection, injury, or a post-surgery re-admittance to the hospital.  The same situation exists for rehabilitation centers.  Stroke and paralysis victims may spend months in rehabilitation centers.  Upon release from the center, direct care workers could assure that the transition to home goes smoothly and strategies for healthy eating, exercise, and hygiene become routine.  These forward-thinking institutional partners would share a common trait - a desire to reduce overall health care costs (by avoiding the need for additional medical intervention) and a desire to help patients live life to the fullest. 
Health systems would have more of an incentive to partner with direct care workers and care recipients if Medicare, Medicaid, and private insurance reimbursement were based upon healthy outcomes rather than fee-for-service.  For example, in October of 2012 the federal health law reportedly will penalize hospitals if they have higher-than-expected rates of readmission for three medical conditions (heart attack, pneumonia, and heart failure).  To reduce re-admissions, hospitals are encouraged to join or start accountable care organizations, in which a team of providers (hospitals, primary care doctors, home health agencies) agree to share responsibility for taking care of a group of patients.  Perhaps we in the co-op community could pilot such an approach and document estimated cost savings and healthy outcomes.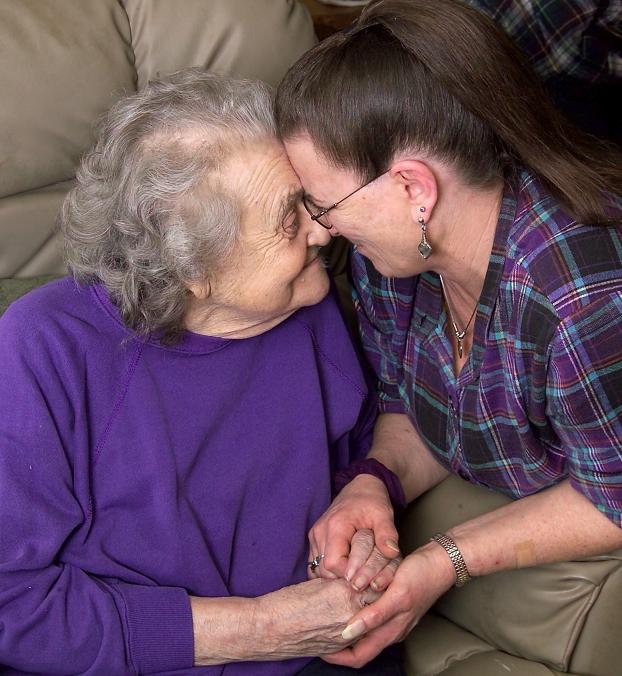 Evelyn and Daisy
Creating a profession
As the saying goes, "an ounce of prevention is worth a pound of cure."  Higher initial costs for team-based delivery of holistic services would be offset by reduced medical intervention incidents.  Caregivers would be salaried and given a caseload of clients with chronic conditions.  Like other professionals, caregivers would meet weekly with a team of therapists, dieticians, social workers, and nurses for strategy and support.  Team meetings would offer caregivers an opportunity for ongoing, tailored training specific to their client's needs.  
Being the eyes and ears of the long term care system, caregivers would provide trusted prompting to their clients on healthy living goals.  Such healthy living interaction would take place in the client's home during informal routines of daily living.  For example, during bath time the caregiver could informally monitor a diabetic for skin ulcerations or improve the mood of an Alzheimer's victim through singing beloved old songs.  While grocery shopping the caregiver could engage a client in conversation about healthy food choices or suggest ways to overcome anxiety attacks. 
A real career ladder that allows for advancement in care giving (rather than advancement out of hands-on care and into management) could be created.  Caregivers would start at a real living wage - say $35,000 annually - with clients with moderate chronic conditions.  Caregivers could specialize in long term care fields such as Alzheimer care, mental illness, Autism, diabetes care, etc.  As caregivers advance in expertise, they could be assigned to clients with more difficult conditions.  Salaries could be increased for demonstrated expertise based on the presumed cost savings to the insurer of preventing more costly medical intervention.
Conclusion
After a decade of organizing worker co-ops in the long term care industry, I have concluded that the status quo is not sustainable.  As the Madison Principles suggest, organizing cooperatives demands years of energy and resources; co-op development should only be pursued if there will be tangible benefits for members.  Despite our valiant efforts, membership benefits have been modest.  In good conscience, I would not recommend that more worker co-ops be organized in this dysfunctional sandbox. 
What I do propose is radically altering the perception of long term care away from a medical model and toward a hospice model - and engaging all who are involved (be they care recipients, care providers, and funders) as peers.  It will involve pilot projects with lots of experimentation, mistakes, and evaluation. 
The hospice model is about living life to the fullest - with whatever abilities you have, for whatever limited time you have.  This approach must be must be conducted in a spirit of respect, must treat all involved as valued peers, and its implementation must begin in the very near future.  We in the worker co-op movement have some powerful tools and perspectives.  Let's discuss.  
As the hospice movement observes, "No one is guaranteed a tomorrow.  Say the things you want to say.  Do the things you want to do.  Live now." 
The permanent link to this issue is http://geo.coop/node/634
---
About the Author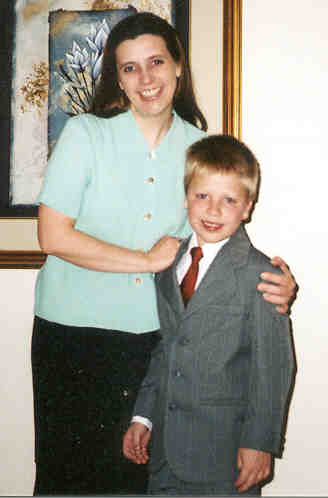 Margaret Bau has been a Cooperative Development Specialist with USDA Rural Development since 1998.  She has assisted in the formation of over two dozen cooperatives across her home state of Wisconsin.  Since 1999 she has been involved in organizing Cooperative Care, the nation's first rural homecare worker co-op in the country.  Margaret also organized a homecare worker co-op in a medium sized city that was a spectacular failure.  Nationally she has advised various groups exploring worker ownership in long term care and the social services.  She has also helped organize three multi-stakeholder co-ops. 
Citations
When citing this article, please use the following format:
Margaret M. Bau (2011).  Worker Co-ops in Long Term Care.  Grassroots Economic Organizing (GEO) Newsletter, Volume 2, Issue 8.  http://geo.coop/node/634.