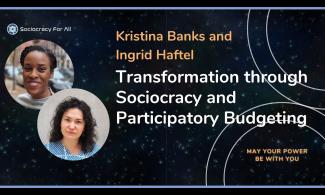 Body paragraph
Kristina Banks and Ingrid Haftel from the Participatory Budgeting Project share reflections on the intersections between sociocracy and participatory budgeting (PB)--and how they are experiencing the transformative power of this shared governance systemically, organizationally, and individually.
Kristina Banks, Co-Executive Director, Participatory Budgeting Project
Kristina leads the development and maintenance of PBP's internal infrastructure to facilitate collaboration across teams, program areas, and circles. This includes managing the operational, financial, and human resource activities for the organization. Additionally, Kristina plays an integral role in the overall development of PBP and leads the collaborative efforts that build and implement PBP's mission and strategy to make our work as impactful as possible. Prior to joining PBP, Kristina worked at other nonprofit organizations where she managed a separation from a fiscal sponsor to become a new 501c3 entity, an Executive Director hiring search, coalition building, and national convenings. During this experience, she gained valuable insight on how to create systems and processes that work not only for the organization, but for the team members as well. Kristina is looking forward to creating new—and enhancing current—internal controls to steward PBP to the next level organizationally. Kristina is based in New York City and enjoys rock climbing, motorcycle, and baking to satisfy her intense and persistent sweet tooth!
Ingrid Haftel, Director of Community Education, Participatory Budgeting Project
Ingrid's work focuses on using learning, collaboration, and experimentation to strengthen participatory democracy practice and advocacy. She currently leads the organization's Participation Lab. Ingrid previously managed Democracy Beyond Elections, PBP's collaborative campaign to win structural democracy reforms that deepen participatory democracy. She is especially excited to work with the PBP team and partners to explore and expand participatory democracy as a tool for equity, inclusion, and justice. Ingrid has been working at the intersection of civic engagement, popular education, and design for more than ten years. Before joining PBP, she oversaw Community Education programs at the Center for Urban Pedagogy, and directed cultural organizing campaigns at Peoples Climate Movement. Ingrid is also a member of the US Solidarity Economy Network board. Her other past lives include being a curator at an architecture foundation, a mender and shelver of library books, and a pizza slinger. Ingrid shares her Brooklyn apartment with a partner, a toddler, and a cat."