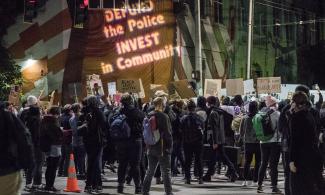 Body paragraph
April 15, 2025
BREAKING NEWS: CITIES ARE DISBANDING POLICE DEPARTMENTS IN THE AFTERMATH OF CONGRESS PASSING THE JUSTICE ACT OF 2021.
On September sixth of 2021, Congress passed the The Justice Act of 2021. This act proposed that states redirect their police funding to social workers, mental health workers, youth initiatives, and other social services. A small task force made up of congressmen (including AOC and Bernie Sanders) was put together to create a robust plan. First on their list was finding out what social infrastructure already existed to address mental health calls, sickness, and accidents- among the top reasons for 911 calls across the country. The task force began to work with local governments, community organizations, and cooperatives to find out where the redirected funding could go. The plan was finally finished in 2023. The task force successfully established a nationwide social infrastructure that addressed each section of The Justice Act. They found grassroots leaders around the country to carry out the plan in their respective cities. Organizations around the country slowly began to receive federal funding in late 2023.
National organizations like Mental Health America and the National Association of Certified Mediators found it more suitable to take on a cooperative structure in each city chapter. They worked together with 911 call centers to make sure incidents didn't escalate when 911 was called. After much strife between police officers and mediators, citizens lobbied to only allow mediators to be called to disputes. Police departments lobbied against these claims stating that the mediators were hindering them from doing their jobs. After much debate, and a few small cities experimenting with only mediators answering 911 dispute calls, there was sufficient evidence for Congress to finally amend the Justice Act in 2023.
Now, after almost 4 years of working out the kinks, cities are finally starting to see a significant impact from the bill. Crimes have decreased a whopping 54% across the country after redirecting over 75 billion dollars to community gardens, youth employment cooperatives, mental health institutions, mediators, and EMT workers. To date, Chicago, IL;  Flint, MI;  San Francisco, CA; and Baltimore, MD have begun to disband their police departments along with 7,000 other cities across the nation.
We talked with Sinatra Brown in Chattanooga, TN who used the 911 call system last week for his brother with Asperger syndrome. He talked to us about past experiences with the police causing greater stress for his brother. He explained a tragic incident where his brother was thrown down to the ground after reacting to police yelling questions about his name and where he is from. "He didn't know what to do so he started screaming. I tried to answer their questions but the police wouldn't let me speak." Brown went on to detail that last week when his brother was having a tantrum he couldn't control, he was relieved knowing that when he called 911 he would get someone from the local Mental Health Cooperative- people who are trained to understand people like his brother.
We also talked with Justin June from Baltimore, MD who has been working with Baltimore Free Farm, a community garden that got federal funding. June explained that before the funding, Baltimore Free Farm was constantly looking for volunteers and funding to do the work that mattered for them. In 2024, when they received their first check they were able to give out free produce three days a week and pay Baltimore youth a small stipend to help in distribution. They've also been able to acquire more land in the area so that they can have an even greater yield for next year.
Still, the plan has many kinks to work out in some crucial parts of the country. In states like Mississippi and Georgia, tensions are high between police officers and citizens. Protests have been continuous the past few months. Protestors are asking their cities to follow the trend happening for the rest of the country in disbanding their police departments. Yet, even in these areas crime is considerably down ranging a 30-40% decrease.
States like Georgia are seeking a middle ground between protestors and police by providing police officers with non-violent communication and mediation training. Protestors say these measures are not enough but states like Maryland and California are seeing an increase of employment in mental health and mediation sectors presumably from laid off officers. We talked with a laid off officer, Walter Jones from Detroit, MI who's words are very telling of what is to come.
"When the people agree on something like they agree on this, almost nothing can stop them. Now I don't necessarily like it but I respect it. The proof is in the pudding." he said.
Citations
Malikia Johnson (2020).  News from an Abolitionist Future.  Grassroots Economic Organizing (GEO).  https://geo.coop/articles/news-abolitionist-future