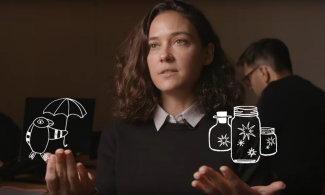 The Exit to Community Strategy
Body paragraph
Many of the world's most successful businesses began as someone's good idea. But the path from startup to conventional financial success typically involves going public, prioritizing shareholders' interests, and ultimately selling to a giant conglomerate whose intentions are far from the original mission of the business's founders. In this episode, Laura interviews guests who say this conventional path of success is desperately in need of an overhaul. Why must new and innovative ideas come to market through old and undemocratic platforms? What if rather than selling out, successful businesses became community assets that put ownership and governance in the hands of workers and even consumers? Could a startup become a means of building community wealth, economic justice, and accountability over our technology? Our guests explain how.
GUESTS
Pia Mancini, Co-Founder & CEO, Open Collective
Lauren Ruffin, Co-Founder, Crux
Nathan Schneider, Professor of Media Studies, University of Colorado Boulder
CONTENT
Open Collective: A Tech Platform that Shares Power 0:00
Building the Cooperative Economy 6:50
Benefits & Examples of Open Collective Model 14:56
Exit to Community Strategy for Shared Ownership 17:16
Work and Anti-Work From Karl Marx to Reddit 23:23
CREDITS
Executive Producer: Laura Flanders
Creative Director: Matt Colaciello
Communications Director: Jeremiah Cothren
Editors: Charlotte Carpenter, Nat Needham
Radio & Podcast Producer: Jeannie Hopper
Co-Director Development: Dominic Marcella
Story Producer: Sabrina Artel
Motion Graphics: Nat Needham
Digital Content Creator: Leigh Friedman
Production Assistant: Ryan Hotes
Interns: Janet Hernandez, Adelle Villarente, Te Maia Wiki
DONATE at https://secure.actblue.com/donate/thelfshow
SUBSCRIBE to our newsletter: https://lauraflanders.org/
FOLLOW The Laura Flanders Show
Twitter: https://twitter.com/thelfshow
Facebook: https://www.facebook.com/theLFshow
Instagram: https://www.instagram.com/thelfshow/
ACCESSIBILITY This episode is closed captioned.