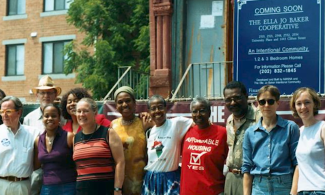 Body paragraph
Narrator: Deploying the principles and strategies of cooperation, Linda Leaks fought for housing justice in Washington, DC for 35 years. A tireless activist, an organizer and a co-op educator. The "godmother of DC Housing" helped hundreds of DC tenants become owners of their homes.
Born in 1948 in Barnesville, Georgia, Linda spent much of her childhood caring for her mother and younger brothers. As a high schooler in St Petersburg, Florida, she was unable to participate in many activities because of those family obligations. She enjoyed reading, but black children were not welcome at her neighborhood library.
Finding the segregationist environment of Florida unbearable, Linda planned a move north, looking for a city with a predominantly black community. She chose "Chocolate City", Washington, D.C.. Linda arrived in D.C. in 1978 as gentrification threatened the homes of thousands of longtime black residents. She found an affordable apartment in a poorly maintained complex in the northeast quadrant of the city. The decrepit condition of her new home motivated her to start organizing.
In 1982, she co-founded a collective house with three other black women known as the T Street Collective. The house became a hub of black feminist organizing as she studied for a degree in mass media arts from the University of the District of Columbia. Linda worked as a janitor in a federal office building and later as an office administrator. She also completed a master's degree in community economic development from Southern New Hampshire University in 1987. Linda secured her first job as a tenant organizer while seeking assistance for her own building. Washington Inner-City Self Help, or WISH, was formed in 1975 to protect a dwindling supply of affordable homes in the city. WISH organizers talked with Linda about limited equity, housing co-ops, and she was quick to see the benefits.
Soon after, Linda joined the WISH staff and began a career as a housing justice warrior. Linda focused on buildings with predominantly black residents. She advocated for tenants before D.C. City Council, demanding that landlords be cited and fined for neglecting their buildings. She encouraged tenants to take the fight right to landlord's neighborhoods, organizing demonstrations to shame them where they lived. Working with tenant groups with names such as the Last Holdouts, and We Shall Not Be Moved, Linda educated residents about their right of first refusal and helped them form cooperatives to become owners.
In 1989, tenants of Capitol View Plaza sought help from WISH through a federal housing program meant to encourage public housing tenants to become invested in their homes. Capitol View residents had been promised the right to buy their homes. A bit of their rent, they were told, would be held toward the purchase, but the opportunity never came and the program was canceled; tenants were never informed. Linda stepped in. She helped members form an association and showed them how to force government officials to pay attention, even arranging for school bus rides down to government offices. Eventually, the tenants prevailed, securing $3 million in federal funding to rehabilitate their buildings. Renamed as Southern Homes and Gardens Cooperative, the co-op became the first housing cooperative in the United States formed by public housing tenants.
As she worked to secure co-op ownership for tenants, Linda developed more than 30 educational programs to help renters transition to owners. Being a co-op educator was a role she treasured. "I love that above anything else:" she once said, "to teach people how to own their own cooperative housing." Linda was also a co-op innovator. She imagined management and janitorial cooperatives to service the new co-ops, and developed plans to create them. She helped form a co-op for social justice advocates called the Ella Jo Baker Intentional Cooperative. It's where she lives today.
In 1992, Linda traveled to Johannesburg to begin her life's proudest work, supporting the development of the first post-apartheid housing cooperatives in South Africa. Linda and her colleagues helped the residents of seven buildings in three neighborhoods form cooperatives and buy their homes.
Linda Leakes demonstrated the good that a serious, selfless, determined advocate can do in a needful community. Her strength as an organizer, innovator and co-op visionary secured the homes of hundreds of longtime D.C. residents for working tirelessly on behalf of people she considered her neighbors and friends. We honor her with induction into the Cooperative Hall of Fame.