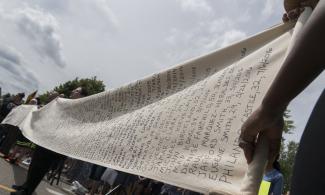 Body paragraph
cross-posted from The Workers' Paradise
Like all of us, the events of the last week[s] since the murder of George Floyd by a Minnesota police officer and his accomplices (also Minneapolis police officers), have been heartbreaking, illuminating, infuriating, and demanding of a new paradigm. I have read posts from many people that I know and respect who are in local government wondering how to change this. George Floyd was not the first black man or person of color murdered by police and these demonstrations are not the first time that agent provocateurs have spurred violence to discredit protests. Most of the discussion of political leaders centers on policy and comprehensive plans, but as the adage of one of my favorite management icons notes:
"Culture eats strategy for breakfast."

Peter Drucker
We cannot create stronger cities through policy, we need to fundamentally change the culture of how our cities manage the needs of the community. Local elections generally pit those who own property against those who rent property and the property owners almost always win. Seattle, for example, is a very "progressive" city with socialists on its council, but only one member of the council is a renter. Why is this important? I offer Aleksandr Solzhenitsyn's motif in A Day in the Life of Ivan Denisovich that has been my true north since reading him in 10th grade:
"A [person] who is warm can never understand a [person] who is freezing."

Solzhenitsyn
Our cities are built to grow and protect wealth. They are not built to be human places, but economic engines. As long as this is the basis of cities, we will never escape that the role of police "to protect and to serve" is focused on property not humanity. Added to that is the historic culture of the United States that sees certain people as property and completely devalues labor, and the result is a toxic culture. To change the police, we need to fundamentally change the organization of city government.
To do this, the worker co-op movement offers a number of lessons: flattened hierarchy, openness and transparency, and accountability structures that operate in a 360 degree manner. We need to rethink cities as solidarity cooperatives in which the residents control and operate the functions of the city.* Such a model would focus on the needs of the community as opposed to growth and creating business opportunities.
What would this look like in terms of the police? Using sociocracy or dynamic governance as a model, it would create significant community engagement with an entity that today seems, even in the best communities, an occupying military force. The first thing that I would suggest would be to change the name of "police" to something aimed at a community support concept such as "stewards". A mission statement created by the people who live in the city. A redefinition of the job to focus more on community support and stewardship rather than finding "bad guys". Imagine an oversight board elected by the community but in a way in which it represents the diversity of the community (the different sociocratic circles appointing a representative) and from this group a Police Leader is elected for a set term, with a representative elected up from the police force. The leader of the police might not have police experience, but great management and empathy skills. A hiring circle made of up civilians and active "stewards" to focus on ensuring that people hired align with the mission of community support.
Of course it can't be just the police that changes. The idea that the police are a separate and unique part of the local government needs to be destroyed. The role of the police should be equal in power to that of sanitation and transportation. The entire city government needs to divorce itself from hierarchy and adopt a cooperative model of governance and management that combines citizen engagement with the people doing the work. This creates a stronger new culture of community.
Instead of electing a council and managing through an adversarial hierarchical structure, what if the cities were grouped into to circles that aligned voices of the community: a small business circles, a renters circle, a homeowner circle, a houseless circle, demographic circles and , yes, even a landlord circle. From these circles, they could appoint a council circle that would elect an administration circle leader (mayor). This would create a larger council, of course, but it would be one that would bring all of the voices into the actual governance and management of the city.
I am going to end with a quote from Mondragon's spiritual founder Arizmendiarrieta. He understood that the co-op model could not simply replicate the system of oppression that the workers were attempting to replace. As with Irish rebel James Connolly, who argued in "Let Us Free Ireland!" that having an Irish sheriff evict a poor family was cold comfort.
A society that seriously intends to plan the development of human greatness needs to be able to count on a staff of competent persons who are willing to assume positions of high responsibility and quality. This can be accomplished only if these capable people do not demand, as individuals or for their families, a superior level to that of the rest of the people."

José María Arizmendiarrieta, Pensamientos #468
We can't fix a problem 400 years in the making through policy and comprehensive plans. We have to fundamentally change the culture and that means changing how our cities govern themselves and prioritize value for the citizens. If all that comes from the protests today are hearing and a couple of convictions, we will all be back here again in short order. We need systemic change in our culture.
* I 100% support city residency requirements for city employees, especially for the police. We don't need paid mercenaries patrolling our streets.
---
[Editor's note: Tom Webb left this comment on the original blog post. We are including it here by request of the author.]
Header image by Lorie Shaull. Protesters hold a scroll listing the names of people killed by police in Minnesota, during a 2016 rally for Philando Castile. CC BY-SA 2.0