Body paragraph
Permanent link to this article: http://geo.coop/node/434
By Sonia Pichardo, Ph.D.

Although there were no mortarboards worn on Jan. 10, 2010 at the Green Worker Co-op Academy graduation, there was a great deal of pomp and circumstance surrounding the graduation of the Fall 2009 Co-op Academy Class. The graduation took place in the flower-filled grand, domed reading room at Gould Hall at Bronx Community College - a first for the Academy.  The graduation was hosted by the Center for Sustainable Energy.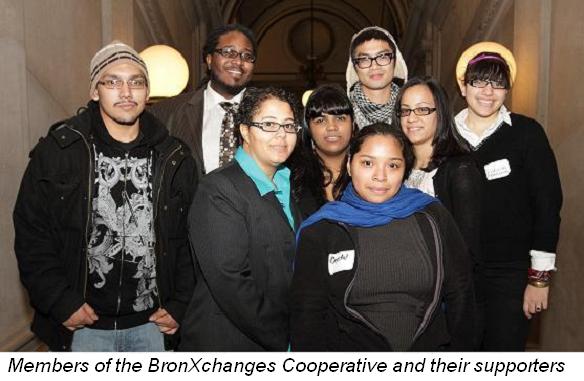 Nine people, representing four "cooperatives-in-development", successfully completed Green Worker Academy's 16-week grassroots business entrepreneurship-training program focused on launching worker cooperatives.

Green Worker's founder, Omar Freilla gave a moving keynote speech to the graduates encouraging them to embrace the challenges of their blossoming worker cooperatives. He reminded everyone that the first Green Worker Cooperative worker-owned reuse cooperative, ReBuilders Source (www.rebuilderssource.coop) was also a challenge that led the way to permanently changing the economic and environmental landscape of the South Bronx. He congratulated the attendees for being the next group cooperatives to shape the vision of creating worker cooperatives throughout the South Bronx.

The Co-op Academy is a training program designed to provide participants with the skills and knowledge needed to launch, and sustain, a successful cooperatively-owned green business. Each year, the Coop Academy has been adding to the lists of early stage cooperatives that are looking to be started in the South Bronx.

Green Worker Cooperatives current family of co-ops in development are: Bronx Exchange, a Northwest Bronx community leadership space for youth, with the members: Diana Barrientos, Maria Fernadez and Mustafa Sullivan; B-Blossom, a healthy-foods catering worker co-op, with the members: Bertha Perez and Manuela Perez; Sabor Latino, a healthy, local, and affordable Latino fusion food catering co-op, with the members: Idalia Amaya and Leonila Lopez; Refab, a computer controlled router manufacturing service, with the members: Amelia Cunard and Jon Santiago.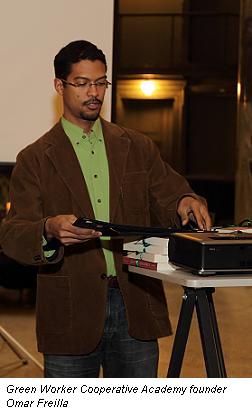 Cooperatives in development from previous academies are: Aquatecture Cooperative, a solar appliance manufacturing company and The Workers Diner, a family-oriented diner located in the Bronx serving local food.

After graduation and the submission of business plan, Co-op Academy co-ops-in-development are invited to join the Green Worker Cooperatives Incubation program.   The program is the only one of its kind in the Bronx for social entrepreneurs that hold worker ownership, environmental justice and financial success as central to their missions.  The program aims to provide business coaching and technical assistance to worker cooperatives.

Through the incubator, GWC's staff and network of experienced consultants are able to provide support in the areas of legal incorporation, democratic management and decision-making, marketing, operations, risk management, financial analysis and technology development.

GWC's Co-op Academy started in the fall of 2006 with eight people from the Highbridge and Hunts Point neighborhoods of the South Bronx. The Green Worker Cooperatives Training Program started to offer those initial members educational services to starting the building materials reuse store, ReBuilders Source. Omar realized the potential of the academy to train the public-at-large to launch green worker-owned businesses. GWC creates opportunities for individuals to realize their power through collective work. This is accomplished through workshops, seminars, conferences and intensive classroom training. GWC use a variety of teaching methods, from popular education to traditional entrepreneurship training, and more.

The success of this program cycle is largely due to an unwavering commitment of support from Co-op Academy coordinator, Tylea Richard. Tylea, along with professional business experts, facilitated classes in worker cooperative law, marketing, and finance. Volunteers from the The New York Botanical Garden and the Equal Exchange worker cooperative committed their time to program participants. Additionally, there were classes in green business, anti-oppression training, cooperative communications and an all-day walking tour of pollutive industries and lands along the South Bronx waterfront.

GWC's next cycle of Coop Academy class will take place in the Fall 2010.  For more information, contact sonia@greenworker.coop.
---

Sonia Pichardo is the incoming training coordinator for Green Worker Co-op Academy.  She can be reached at sonia@greenworker.coop.
Photos courtesy of Leyla Rosario. 
When citing this article, please use the following format: Sonia Pichardo, Ph.D. (2010). Graduating Green Dreams: Green Worker Cooperative Academy Is Helping Worker Co-ops Flourish in the South Bronx. Grassroots Economic Organizing (GEO) Newsletter, Volume II, Issue 5, http://www.geo.coop/node/434