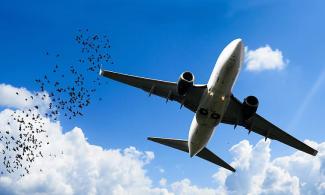 Body paragraph
[This article contains spoilers for the film Queen and Slim]
Queen and Slim is a new Hollywood film written by Lena Waithe detailing the journey of two Black people on the run after a routine traffic stop goes wrong and a white police officer is killed.The journey is exhilarating, and I reluctantly recommend going to see the film for reasons I will detail soon.
Spoiler Alert: Just as Queen and Slim were headed to safety, only steps away from a plane to Cuba, they both die a tragic death at the hands of a squad of police officers.
As I sat there in the theatre covering my eyes during the death scene, the disappointment settled in so deeply. I thought, "We don't even survive in the movies where we write our own stories." My disappointment turned into a mournfulness as I thought of all of the people, specifically Black people, who went to see this and witnessed, yet again, the image of Black bodies peppered with bullet wounds on the ground. Unfortunately, this image is not exclusive to our movie screens but found on social media, local news, and countless TV shows.
As an artist, there will always be a tension between reflecting the times and imagining a new narrative. I recommend this film in support of a Black woman who has committed herself to excellency within her craft. An Emmy Award winner, she is also the writer for the acclaimed TV series, "The Chi." Furthermore, she has decided to use her craft to show elegant nuances within the Black experience. A notable scene that comes to mind juxtaposes a fuming riot with the love making between Queen and Slim. It was a delicate pairing of our fierce rage as Black people in America with our experiences of extraordinary passion. The scene served as a genuine testimony to our joy and pain being thoroughly intertwined. Still, my recommendation is accompanied with reluctance. This is only for the hope of protecting our imaginations. Given the tension between reflection and revisioning, there seems to be ample opportunity for visionaries who choose to revel in the possibility of change. This piece is a call for, and an affirmation of, the power and possibility of our collective revisioning.
If I may offer an alternate ending to the movie Queen and Slim: Queen and Slim get on the plane and safely arrive in Havana. They are greeted by grassroots community leaders and community members who have followed their story in the news and caught wind that they were headed there. Queen and Slim are provided housing and are slowly acclimated to the culture of the country. They eventually learn Spanish and find a professional role for themselves in local cooperative businesses. They have beautiful Black children, a boy and a girl. There is a cameo of the children playing, Queen and Slim moving into their new home, Slim, barefoot, picking food from the garden in their backyard, and finally Queen and Slim growing old together. Or even better we are shown their safe arrival and left to imagine the possibilities of their journey together for ourselves.
We deserve specificity in our thriving futures just as we are given especial precision in our fatal deaths. Fortunately, there are many before us and many now who have taken on this call. Texts like Collective Courage: A History of African American Cooperative Economic Thought and Practice show us that these visions for a different ending have always been there waiting for us to continue to build. Recently, I visited the Arizmendi Bakery Cooperatives in the California Bay Area and was greeted with an exquisite vision for our present and future. [Listen to interviews with Arizmendi worker-owners here. -ed]
As I walked into the bakery on Lakeshore Avenue in Oakland, California, I was pleasantly greeted with a sign declaring their intention to "share all of the responsibilities, risks, and rewards of running our business." This sign went on to assert their decision to "strive to foster economic equality for workers by providing an empowering and dignified environment." These worker-owned bakeries are bustling this time of year but a few worker-owners sat and talked with me about their experiences. I heard stories of care, joy, and hard work as I questioned the impact that working in a cooperative had on their lives.They showed me: it is possible to take care of ourselves in ways where we feel uplifted when we come home from work. It is possible for our place of work to believe us when we say we need more than a weekend after a death in the family (and our co-workers might even attend the funeral). It is possible for us to be co-business owners with friends we trust and believe in just as they believe in us. It is possible to passionately thrive in a world that attempts to doom us to deeply unsatisfying lives. Their stories, while not solely Black-owned, are part of our happy ending.
Tremendously "happy endings" are being realized as I'm writing, but they all started by considering the question, "What else is there?"1 They started because folks gave the possibility of change some room to breathe. They let their imaginations wander and arrive at a better way of life for themselves. For right now. It's possible for us all to do the same.
I am happy Lena wrote this movie for conversations like these to bloom. I cannot overstate the respect I have for the courage and genius it takes to tell our stories with all of the horrific beauty they hold. Even still, films like these remind me to encourage myself and those around me to require nourishment from our work.2 So to the reader I ask you to practice co-imagining your own happy endings with those you care about - perhaps for the movie - or for your own lives. Investing in the power of our imaginations cannot be underestimated. We deserve irresistible futures and happy endings; it's only up to us to simply imagine.
Citations
Malikia Johnson (2019).  For Folks Who Wanted the Happy Ending to Queen and Slim .  Grassroots Economic Organizing (GEO).  https://geo.coop/articles/folks-who-wanted-happy-ending-queen-and-slim