Body paragraph
Permanent link to this article: http://geo.coop/node/443
By Hazel Corcoran, Canadian Worker Co-operative Federation (CWCF)

In Canada, in the first half of the 20th century through about the 1960's, there were good opportunities for education about co-ops (see the 100th anniversary book of the Canadian Co-op Association, "A Century of Co-operation").  

In more recent decades, we have had mixed success with school and university-based pedagogical approaches regarding co-operatives.  Many people have put a lot of time and energy into creating curricula to go into the elementary and high school levels, only to find that they don't tend to stay in the general curriculum.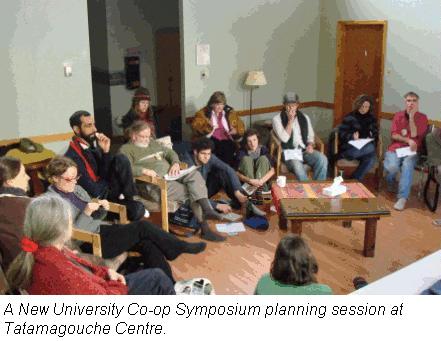 The BC Institute for Co-op Studies (which has recently changed its name to the Centre for Co-operative and Community-Based Economy) made a recent inventory on all courses available across Canada at the university level on co-ops and credit unions, and the results show slim pickings.  There has been significant effort invested into getting co-operative content being presented at colleges, and there are professors out there who are very excited about co-ops in general or worker co-ops in particular, but they are fairly few and far between. Tom Webb, Sonja Novkovic, and Ian MacPherson are among these professors.
There are two excellent programs on managing co-operatives in the country: The Co-op Management program at the University of Sherbrooke in Quebec; and St. Mary's Master's degree in Co-op Management that is a distance-learning program and has an orientation that is very friendly to worker ownership.  

The other programs out there either focus on agricultural co-ops, credit unions, and other types of co-ops, or are more general to social enterprise. The Extension Department at the St. Frances Xavier University in Nova Scotia offers a co-op focused program, but it is basically offered only to people in developing countries.  It is a great program and is providing an excellent service.  However it is not generally marketed to or attended by North Americans.  

In terms of learning to start one's own co-op or become a co-op developer through the Post-Secondary education system, there is nowhere in Canada to get trained outside of the Sherbrooke program, and that Master's degree requires that one be capable of graduate coursework in French.

So, here are some of the other things in place:
Although CWCF does some collaborating with the colleges, we focus more on peer-to-peer training, both for people starting their own worker co-op, and for those who are technical assistance providers, whom we call co-op developers (see CoopZone).  CoopZone also has a comprehensive web site with guides on starting co-ops.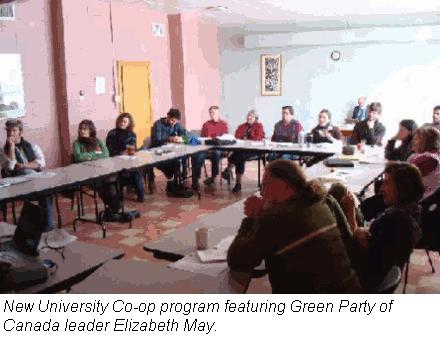 At the annual CWCF Conference (being held October 28-30, 2010 in Vancouver, BC), we run workshops that are facilitated by the best people on the job; the members who are doing the jobs themselves. If we put on a workshop about marketing techniques, we try really hard to get a worker co-op member or a co-op developer, instead of a professional marketing person. On the rare occasions when we've done the latter, it does not work as well.  

CoopZone also hosts tele-learning sessions. These are simple conference call presentations on specific topics presented by and for developers.  Examples of topics we have covered are: doing market research; fundamentals of co-op taxation; co-op legislation; empowering groups; converting another business form to a co-op; the incorporation process; and social capital.  These are very popular, inexpensive, and easy, especially because the participants are spread all over the country.  We have recently started a similar series for Worker Co-op Members.  Once each session is completed, we post a transcript as well as an mp3 recording onto our web site.  This is a free service for members.

In the future, we are hoping to start using more innovative technology than the telephone in doing this, such as the program DimDim, or Moodle. These are tools that allow for on-line distance training and interaction.  

Through CoopZone, we have received funding for a train-the-developer program. There will be a new training / mentoring program in place by the end of the summer of 2010.   

A new distance co-op management certificate program, which started in the 2009-10 academic year, is being offered in Ontario.

Other interesting developments:
Joining hands and minds with other like-minded students, educators, active citizens and support organizations.
Establishing the best on-line library and resource centre for studies in ecology, sustainability  and social justice.
Co-ordinate meaningful skill-sharing, lectures, and short courses throughout Canada
Develop graduate and post-graduate degree programs
To build a "green" university that will provide holistic education and employment opportunities for all of its members
The New University began offering its first course in August, 2009, on Sustainability and Social Justice Capacity for Social Transformation. Cost: $400-600 sliding scale, all-inclusive.  Membership is open and costs $25 /year.



---

Hazel Corcoran has been executive director of the Canadian Worker Co-op Federation since 1995. Through CWCF, she is also involved with the CoopZone Developers' Network, the Western Labour-Worker Coop Council, and CICOPA, the international worker cooperative organization. She is a director of the Big Idea Rainbow Foundation, and her local credit union.  
Photos by Laird Herbert.
When citing this article, please use the following format: Hazel Corcoran (2010). Education about Co-operatives in Canada, Grassroots Economic Organizing (GEO) Newsletter, Volume II, Issue 5, http://www.geo.coop/node/443