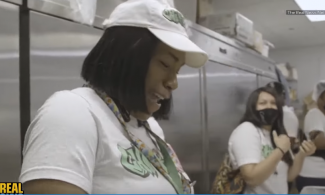 Body paragraph
When homecare workers at Cooperative Home Care Associates in the Bronx ran short of masks in the early days of the Covid pandemic, the worker-owners of Opportunity Threads in Morganton, North Carolina stepped up, retooling to make PPE for New York caregivers. Collaboration and democratic decision making is just part of how worker owned businesses, or co-ops, fared better than other companies during the pandemic. By and large they survived, even thrived, and today they're less likely to experience the labor shortages many businesses face as the economy reopens.
"That's no coincidence," say Laura's guests for this episode. Worker owned co-ops have long provided people the opportunity to create more just, resilient, and inclusive workplaces. To kick off International Co-op month, we hear from a journalist who's been covering this story, a law professor who advises co-ops, and one of the founders of ChiFresh Kitchen, a Chicago-based co-op owned and operated mostly by formerly incarcerated women. Started during Covid, ChiFresh Kitchen continues to distribute tens of thousands of healthy meals a day to people who need them, and provide living wages to workers who are shut out elsewhere. All that plus Laura on two very different businesses in Chicago: El Milagro Tortilla and the New Era Windows cooperative.
CONTENT
What Makes Worker Co-ops Resilient? 0:00
Differences Between Worker Co-ops and Traditional Companies 9:27
ChiFresh Kitchen Showcases Transformative Co-op Model 14:20
Worker Cooperatives Put People Over Profits 17:47
Worker Coops Coped With Covid. Why Can't Others? 23:57
GUESTS
Renée Hatcher, Director, Community Enterprise & Solidarity Economy
Camille Kerr, Co-Founder, ChiFresh Kitchen, Worker Co-op Developer
Jaisal Noor, Senior Reporter, The Real News Network
CREDITS
Executive Producer: Laura Flanders
Creative Director: Matt Colaciello
Communications Director: Jeremiah Cothren
Editors: Charlotte Carpenter, Mercedes Gorostiaga, Nat Needham
Radio & Podcast Producer: Jeannie Hopper
Co-Director Development: Dominic Marcella
Story Producer: Sabrina Artel
Motion Graphics: Nat Needham
Communications Associate: Mercedes Gorostiaga
Production Assistant: Ryan Hotes
DONATE at https://secure.actblue.com/donate/thelfshow
SUBSCRIBE to our newsletter: http://www.lauraflanders.org
FOLLOW The Laura Flanders Show
Twitter: https://twitter.com/thelfshow
Facebook: https://www.facebook.com/theLFshow
Instagram: https://www.instagram.com/thelfshow/
ACCESSIBILITY
This episode is closed captioned.