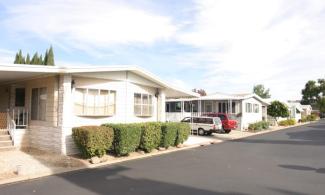 Buying your mobile home park could save you money: Residents fare better when they cooperatively own their parks.
Body paragraph
This article originally appeared on Shelterforce
At most landlord-owned mobile home parks, residents live in a property owner's fiefdom, with no control over how their community is managed. While residents usually own their homes, they must pay rent on the land that the home is on, and face annual unfettered rent increases with not a semblance of tenant protection. Despite their name, many mobile homes are often immobile after sitting in place for a few years; any attempt to move them could potentially lead to major or even complete structural damage.
Cooperative ownership offers a way for residents to not only have a say in their community's decision-making, but also to prevent rent hikes and keep their housing costs affordable. Compare the space rents in two California parks over 27 years: Leisureville, which residents purchased and transformed into a cooperative; and Rancho Yolo, a mobile home community where the owner refused to sell to the residents. An analysis of rent over time reveals that residents who cooperatively owned their community saw substantial savings in cost compared to those who were forced to continue renting.
A Tale of Two Parks
In 1995, the 150-space Leisureville Mobile Home Park in Woodland, California, became a limited-equity housing cooperative. The nearly 200 residents were all over 55 and were mostly retired or semi-retired from blue and white collar low- and moderate-income jobs in the local community. 
The story started in December 1993 when the out-of-state absentee park owner sent a letter to each of the residents of Leisureville. "From January 1st 1994 on, we will be raising the rents 11 percent yearly for the next three years at least," the letter read. Fear fanned out among the mostly low-income residents. The increases meant more than $100 additional in rent by the end of the three years, an increase of one-third on the basis of the existing $304 rent. With a majority of the Leisureville senior households living on annual fixed incomes between $8,000 to $20,000, few could afford the rent hike.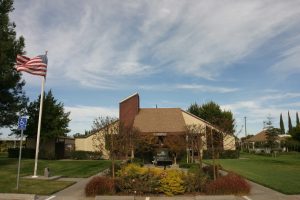 Over 100 angry Leisureville residents packed a February 1994 meeting of the Woodland City Council and pleaded vociferously for immediate rent control. While the council did not meet that demand, it did invoke a 90-day moratorium on rent increases and told the owner to negotiate with the residents.
At the time, I was working as western director of the National Cooperative Business Association. Among my responsibilities was developing cooperative housing in the region. Prior to that I was a founder of and then western regional director of the newly created National Cooperative Bank. In that role I financed the development of 24 housing co-ops containing almost 2,000 units. Amongst them were two mobile home parks where I helped residents buy the park and turn it into a co-op. I had a master's degree in architecture and urban planning from the University of California Los Angeles, where I had specialized in co-op development. I had read about the Leisureville rent struggle in the local paper and immediately got in touch with the Rev. Donald Wells, a resident and the spokesperson of the park residents. "Your best bet, believe it or not, is for the residents to buy the park as a limited-equity cooperative," I said. I shared with Wells that I had played a role in financing two resident buyouts of mobile home parks, and in working with the California Department of Housing and Community Development, I also developed a professional relationship with Jerry Rioux, who had previously run the department's Mobile Home Park conversion program. Jerry and his wife, Chris, agreed to work with me as a team to pursue cooperative ownership for the residents.
Less than two years later in 1995, the residents successfully won cooperative ownership. The funding to purchase the park came from a number of sources. For pre-development funding, I obtained a forgivable grant from the Cooperative Development Foundation and Jerry got one from the regional Presbyterian Church Fund.
For permanent funding, we took over the owner's existing $3 million loan and obtained a loan of $500,000 from Mercy Housing, $300,000 from the Northern California Community Loan Fund, a $1 million HOME loan from the city, and a grant of $275,000 in Community Development Block Grant monies to fund the shares of 50 percent of the owners in the park who qualified as low income. We also obtained about $350,000 in investments from the residents. Jerry, Chris, and I reinvested part of our fee in loans back to the co-op as did a number of members who in addition to their shares lent an additional $170,000 to the co-op. Together that was enough to buy the park at the appraised market value of $5.4 million and repay the pre-development loans.
The story had a different ending at Rancho Yolo in nearby Davis. In 2000, a resident of the 262-space Rancho Yolo contacted me about the possibility of their over 300 residents buying the park. Sadly, with weak leadership the first effort fizzled. However, in 2008, a larger and more determined group of residents took up the baton. Brian Johnson, a leader with a strong commitment to resident ownership through membership in the Golden State Mobile Home Owners League, became the activist chair of the Rancho Yolo Community Association. Interestingly, Brian and I were both born almost the same year 30 miles from each other in the same county of Lancashire, England. Lancashire is home to the worldwide cooperative movement and is famed for its working-class movements. While the purchase effort was going on Brian and I were indefatigable in our buyout efforts.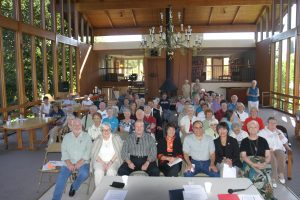 The Davis City Council provided a grant for formal studies to determine if the residents of Rancho Yolo could buy the park. The study determined the purchase was possible at market valued, and the residents voted to make a bona fide offer. The Rancho Yolo Community Association put in the offer to buy the park from the owner in December 2010. Regrettably, and almost immediately, the owner turned down the residents' market price offer in January 2011. The letter simply said that the owners were not willing to sell.
Brian and I believed that the owners saw the potential increase in value of the 40 acres of city land being converted to apartments. They had done that with another park they owned in the built-up Silicon Valley. However, that conversion would require many steps and legal fights, and the City of Davis has since added more tenant-friendly protections against mobile home park closures and conversions, which may be why the owners refused to sell the property to the tenants and also did nothing to the park itself.
Leisureville and Rancho Yolo have several key similarities that make them great case studies for examining the impact of resident ownership on rent. For one, they are both senior-only mobile home communities. Additionally, over half of the residents living at Leisureville are low or extremely low-income and about 40 percent of the residents at Rancho Yolo are in the same income categories. About 50 percent of the seniors in both communities are single, divorced, or widowed women. Many receive either Social Security retirement or disability income. Because they own their mobile homes, none of the income-eligible residents in either of the two communities receives Section 8 assistance.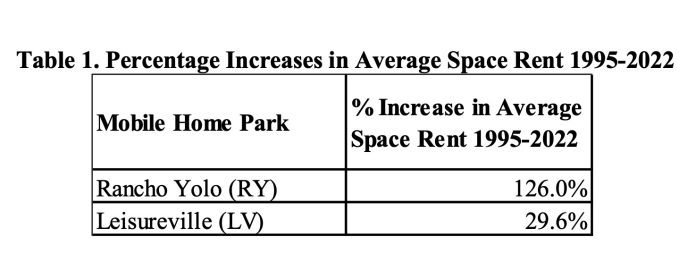 In 1995, residents at Rancho Yolo were paying $492 more per year than the cooperatively owned Leisureville. In 2022, that difference has exploded to $4,902 more per year—or 10 times more—than the resident-owners of Leisureville.
Because Rancho Yolo rents have risen at a faster rate than Social Security payments, many poor Rancho Yolo residents can no longer afford to stay there. Every year, a few have to sell their mobile homes and move into subsidized rentals or live with their families, if they can.
Meanwhile in Leisureville, the very low- and low-income residents on fixed incomes have gained more disposable income because of cooperative ownership. Additionally, Leisureville is very well-maintained and has a strong reserve budget for future infrastructure expenses. They have paid for all their major projects from their reserve fund and have never needed a bank loan. They have expanded their clubroom and kept the roads up to code. Park management works directly with residents who face money worries and there have been few foreclosures or evictions. Each year at the resident owners' annual meeting, the members elect a board of directors composed of other residents. The board meets once a month and makes sure the outside management company performs its duties in managing all aspects of the park through three part-time staff members.
In examining average space rent as a percentage of income, a single very low-income senior who earns $34,700 a year and lives at Leisureville will pay 13 percent of their income for rent. On the other hand, that same very low-income senior living at Rancho Yolo would pay twice as much. In reality, a number of the single female seniors have fixed incomes and make $10,000 or less.
Most privately owned mobile home parks in the U.S. operate under one simple capitalistic convention: They charge whatever they can get. If the tenant does not like it they have to move their mobile home to another park. The cost of moving a mobile home is high and there are seldom spaces in nearby parks so very few can or do. Many states have laws about how old a mobile home can get before it can no longer be moved or put into another park. Therefore, many mobile homes cannot by law be moved but are by law allowed to stay.
Under these conditions, a tenant has no bargaining power at all except for a few places in California, such as Woodland, that have imposed rent control on local mobile home parks.
The Leisureville Co-op only has to raise space fees to cover needs, whereas the investor-owned park Rancho Yolo can choose whatever level they wish. The results over 27 years show that Leisureville needed to raise fees only 30 percent while Rancho Yolo raised rent 126 percent. Over time, owning your own park and cutting out the middleman leads to extensive savings.
The Next Chapter in the Story of Cooperatively Owned Mobile Home Parks
The movement to transition mobile home parks into resident control has come a long way. In the early 1980s, there were just a few instances in the United States where mobile home park residents formed resident-owned communities or cooperatives to buy ownership.
After a small 13-space park in Meredith, New Hampshire, went co-op in 1984, the newly formed New Hampshire Community Loan Fund (NHCLF) seized the market opportunity. Mobile home parks are the lowest-cost form of home ownership in the U.S. Juliana Eades, the first executive director of NHCLF, started a structural program to help New Hampshire residents buy their parks and end the cycle of annual rent increases and evictions. There are 367 mobile home parks in New Hampshire.
This was the first formal mobile home park-to-cooperative program in the United States. As of April 2022, the NHCLF had financed the purchase and transition of 143 mobile home parks (38 percent of all New Hampshire mobile home parks) from rental into cooperatives just in New Hampshire. Because NHCLF restricts itself only to parks in New Hampshire, it joined forces with other funders in 2008 to create a national program called Resident Owned Communities USA (ROC USA). Residents of almost any park in the USA can now be helped by affiliates of ROC USA.
Header image: Leisureville Mobile Home Park, Woodland, California, as it appeared in 2005. Photo courtesy of Philip Clayton Thompson.