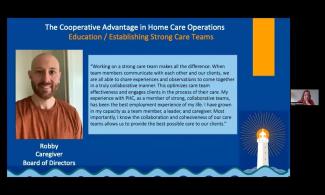 Body paragraph
[Editor's Note: The National Home Care Cooperative Conference is currently going on in Washington DC. While the benefits of the worker cooperative model for home care workers and clients are well-known, less discussed are the benefits for business operations and administration. This session from last year's conference highlights the cooperative advantage for mangers and administrators in home care co-ops.]
Home Care Cooperative managers/administrators wear many hats from HR to trainer, to scheduler and marketer and more! It is a lot to manage. In this session hear from experienced administrators on how they approach time management and boundary setting and prioritization to manage the never-ending to-do list and avoid burnout.
Speakers:
Kippi Waters, Peninsula Homecare Cooperative, Executive Director
Nora Edge, Capital Homecare Cooperative, General Manager
6th Annual National Home Care Conference.