Body paragraph
The 80 houses that make up Enright Ridge Urban Ecovillage are only minutes from downtown Cincinnati, yet they are surrounded by a couple hundred acres of woods and greenspace. Jim Schenk tells the story of their struggle to preserve the diversity of the land they "own."
Humans, "ownership," and non-human life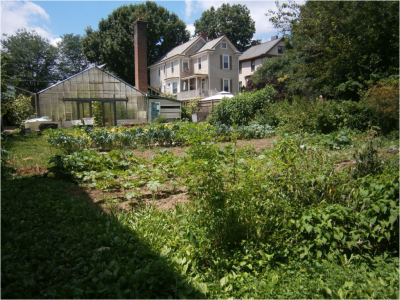 The human struggles with diversity—with racism, sexism, religious intolerance, etc.—are serious issues we need to deal with in all of society and within our ecovillages. In the Enright Ridge Urban Ecovillage there is a fairly good, balanced female/male interaction in decision making and in involvement. The religious mix is broad, and religious affiliation almost never an issue of any kind. There is openness to involvement of people of all races—though we remain quite white, realizing that the concept of an ecovillage is not a huge issue among non-white populations in our culture. We have a number of African Americans and Latinos in the community, but not because of a commitment to the ecovillage, but because the neighborhood is a good place to live.
However, we probably struggle most with an "ism" that is not much discussed anywhere—one related to the involvement of other species. Other species constitute the largest number of residents in our ecovillage. With a large wooded area surrounding the community we are inundated with other species.
Although human slavery—in which one human "owns" and controls another—still exists in some sectors, it is illegal and totally unacceptable in modern society. However, when it comes to animals and plants, this same relationship is deemed acceptable. Few of us see the "ownership" of plants and animals as enslavement, but that is what it is. In reality, however, the ownership of either other humans or of other species is not a possibility. We can't own that to which we are intimately related. However, enslavement is a possibility. Although ownership is a figment of our imagination, it has led to excruciating pain for fellow humans and continues to do so in our relationship to plants and animals. To enslave is not to appreciate diversity. Diversity implies a level of equality. We are one of some 10 million species. It is in our acceptance of other species on an equal footing that we can experience the diversity that they offer us. Speciesism will become unacceptable.
Grasping the reality of diversity
Understanding this became a reality for me in 1982 soon after my father died. I came from a large, dispersed family and I became the one to do much of the coordination for the funeral. The day after the funeral I was tired, and as my family left to go to our homestead I chose to remain in the campground where we were staying, next to the Hoosier National Forest.
Following their departure, I decided to take a walk in the forest. After walking a ways, I sat under a beautiful, large Oak tree. As I sat beneath it, I experienced a deep mystical experience of interconnectedness—and also a level of communication with the ecosystem around me that I had never experienced before. I was aware not only of being connected, but also of the ability to communicate. Since that time diversity has taken on a whole new meaning for me, and my idea of community has greatly broadened. Diversity became so much more than the variances in the human community.
Sustaining diversity
While Enright Ridge Urban Ecovillage is only minutes from downtown Cincinnati, Ohio, we are blessed by being surrounded by a couple hundred acres of woods and greenspace. Our 80 houses are surrounded by this land.
When we started the ecovillage in 2004, one of our first initiatives was to develop a walking trail through this lush deciduous woods. Much of the woods is "owned" by individual residents, who gave their permission for the trail to run through "their" land. The trail required a good deal of honeysuckle removal (a so-called invasive species in our area), as well as the removal of saplings and other plant life to give us humans a way to go into the wooded area with its deer, raccoons, fox, possums, squirrels, cougars, myriad other animals, plants, rocks, soil, and water. We tried to remember to approach the woods with deep appreciation, to thank the plants for their lives and for their presence in this woods, and to remove only what was needed. Taking these lives offered the opportunity to experience the broad spectrum of diversity that these woods offered us.
The time spent building the trail deepened my own connection to this land, this land that houses hundreds of thousands of homes of other species. It also deepened my commitment to preserve the land as a way to protect the diversity that surrounded us. We have taken the opportunity to "purchase" some 39 acres of land surrounding the ecovillage. (One of the things we discovered is that it is easier to raise funds to preserve land than for almost anything else. People appear to feel a deep connection to Earth and have an innate desire to preserve it.) In this sense our village is quite large, nestled in among the lives of a whole natural ecosystem.
As we come out of the woods, the experience of diversity surrounds the built environment.
While the majority of the backyards are made up of these wooded areas, there is a great deal of diversity in the remaining yards. We have fairly large backyards, most from a third to one acre, with some smaller and a few significantly larger. There is a deep respect, among a number of human ecovillage members, for the other species that grow in these yards.
Native plants have taken on a significant place. When some members had their native plants cited as noxious weeds, residents of the ecovillage were able to organize to have the city ordinance changed as a way to keep diverse ecosystems surrounding our homes.
Rain gardens have been built in over a dozen yards in order to keep water out of the sewer system and drain it into the land. Native plants also make up a great deal of these gardens.
An urban CSA
The ecovillage is modeling a unique concept: an urban CSA (Community Supported Agriculture), using people's backyards. With over 60 subscribing families, the funds for the shares have gone into hiring farmers to coordinate and lead the work in growing the food in 10 backyards and to purchase the seeds for the plants we grow. Just finishing its fifth year, this effort has provided a truly diverse use for city backyards. It has also brought a diversity of people working together while sharing a high quality and quantity of food. (We are taking steps now to spread this concept throughout Greater Cincinnati, with a dream of hundreds of farmers working within the city.) It is another joining of human, animal, and plant life with a deep respect for the plants and animals that provide our food.
Citations
Jim Schenk (2013).  A Species-Deep Diversity in the Ecovillage.  Grassroots Economic Organizing (GEO).  https://geo.coop/story/species-deep-diversity-ecovillage