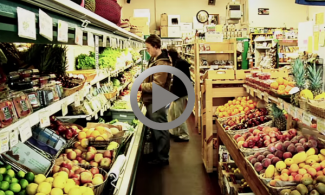 Feeding the Neighborhood, Serving the Community
Body paragraph
[Editor's note: This short film about San Francisco's worker-owned, retail grocery cooperative Other Avenues, debuted at the 2010 United States Federation of Worker Cooperatives (USFWC) Conference.  See below for a history of how Other Avenues developed from a hybrid consumer co-op model to their current structure as a fully worker-owned-and-managed retail grocery.  Visit their website here.]
From the Other Avenues website:
Other Avenues opened its doors in 1974 by the participants of the Food Conspiracy, a grass roots organization of food buying clubs dedicated to buying and distributing wholesale food among themselves.  Driven by the spirit of sustainable communities, the clubs expanded and opened over a dozen storefronts like Other Avenues, a large warehouse and other supporting organizations.  Collectively calling themselves "The People's Food System" with the motto "Food for people, not for profit," these stores thrived for over a decade and then faded away.  By the 1990s most of the stores had closed their doors, but Other Avenues remains open today, preserving the legacy of the People's Food System.

Other Avenues has always been called a co-op by its patrons and the Other Sunset community, however it officially incorporated as a worker-owned cooperative in 1999.  Before that period, Other Avenues functioned as a hybrid community membership co-op managed by its workers.  Presently, Other Avenues is worker-owned and only the workers are members.  Workers manage the business democratically by making business decisions using the consensus model.  We believe that it is as important to sustain a healthy democratic business as it is to nourish our bodies with healthy food.
Go to the GEO front page