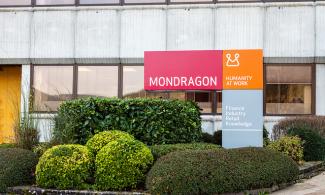 General Council delcares Fagor Electrodomesticos "not viable"
Body paragraph
[Editors' Note: GEO has worked for about three weeks getting enough information on what has happened with FE, drawing upon its immediate network and beyond, in order to publish a report we feel is substantially reliable and coherent.
Before going to the report we want to note that Gar Alperovitz and Thomas M Hanna, have published a significant analysis of this event in terms of what it means strategically for the worker co-operative movement, especially with regards to moving to scale. That article is re-posted on our web site from Truthout if you want to make comments for GEO readers..
Further, we are encouraging many people to weigh in with their thoughts and feelings in the Comments section here regarding the event itself as well as the various interpretations being made about it.]
In mid-October Fagor Electrodomestico (FE) of the Mondragon Cooperative Corporation, Europe's fifth-largest appliance maker—"white goods" such as dishwashers, cookers and other related household items—went into Spanish courts to restructure their financing due to the accumulation of large debts. FE sales have dropped by 37 percent since 2007, just before Spain's economic crisis began.
In the Spanish Courts FE now has four months to reach agreements with its creditors to stabilize the company whose total debt burden is now €800 million ($1.1 billion). However, there is already strong disagreement within Mondragon itself as to whether FE businesses are profitable and should be saved.
FE on its own continues to insist on a restructuring plan in which a Mondragon loan remains valid but will require financing to complete the final terms. FE is saying that €170 million will be needed to restructure and reach commercial viability. 
The Mondragon General Council, on the other hand, has declared that "the proposal submitted by Fagor Electrodomésticos is not viable, and it has unanimously agreed the company no longer responds to market needs, and the financial resources it requests would not ensure its business future." The Council's full statement also declares "that the feasibility plan submitted by Fagor Electrodomésticos is not viable."
Fagor's situation
Loans from banks make up €380 million out of FE's total debt. Mondragon's General Council had already invested €70 million in FE out of the "FRES" fund and voted unanimously for this next step in the process. The other co-ops in MCC also contributed loans and contributions to delay what came to be seen as inevitable. Financial aid was also secured from the Basque government.  
Initial talks between the Mondragon group, the Basque government, creditor banks and other lenders began weeks before FE's submission to the Spanish courts. The aim of these talks was to find a way to enable Fagor to deal with immediate payments due and to normalize its business activity.
February 16 is the Spanish court deadline for FE reaching the necessary agreements with its creditors. There is a possibility that this four months time frame could be reduced because in France where FE also operates the prevailing law is different, which means that FE could enter into an insolvency process with its creditors sooner rather than later.
The difficulties that Fagor is facing are not surprising. In a way it has been expected because of the challenge from the Asian appliance manufacturers moving into the European markets including an assembly plant in the Basque country. It also seems to reflect the lack of consumer spending with the severe recession in Spain. For example, it has generally reported that Spain has an unemployment rate of 26.3%.
Thus, it seems the FE situation originates much more from the challenges going on within the global "white goods" sector rather than the fact that FE is a leading (and founding) Mondragon cooperative. For example, how many other current Fortune 500 companies were in existence 57 years ago?
Possible impacts on workers
About 5500 workers would be displaced, if FE closes. It employs roughly 2,000 people in five factories in the Basque region and has an additional 3,500 in eight factories in France, China, Poland and Morocco.
Should FE have to close, it's possible that up to 1000 jobs could be saved since there are segments of the ongoing business with convection that are expected to be viable on their own, whereas those dealing with refrigeration are not.
All of the FE jobs in jeopardy will be covered in a number of ways (the Corporation will be asking worker-members to agree to fund another 50 million euros (on top of the 300 million Euros already invested in FE) to make this happen in the next General Assembly).
In its recent statement the Mondragon's General Council committed itself to support the continued employment of FE coop-members:
It shall continue to activate all the support mechanisms required to reduce to the furthest possible extent the impact on employment due to the circumstances of Fagor Electrodomésticos. These measures will range from reassignments to early retirements and the implementation of training schemes that will reinforce the employability of the worker-members of Fagor Electrodomésticos. All these actions will be coordinated, as indeed is already the case, by the Corporate Employment Office, which involves the personnel department at Fagor Electrodomésticos, the welfare company Lagun-Aro, EPSV, and the Corporation's department of Corporate Management.
In the same statement the General Council also reaffirmed Mondragon's basic commitment to the cooperative model:
Within the context of a globalised market, the particular values of cooperativism (people come first, the sovereignty of labour over capital, participatory management and inter-cooperative solidarity) are now more than ever the keys to the management of the companies of the future, even though the economic scenario is challenging and posing difficulties for all kinds of business organisations. MONDRAGON therefore reaffirms its belief in the cooperative model and in the competitiveness of the bulk of its companies, with a successful business trajectory of proven efficacy in different sectors of the Basque, Spanish and Global economies.
Finally, we found no indication that this development would have any impact on the USW-Mondragon North America collaboration to form union-coops.