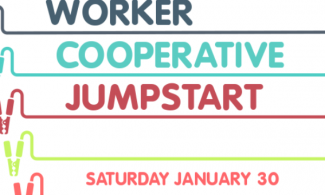 Baltimore Roundtable for Economic Democracy hosts event Jan. 30th
Body paragraph
Interested in starting a worker-owned cooperative business?  Thinking about how you might convert your current business to worker ownership? You are invited to a day-long series of workshops providing the tools you will need to take the next step in starting a worker coop or converting an existing business to a democratically owned workplace.  Creating democratic workplaces can be a powerful strategy for building grassroots economic power—a strategy which is particularly relevant in Baltimore, where structural racism far too often determines who does and does not own a real stake the economy.  We'll cover the fundamental principles behind worker cooperatives and the basics of cooperative business planning, bring you up to speed on cooperative business law in Maryland, explore some of the emerging options for nontraditional cooperative business financing, and help you begin thinking about the important choices behind building a successful democratically managed and governed workplace.  
The day of workshops will be an ideal orientation to the nuts and bolts of worker cooperative development not just for groups and individuals directly involved or interested in democratic workplace startups and conversions, but for organizers, funders, and social enterprise advocates who want to engage more deeply in creating and supporting worker cooperatives in Baltimore.The Worker Cooperative Jumpstart is a collaborative project of Baltimore's emerging ecosystem for inclusive and democratic economic development, grounded in a coalition of worker cooperatives, advocates, and technical assistance providers—including members of Red Emma's, The Working World, the Democracy at Work Network (DAWN), Baltimore Bicycle Works, 2640, Baltimore Activating Solidarity Economies (BASE), and Gilmore Khandhar LLC. We believe that by building workplaces owned and governed by members of the communities locked out of the current economic system—especially communities of color—the development of worker cooperatives can sow the seeds of a more equitable city.
Lunch will be provided; a sliding scale donation to help us cover costs is requested but not required.
Space is limited; please RSVP