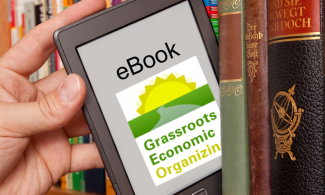 The Solidarity Economy Comes to Your eReader
Body paragraph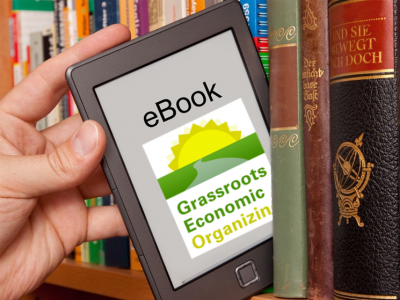 Here at GEO, we are continuing to grow and evolve in our coverage of the cooperative/solidarity economy movement. The latest addition to our informational arsenal comes in the form of GEO ebooks. Now you can read about co-ops, credit unions, intentional communities and alternative currencies on your Kobo, Kindle, or other ebook reading device* (if you want to read e-books but don't have a reader, you can download the open-source Calibre ebook manager for your computer).
Our first book, The Long, Strong, Hidden History of the Black Co-op Movement, presents Ajowa Nzinga Ifateyo's interview with Professor Jessica Gordon Nembhard, as she discusses the largely forgotten history of African American cooperative economics—stretching back to the days of enslavement—and how she came to re-discover this important part of our cooperative heritage. (Jessica has presented this history at length in her book Collective Courage: A History of African American Cooperative Economic Thought and Practice.)
Our second book is a re-release of GEO Collective member Ethan Miller's Occupy, Connect, Create. In it, Ethan presents the reader with a text that is
part theory, part strategy and part call-to-action for the immediate and long-term work of identifying and seizing spaces of democratic practice (occupy!), linking them together in networks of mutual support and recognition (connect!), and drawing on our collective strength to actively create new ways of meeting our needs and making our livings (create!).
We will be releasing more ebooks, with more original content, in the near future and hope to make this a regular part of our work here at GEO. If you appreciate the work that GEO does and would like to make sure it continues, consider purchasing an e-book below (click on the cover image) or making a donation to GEO.  With your help, GEO will continue to provide a voice for worker cooperatives and the solidarity economy for many years—and many books—to come.
---
*GEO e-books are currently available in .epub and .mobi formats. Additional formats are available upon request by contacting editors@geo.coop.
e-Book graphic adapted from original image by Tina Franklin, cc by-sa 2.0
Go to the GEO front page